This is AI generated summarization, which may have errors. For context, always refer to the full article.
Obama: 'He arrived in our lives as an alien – but he ended up touching every element of the human spirit'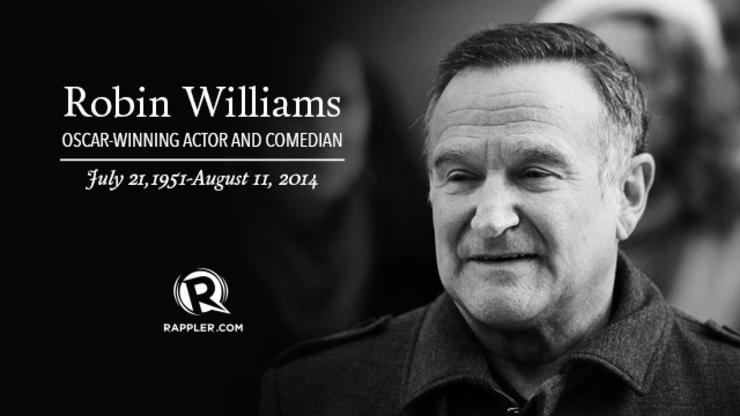 WASHINGTON DC, USA – US President Barack Obama and the US first family joined a national outpouring of grief Monday, August 11 (Tuesday, August 12 in Manila) to pay tribute to the deceased actor and comedian Robin Williams.
"Robin Williams was an airman, a doctor, a genie, a nanny, a president, a professor, a bangarang Peter Pan, and everything in between. But he was one of a kind, " Obama said.
"He arrived in our lives as an alien – but he ended up touching every element of the human spirit," Obama added, referring to Williams' breakthrough television role as the extraterrestrial visitor Mork.
"He made us laugh. He made us cry. He gave his immeasurable talent freely and generously to those who needed it most – from our troops stationed abroad to the marginalized on our own streets.
"The Obama family offers our condolences to Robin's family, his friends, and everyone who found their voice and their verse thanks to Robin Williams," the statement concluded.
Shock, sadness
The entertainment world reacted with shock.
Genie, you're free. pic.twitter.com/WjA9QuuldD

— The Academy (@TheAcademy) August 12, 2014
Legendary director Steven Spielberg, a close friend of Williams, paid tribute to a comic genius.
"Robin was a lightning storm of comic genius and our laughter was the thunder that sustained him," said Spielberg in a statement cited by Variety.
"He was a pal and I can't believe he's gone," added Spielberg, who famously phoned Williams to cheer himself up during filming of his harrowing 1994 Holocaust drama "Schindler's List."
Spielberg's tribute was echoed throughout the entertainment industry.
"I can't believe the news about Robin Williams. He gave so much to so many people. I'm heartbroken," comic and talk show host Ellen DeGeneres said on Twitter.
Fellow comedian Steve Martin added: "I could not be more stunned by the loss of Robin Williams, mensch, great talent, acting partner, genuine soul."
Oscar-winning actor Jared Leto paid tribute to a "brave, original artist."
"You taught us how to stand on the edge, fearless, + shine," Leto said on Twitter.
Here are a compilation of tributes posted online.
One of my all time favourites. Movies I grew up watching over and over again. A genius that will be so missed. R.I.P. Robin Williams.

— Harry Styles (@Harry_Styles) August 12, 2014
Another very fun time and memory of me and Robin Williams -he will be dearly missed http://t.co/kwAEZM1PkP

— Martha Stewart (@MarthaStewart) August 12, 2014
Talk show host Conan O'Brien found out about the death during a taping of his show Conan, and he took some time out, with Andy Richter and guest Will Arnett, to pay tribute to the star. "We're just processing this information literally right at this moment, and so we are thinking of Robin's family," he said. "We're thinking about everybody who he touched around the world, throughout his life. We're thinking about Robin tonight. There's really not much else to say."
Will Arnett, who was present with Conan when he found out about Robin's death, also tweeted his sadness. 
Utterly gutted. Rest in peace Robin.

— Will Arnett™ (@arnettwill) August 12, 2014
Living legend Meryl Streep also took a moment to remember Robin Williams while guesting on Today while promoting her new movie, The Giver. "It's hard to imagine unstoppable energy stopped, she said. "He was such a generous soul."
Disney paid its own tribute to Williams via artwork of the Genie – and writers had Robin in mind from the get-go – by the supervising animator who brought the Genie to life, Eric Goldberg. 
The artwork was accompanied by a message from Disney CEO Robert Iger: "We're deeply saddened by the loss of Robin Williams, a wonderfully gifted man who touched our hearts and never failed to make us laugh. An incredible actor and a comedic genius, Robin will always be remembered for bringing some of the world's favorite characters to life, from his zany alien on ABC's Mork & Mindy to the irascible genie in Disney's Aladdin.
He was a true Disney Legend, a beloved member of our family, and he will be sorely missed. We join Robin's friends and fans everywhere in mourning, and offer our thoughts and condolences to his family during this difficult time."
 – With reports from Rappler.com