Netizens react to the 'discriminatory,' 'disgusting,' and 'horrible' policy of Icon Residences, but management says, 'There's no issue. It's not for the world. It's just for the building.'
MANILA, Philippines – Would you be okay with sharing your condominium's elevator with other tenants' housemaids or drivers?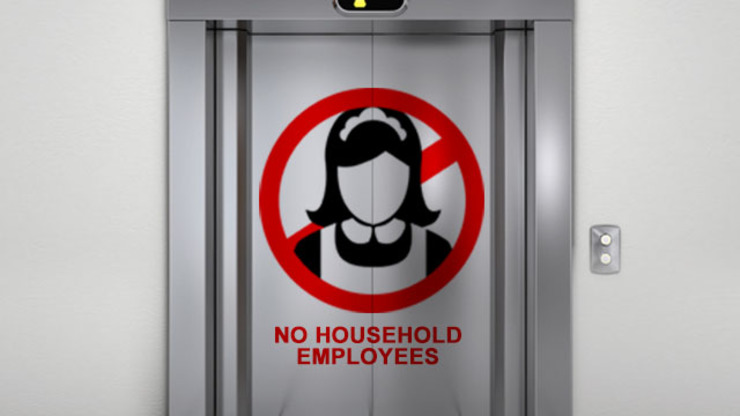 Netizens react to a photo of a condo memorandum telling unit owners and tenants to remind their household employees to "strictly use the service elevator only" that's going around on Facebook. They think it's "discriminatory," "disgusting," and "horrible." 
"The administration office has had a number of enquiries from owners in the building on why helpers are using the Passenger Elevators when only Unit Owners / Tenants and their guests are allowed to the Passenger Elevators," reads the notice from the management of the Icon Residences at the posh Bonifacio Global City in Taguig.
Discrimination?
The post started a conversation on Facebook and received negative feedback from some social media users. 
"When Filipino maids in Hong Kong get banned from using the 'regular' elevators (you know, the ones that 'regular' people use), the country throws a hissy fit. Guess what? It's happening in our own backyard," said Poch Ceballos, the uploader of the post. 
Some said that it's not only "the fault" of the management but also of the "snooty owners."
"Tell the snobbish unit owners they just bought the unit, not the whole building," Bianca Lawas commented on the post in Filipino.
"The complaints from tenants are/could not be justified, the policy should not have come out in the first place," said Jed Yabut. 
According to Benj Espina, however, "It is a thing for a lot of condos."
"That actually is the policy in several condos here in Makati," Patricia Oliva-Valencia added.
'Just a building policy'
Rappler got in touch with Katherine Garrido, the property manager and the signee of the memorandum, who said it's "just a policy of the building."
"There's no issue. It's not for the world. It's just for the building. It has been a policy ever since the building was created," said Garrido. 
"It's hard to please everyone, but this is just how the world is," she added.
What is your take on this matter? Do you know of other condo units with the same policy? – Rappler.com