Microsoft introduces its next generation OS, a free upgrade for Windows 10 users which will be available later this year
The next version of Windows is here: Windows 11. Its predecessor, Windows 10, came out 6 years ago in 2015, which is a lifetime in tech years.
It's looking quite pretty, if a little familiar. It certainly looks different enough from Windows 10, which had been one of the questions for observers prior to the launch – was it really going to look and feel all that different? Windows 11 does, thankfully. 
However, it does look more like a Mac now, especially with its windows' rounded corners, and the center-placed taskbar looking like the Mac dock. So if you've ever stuck to a Mac because of its UI, Windows 11 is indeed stepping up its game, but we'll have to play around in it ourselves to see if it's as smooth as it looks.
In any case, here are some of the most intriguing features we saw from the brisk 45-minute presentation of Microsoft on Thursday evening, June 24: 
The action starts at the center now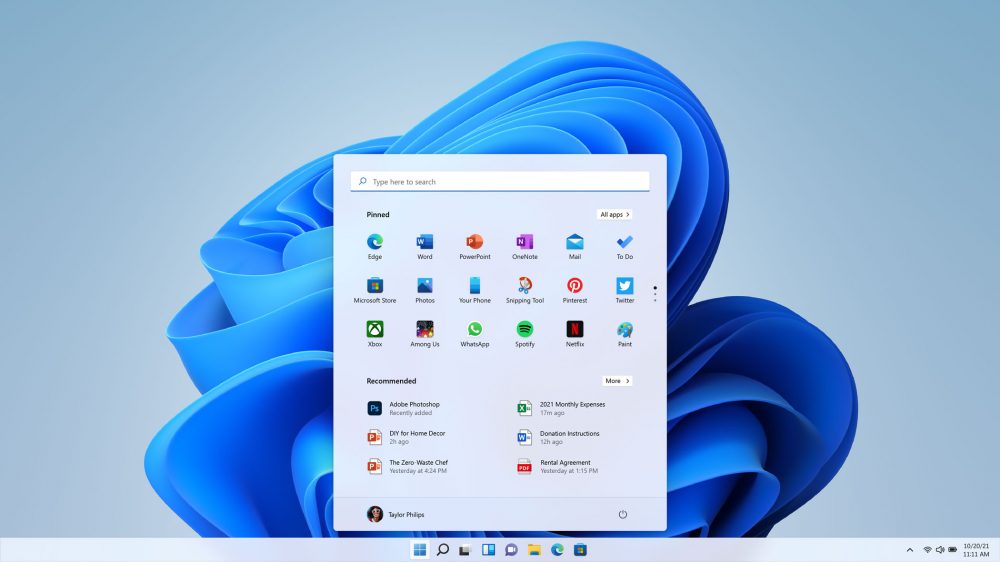 The Windows start icon has always been found on the lower left corner but now it moves to a center portion along with a slew of other apps on the taskbar. That's why it looks more like a Mac now.
Microsoft said they "obsessed over every pixel" as well as the texture, the colors, and the lighting to just get the feel right.
Rounded corners throughout the product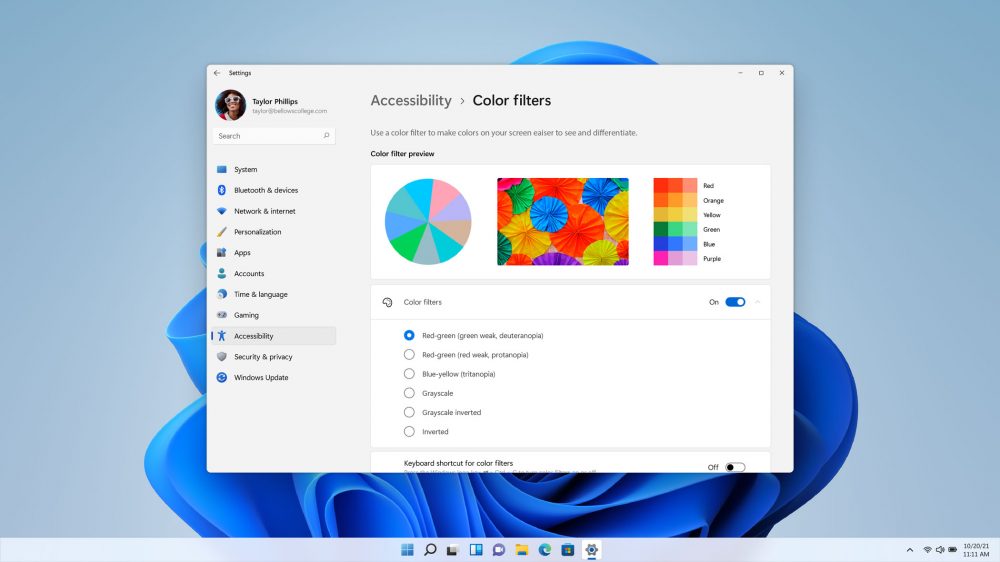 Windows are also now more rounded for softer visuals throughout. They're looking a little less pointy than Windows 10 windows but Mac windows seem to still be more rounded.
Easy access for Microsoft 365 cloud services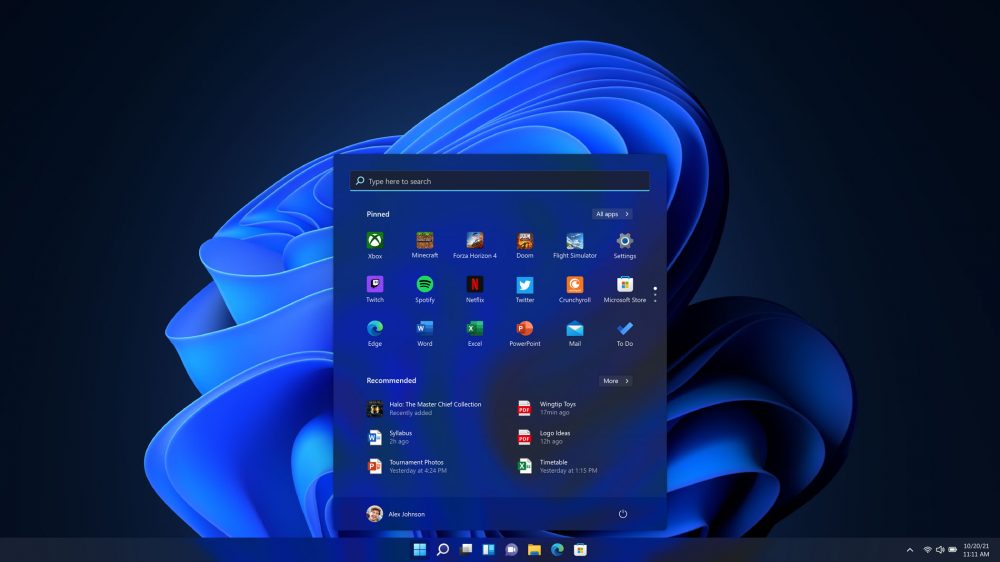 You'll get quick access to documents you've recently accessed on the Microsoft 365 productivity suite, as you can see in the "Recommended" portion in the image above. We wonder if there'd be a way to slot in other productivity suites into the taskbar such as the ones from Google.
Windows updates to be a lot smaller
Microsoft promises that updates will be 40% smaller, so this may be good news for all those that have been victimized by their computers suddenly updating, and taking up so much time. Hopefully, the smaller updates mean faster update processes.
Microsoft also says Windows 11 will be more energy-efficient.
Snap Screen layouts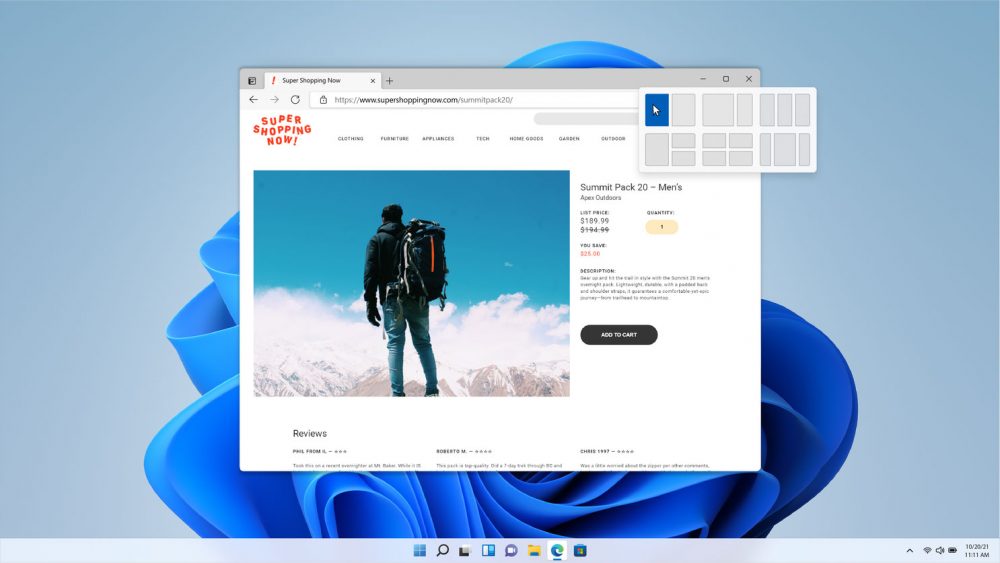 Windows 11 will provide more template options for laying out your windows on your screen depending on the apps you're using.
Vertical browser tabs
Microsoft Edge will offer the option to arrange browser tabs vertically on the left side, which may be an easier way of finding that one tab when you've got a million others open.
Multiple desktop switching
You can set up multiple looks for your desktop, say one for work, one for gaming, and one for personal use, and switch to each one easily.
Microsoft Teams integration into Windows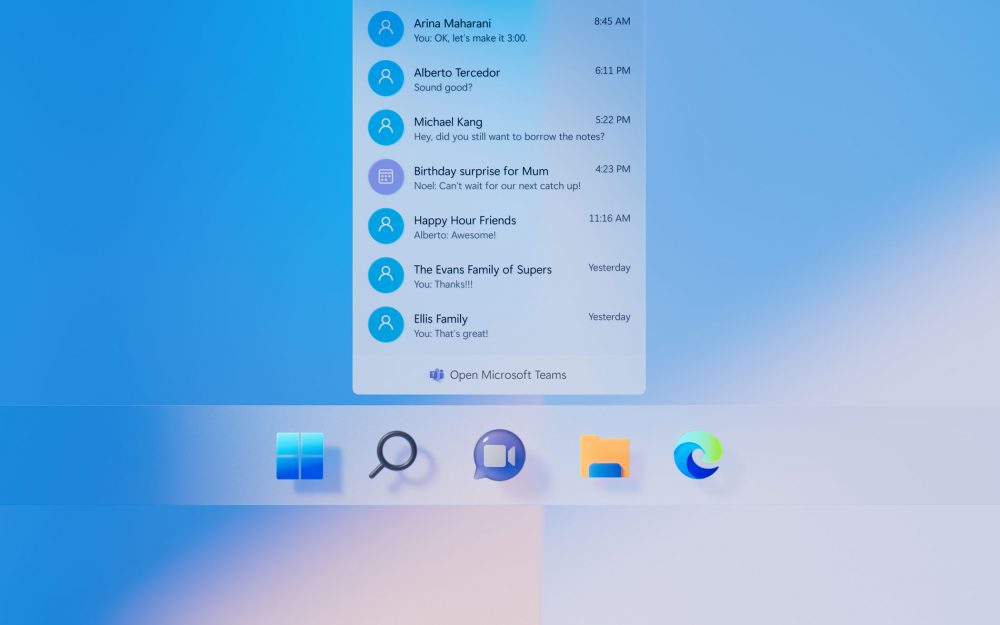 Teams is readily accessible from the taskbar for quick communication with contacts.
Windows Widgets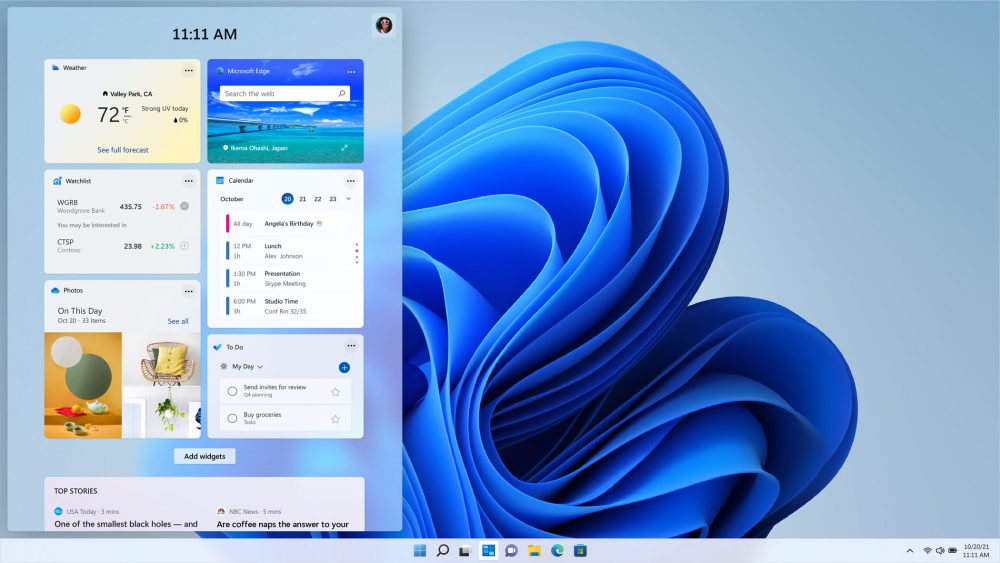 Windows 11 redesigns its widgets screen, which now pops up from the left side of the screen, featuring an almost (gasp) Vista-like transparency. It looks good, and hopefully PC hardware today can handle fancy Microsoft UI tricks.
The widgets include a personalized feed powered by AI that serves curated content. The widgets display almost look Android-like, from the way that you summon it from the side of the screen to its layout.
Auto HDR for games
Windows 11 will be supporting Auto HDR on games. They showed off The Elder Scrolls V: Skyrim, an older game, which received more contrast and clarity using Auto HDR. A feature called Direct Storage is also coming to Windows 11, a technology first found on the Xbox Series consoles that made for faster loading. 
Own payment systems for app vendors, zero cuts for Microsoft in Microsoft store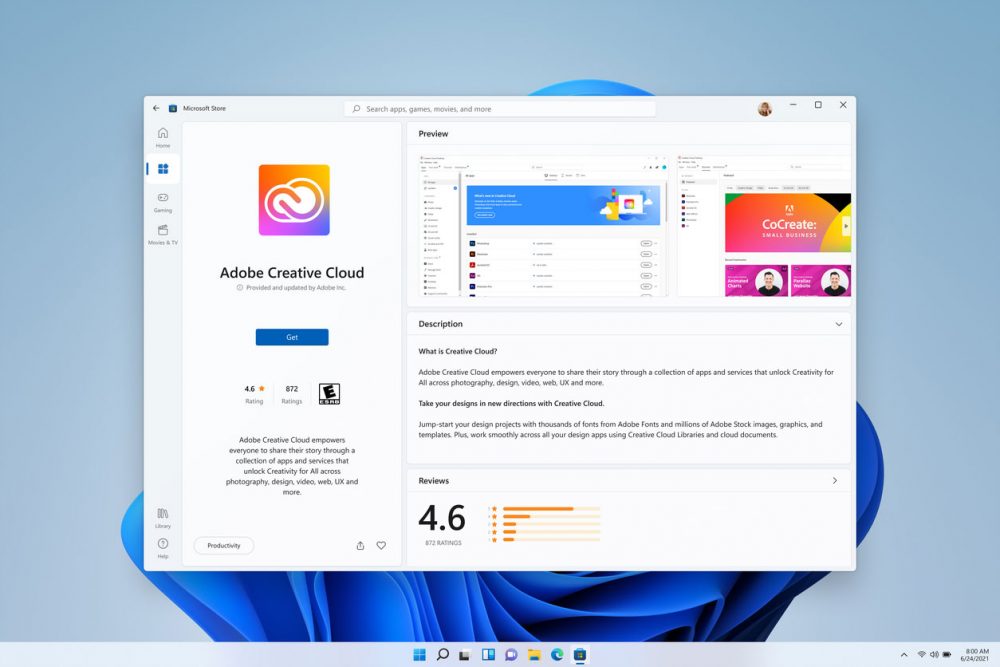 Here's one for Apple. Microsoft said developers can use their own payment systems on the Microsoft Store. Epic Games tried to do that on Apple's App Store, which eventually led to the two getting into a big legal tangle.
Here's another one: Microsoft also said that developers can be in the store with their own "commerce engine," and Microsoft won't take a cut from the revenues. Apple and Google infamously take up to 30% in commissions on their respective stores, so Microsoft is clearly putting on their good-guy-hat for this one.
Android apps on Windows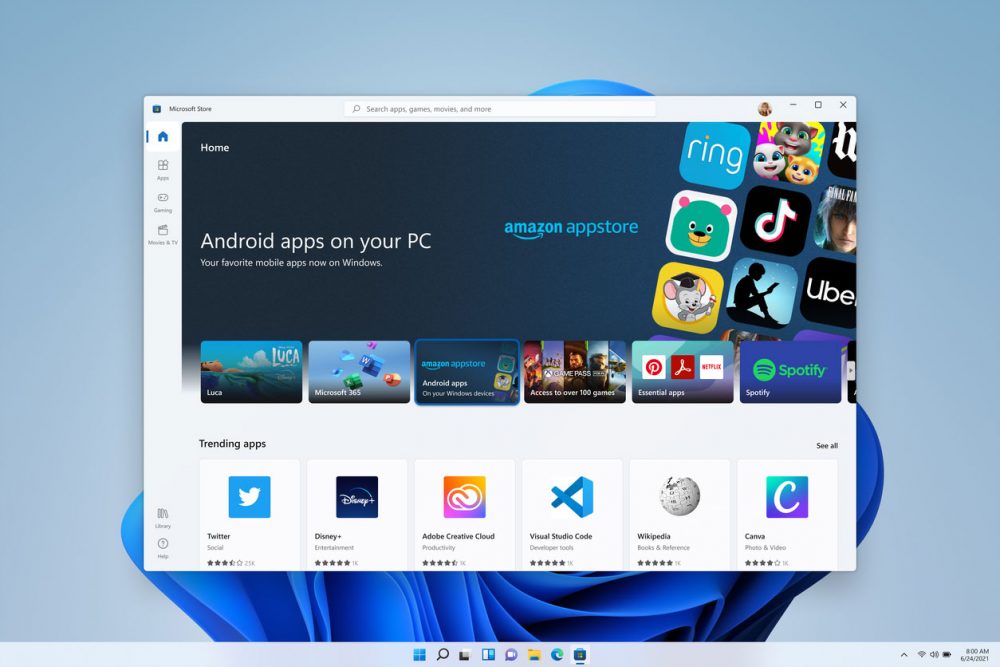 Ever wanted to use TikTok on your Windows desktop? Windows 11 will let you do that with the help of Intel Bridge technology.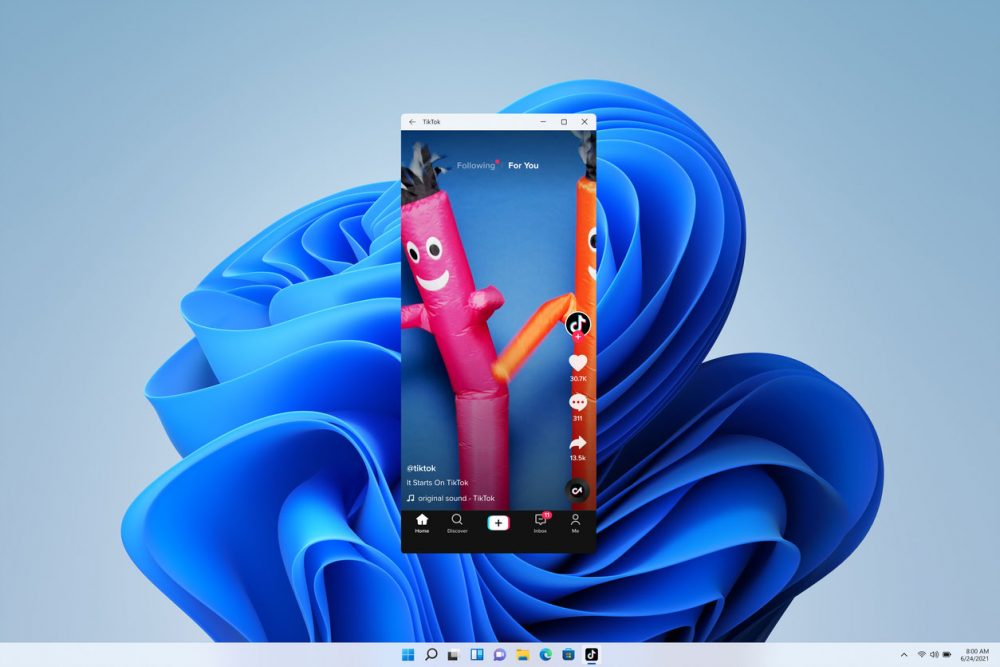 Of course, these mobile apps aren't designed for desktop use, so while this sounds cool on paper, we'll have to wait and see just how integral this feature is.

This does sound like a response to Apple streamlining their apps for all of their platforms, iPhone, Macs, iPads.
Windows 11 comes as a free upgrade to Windows 10 users. No definite release date has been announced for Windows 11 except for a holiday 2021 release window. – Rappler.com