Coco Alcuaz sits down with former education secretary Bro. Armin Luistro, who talks about his next big passion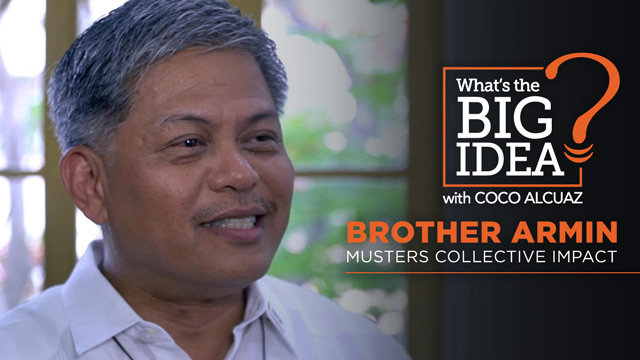 After 6 years as education secretary, Brother Armin Luistro says he couldn't just go back to La Salle, where from 2000 to 2010 he was provincial (i.e., country head) and then university president.
These days, Luistro is the president of Philippine Business for Social Progress, an almost 50 year-old organization that spends P2 billion a year on health, education, environment and livelihood projects.
Watch Coco Alcuaz interview Luistro on his big ideas on how to propel the Philippines forward. –Rappler.com
MORE ON 'WHAT'S THE BIG IDEA?'
Elbert Cuenca on creating restaurants
Brother Armin Luistro musters collective impact
Look on the bright side: Malang 1928-2017
Bo's Coffee competes with global players
Scientist writes children's book for girls
Arsenio Lacson: The mayor who would be president
Rey Ileto: History and Duterte through un-Americanized eyes 
Weather Philippines: Private sector fills information gap
Metropolitan Theater: Reviving an Architectural Icon
Virtual reality history at the Ayala Museum
Carmen's Best Ice Cream: From throwaway product to passion project
AIM bids for big data leadership 
Katipunan: Struggles of a Philippine craft beer pioneer
Areté: Ateneo puts finishing touches on new art and innovation hub  
Mid-century modern art and the Philippine Art Gallery