How will massive traffic jams due to road projects until 2016 affect road users in the short term?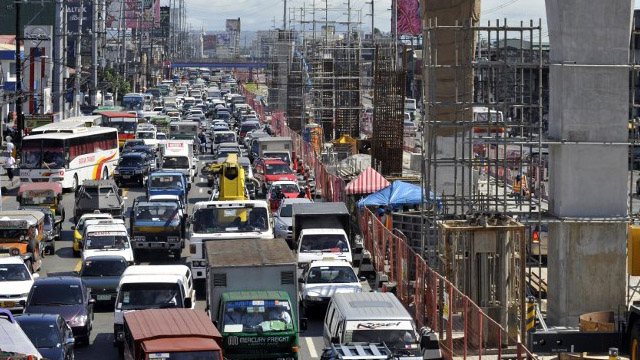 MANILA, Philippines – Metro Manila residents will have to endure massive traffic jams until 2016 as work begins on at least 15 road projects.
The government says it's a long-term solution to traffic, but how will this affect road users in the short term?
Katerina Francisco reports.
At least 15 road projects in an already congested city it's a traffic nightmare for residents of Metro Manila.
The government promises faster travel and less congested roads by 2016 but for jeepney driver Erasto Fernandez, it's a long wait.
Until the projects are completed, the traffic jams will hit him where it hurts: his pockets.
ERASTO FERNANDEZ, JEEPNEY DRIVER: Malaking pilay sa amin ito, gawa ng trapik eh. Sobrang ano to. Maaaring mawawalan kami dito ng halos kalahati sa kinikita namin. Kung kumita kami ng mga, whole day, P800, maaaring kumita na lang kami diyan ng P400. Eh magkano naman gagastusin sa isang araw?
(Heavy traffic will cripple our livelihood. We might lose nearly half of what we usually earn. If we earn P800 for the entire day, we might end up earning only P400 because of traffic. But how much do we spend for our everyday needs?)
Silvano Tero begins his day picking up passengers at 4 am to earn P800 a day.
It's enough to feed his family, he says — but it won't be if traffic gets worse.
SILVANO TERO, JEEPNEY DRIVER: Pag medyo grabe na trapik, wala na kaming kikitain, syempre maghahanap na naman kami ng paraan kung paano kami mabubuhay. Mga dalawang ikot, tatlong ikot ka na lang paano ka mabubuhay dyan?
(If the traffic gets worse and we stop earning as much, we'll have to look for different ways to make a living. If we simply make two, three rounds of picking up passengers, how can we live on that?)
Traffic has long been a problem in Metro Manila — and it's costing the country.
The gridlocks turn investors away and a study shows the Philippines loses P2.4 billion a day in potential income from the traffic jams in Metro Manila alone.
This includes lost work hours, lost business opportunities due to delays and missed deadlines and wasted fuel.
The losses add up to P576 billion a year just for the economic cost of traffic on weekdays.
That's more than the P400 billion infrastructure budget for 2014.
By 2030, the Philippines stands to lose P6 billion a day.
More traffic means longer time on the roads more pollution generated and more greenhouse gas emitted.
University of the Philippines professor Jose Regidor also points out a hidden cost that's hard to translate in money terms.
JOSE REGIN REGIDOR, U.P. PROFESSOR: A parent instead of nasa bahay na siya nag-aalaga ng anak nina, nandun pa siya sa traffic. Mahirap lagyan ng presyo yun eh. We're trying to put monetary values para madali ang appreciation na this is the amount we're losing everyday.
(A parent, instead of being at home to take care of the children, ends up being stuck in traffic. It's hard to put a monetary value on that. But we're trying to put monetary values so people will see that this is the amount we're losing everyday.)
The government says its road projects will solve traffic and help the Philippines achieve this administration's catchphrase: inclusive growth.
But how inclusive are projects intended for road users?
For Regidor, inclusivity also means making reliable public transportation a priority.
Regidor says it's time the government spends more on mass transit systems to decongest a bursting mega city.
Officials say it's a case of delayed gratification: suffer now, enjoy later.
But that's assuming population and vehicle density stays the same until 2016.
Katerina Francisco, Rappler, Manila
– Rappler.com