Relatives of the 58 victims visit the burial site of the Ampatuan massacre to pay their respects to their loved ones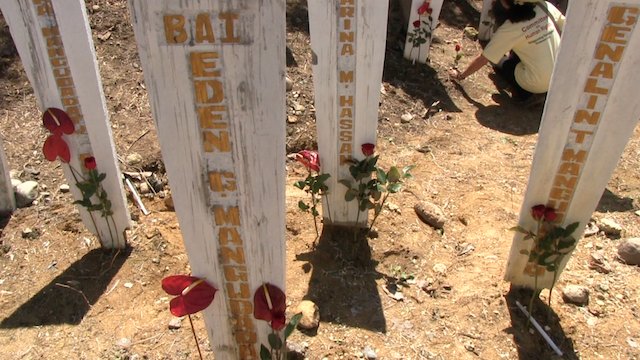 COTABATO CITY, Philippines – It's been 5 years since the Ampatuan massacre – the most gruesome crime to be committed in the Philippines in recent years. And 5 years on, the victims have yet to get justice. 
Angela Casauay reports.
58 dead. Five years. Zero justice.
Relatives visit the burial site of the 58 individuals who were killed in the most gruesome massacre to be committed in the country in recent years.
It's been 5 years of denied justice.
For some families, this yearly ceremony is their only chance to visit their loved ones.
MIKKO RAZON, SON OF AMPATUAN MASSACRE VICTIM, FERNANDO RAZON
Bigyan niyo lang kami ng hustisya para matahimik na kami kumbaga para magbalik na sa normal. (Just give us justice so we can be at peace, so things can go back to normal.)
The alleged perpetrators of the crime may be behind bars but security remains volatile in Maguindanao.
Days ago, a possible witness to the crime was ambushed and killed – yet another hitch in the quest for long-delayed justice. 
A delegation of international journalists wants the Philippines to know that the world is watching. 
MIKE DOBBIE, COMMUNICATIONS MANAGER, MEDIA ENTERTAINMENT AND ARTS ALLIANCE AUSTRALIA: It's another sign that the justice system is broken. If the government cannot protect witnesses in a trial as important as this, as so crucial to Filipino history as this, then something is wrong. Again, it's this culture of impunity. If the government is not doing anything, putting in resources to protect witnesses then something is wrong. 
What is the status of the case? It's still stuck at the first phase: bail petitions.
Impatience among the victims' families is growing.
MIKKO RAZON: Five years na wala pa rin e. Ewan ko kung may pag-asa ba o wala ba. Hindi namin alam. Umabot na lang sa pork barrel, Yolanda, 'yung sa amin wala pa rin. Parang lumala talaga ang sitwasyon. (It's been 5 years yet there is nothing. I'm not sure if there is still hope or not. We don't know. Pork barrel, Yolanda happened yet our case has not been resolved. It seems the situation has worsened.)
It's the defense team's turn to present evidence against more than 100 suspects and they are expected to present 300 witnesses – raising concerns about further delay. 
Worse, there's continued infighting among private and public lawyers prosecuting the case. 
Fifty-eight dead. Five years. Still, justice remains elusive. How much longer to the families of the victims have to wait to put a closure into this dark page in our history?
Angela Casauay, Rappler, Maguindanao. – Rappler.com