'I heard what everyone needs to hear from the most unsuspecting, rugged-looking person who looked at everyone with ease'
I never thought I'd learn so much from a farmer.
I attended an infolab on youth social entrepreneurship, and I expected to hear about business models, money matters, and the usual marketing strategies you get in that type of gathering. But this was different.
I heard what everyone needs to hear from the most unsuspecting, rugged-looking person who looked at everyone with ease.
His name is Jon Sarmiento. He prefers to be called Farmer Jon.
"If we give recognition to lawyers and engineers, we should also recognize my profession. I am a farmer, and so call me Farmer Jon."
He has an organic farm – Kuatro Marias, in Mindoro – but he's someone who goes around to teach, to go the distance of replicating agricultural best practices.
What he shared is so much more beyond farming, and comes from something very deep and personal. 
"Kaming mga magsasaka ay mga entrepreneur. Pero hindi namin ito alam. Kami ay may mga produkto pero kami ang pinagkakakitaan. Kami ang backbone ng ekonomiya. Hindi kami naturuang mag-negosyo." 
(We farmers are entrepreneurs, but we don't know it. We are the ones with the products, but we are exploited. We are the backbone of the economy. We just do not know how to run a business.) 
He told the thirty young people in our group: If you want to start your business, go into social enterprise.
Business with an impact
Social enterprise, he said, is different from the big corporations that generate profit from the farmers who labor to plant pineapples and rice – because a social enterprise has a soul.
Farmer Jon shared three rules to make a social enterprise work. These rules are:
First, hindi pagpapakita; balik kalikasan. A social enterprise has to sincerely value the environment. He does poetic justice instead of explaining this in detail: Sirain mo ang hangin, babalik sa iyong hininga. Sirain mo ang dagat, babalik sa alat ng iyong pawis. Sirain mo ang lupa, babalik sa iyong katawan.
(Destroy the air, it will return to what you breathe. Destroy the sea, it will return in the saltiness of your sweat. Destroy the land, it will return to your body.)
Second is the problem of the great divide. The gap, he says, is too wide between the rich and the poor in the Philippines. He pointed out that our infolab at Katipunan was practically next to his community work in Tandang Sora but we were just so different and divided.
Third, there has to be sharing. Profit has to be distributed across those who work for it, all the way from Imperial Manila to the rest of the Philippines.
All the while, when he was talking, the computer behind him flashed a poster. It read, "No Farmer, No Food." He was smiling when he read it, but everyone heard the worry in his voice when he continued the slogan: "No farmer, no food… no future. More importantly, I can tell you: No young farmers, no future."
Every rice grain counts
He asked everyone to watch a video that featured Kuatro Marias and told us how his training center got washed away by a storm surge. With the idea of farmers bent under the scorching sun to plant tiny shoots of rice in thick mud, he struck us with this line, "Intindihin at danasan mong magtanim ng bigas para alam mo ang ibig sabihin ng tinatapon mong butil ng kanin." (You should understand and experience planting rice so you'll know the value of every grain you throw.)
It got us thinking about all the food wastage around the world, and how we so easily throw leftovers into the trash bin.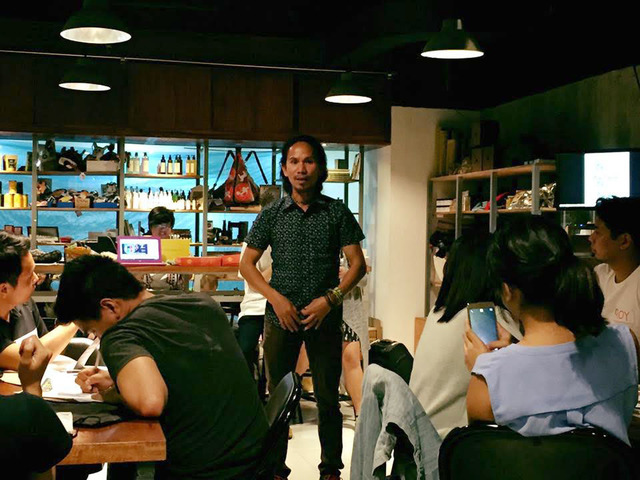 He pointed out how young people should venture into the most farflung places in the Philippines, where the poorest of the poor thrive. "Go into agriculture," he said. "Visit the smallest farmers. Study what we need, there's so much to do—packaging, farm technology. Work with us."
He talked about how  millennials love traveling abroad or partying in Boracay. "Why not visit the farms of our country?" he asked. "Take that sidetrip," he suggested. "You enjoy, you learn, you breathe, you eat organic. Most importantly, you're able to give help those who need it."
Champion our farmers
In ending his talk, Farmer Jon explained what the "Change is coming" slogan meant to him. "Change starts with us," he said. "We can't keep saying that someone else will do it, or that the government is too slow. It's up to us, young people, to make the difference in a future that we want."
Farmer Jon called everyone not only to champion our Filipino farmers but to look at the bigger picture of combating poverty, climate change, and social inequalities. He inspired us to stand up and do something about what they see is wrong.
I attended the infolab plainly because I needed a refresher on business models for my current consultancy project. I left it with a change of perspective. At the end of the day, it's not just the money of an enterprise that matters. It's about our people, and the real impact that we make for the good of everyone else.
And to Farmer Jon, I said I'd write about you. Agriculture is not my expertise, but in time, perhaps, one or all of the thirty young people in the infolab where you gave that talk will begin to stand for what you do through a social enterprise. Hopefully, perhaps someone who's reading this will, too. – Rappler.com
Ragene Andrea L. Palma, 25, is an urban planner and consultant. She blogs about her professional experiences and personal learnings at littlemissurbanite.wordpress.com.