This is AI generated summarization, which may have errors. For context, always refer to the full article.
A 16-year-old university student and her mother are captured during the rebel siege in Zamboanga City. This is their story.
Among those held captive during the rebel siege in Zamboanga City that started on Monday, September 9, was a 16-year-old university student and her mother. Below is an English translation of her narration about their captivity on Tuesday, September 10, and their release later that same day. She has requested that her real name not be used for this story.
ZAMBOANGA CITY, Philippines – It was 5 am when my mother alerted me that shots could be heard from the neighboring barangay (village) of Sta Barbara. There is a shorter route to that barangay at the back of our house here at Martha Drive, Bgy Sta Catalina.
Over the radio, it was reported that the Moro National Liberation Font (MNLF) already had 30 hostages with them. Not long after, 3 gunmen entered our house, asking for food.
Only the girls in our family were in the house at that time. My brother was in Tawi-Tawi. My mom and I panicked, as we did not know what to do. The armed men eventually left.
My mom and I decided to transfer to our other house that same day for safety reasons. At around 2 pm, after we took some clothes, we were found and captured by rebels outside our house along Martha.
Martha Drive had become the MNLF's stronghold in the city.
We were brought inside one of the houses. About 5 of those held hostage were children. Most were elderly men and women.
Priest in our midst
Some of the rebels who captured us looked like teenagers, around 17 years old.
They were kind. They tried talking to the hostages. They said they came from Basilan and others from Tawi-Tawi. They spoke in fluent Tausug.
Most of them were dressed in army clothes. The younger ones wore civilian clothing.
They offered us food, but we refused the meals out of fear. Almost all of us were crying.
We also heard that other hostages were made to march to the city hall with their hands tied, serving as human shields for the rebels.
Fr Michael Ufana was captured with us. He is the parish priest at the Metropolitan Cathedral of Immaculate Conception.
Fr Ufana talked to the rebels from time to time. One of the younger MNLF members told the priest that he didn't expect the fighting to be this bad and that he already wanted to go back to Basilan.
READ: About 80 rebels surrender in Zambo
Rebel-snipers
The younger rebels wanted the hostages freed, but their leader was just outside the house.
At around 5 pm or 6 pm, the women and children held hostage were told to run to outside the house if we wanted to escape. They also told us to cover parts of our body once outside, as there were rebel-snipers who might shoot us.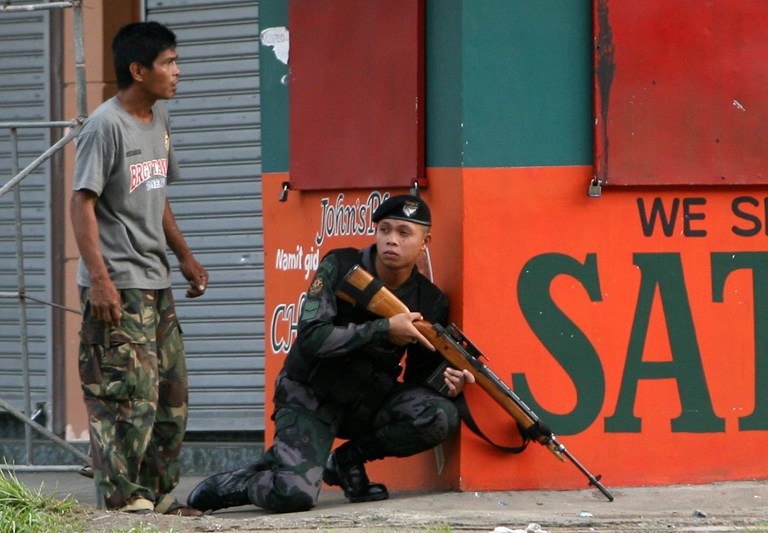 They said when their fellow rebels set houses on fire, there would be rebel-snipers ready to shoot responders.
Upon their signal, we ran as fast as we could.
By the time I reached downtown proper, I could no longer talk or stand still. I was so afraid.
There were members of the police and the Marines there. A man from the Marines told me to stop crying, told me that I was already safe. But my mother was nowhere to be found. I had no intention of leaving without Mama. I did not know what to do.
There was a truck ready to bring us to Bgy Divisoria, where Mama and I eventually found each other.
Reunited
I am now with my mom here at a priest's house, together with other evacuees. Fr Ben Villaflores has offered his home here at Bgy Divisoria. He is the parish priest at Bgy Mercedes.
There are already thousands of evacuees at the city grandstand, waiting in long lines for food. The condition is better here at Fr Ben's home. Since Fr Ben is also busy with his parish, he only gets to visit us every other night. When he visits, he brings us food to eat. We are well taken care of here.
I want the conflict between the government and the rebels to end. I also want the President to do something.
One of my friends who was also evacuated here has his laptop with him, and we are able to access the Internet through broadband.
I learned that there are those in Manila who are underestimating the gravity of the situation here, even joking that there are other social ills elsewhere anyway such as flooding or what have you. I hope they can be a bit more considerate.
I don't know when the fighting will end. I hope we can go back to our homes. – Rappler.com
At least 14,300 have been displaced due to the recent clash. Help by donating to the victims.
Editor's Note: *Divine Santos is the pseudonym of a 16-year-old university student who was among those held captive during the rebel siege in Zamboanga City. She has requested that her real name not be used for this story.