I was in elementary school when Martial Law was declared in September 1972, quite oblivious to the danger that it posed and perhaps even shielded from its ugly adjuncts that came not long after. But what I do remember distinctly is one song that played every single morning on the radio – I didn't realize it's so embedded in my system that up to this time while writing this, some lyrics came to mind almost effortlessly like they were summoned from my distant past:
 
May bagong silang (There's a new birth)
May bago nang buhay (There's new life)
Bagong bansa (A new country)
Bagong galaw (New movement)
Sa bagong lipunan (In a new society)
Nagbabago ang lahat (Everything is changing)
Tungo sa pag-unlad (On to progress)
At ating itanghal (And let us present)
Bagong lipunan… (The new society…)

Titled, "The March of the New Society," the music was composed by national artist Felipe Padilla de Leon with lyrics by Levi Celerio. Whenever it played on AM radio, like clockwork, I knew that my ride was picking me up soon.

It's a scary thought to consider, what if – what if Martial Law and its unchecked abuses continued to this day, where would we be? What would our values be like? In the lead up to Martial Law, I also recall student marches passing by the gates of a Catholic school I once attended, the roar of indignant student voices telling me something was not right. But we were told not to ask because we were too young to understand.

Remember 1081? This coming Saturday, September 21, will mark the 47th anniversary of the signing of Proclamation 1081, which placed the entire country under Martial Law. Historians say Ferdinand Marcos, the dictator, actually declared martial rule on September 23 when he went on national television at about 7:15 in the evening to announce the nationwide coverage. 

Of late, there have been very blatant and shameless attempts to rewrite our past and depict that part of Philippine history as devoid of stigma and instead marked by glory. Why, some even want to pretend or fool those who don't know any better that, arrests, tortures, executions didn't happen.

Here are some of the egregious lies that we have debunked through the past years. Click on the links below if you missed some of the false and misleading claims.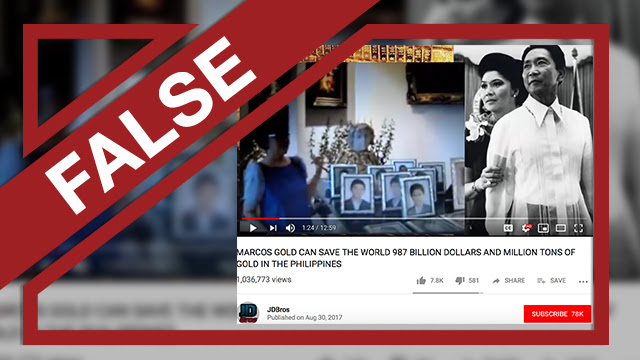 In the latter part of the week, we will be releasing a story about the continuing perpetuation of these lies by various groups online. It looks like this combination of deadly propaganda and targeted disinformation is part of a campaign to burnish the image of the family and pave the way for the further rise of the Marcoses in Philippine politics.
Also this week, we will be publishing at least two more fact check stories related to the Marcos years. This just goes to show that the effort to mislead continues and the battle against fakery is a never-ending one. Help us combat disinformation online and support our fact check efforts.

As indicated in our fact check page: "Keep us aware of suspicious Facebook pages, groups, accounts, websites, articles, or photos in your network by contacting us at factcheck@rappler.com. Let us battle disinformation one Fact Check at a time." Alert us to anything you spot online which is false and misleading.
The horrors of Martial Law and the excesses of the Marcoses cannot be extinguished by social media posts that claim the contrary. But with no resistance to a determined effort to whitewash and forget the crimes of that despicable period, what is false will one day all be true. As Milan Kundera put it in his The Book of Laughter and Forgetting, "The struggle of man against power is the struggle of memory against forgetting."
Also on Newsbreak. On Monday, September 16, reporter Rambo Talabong drew a list of ambassadors who had met with Mayor Isko Moreno and who all expressed support for his campaign to resuscitate the historic but crumbling city of Manila. Among them, the one who struck me most was Japanese Ambassador Koji Haneda who said that to lure Japanese tourists, the walled city of Intramuros needs fixing. That's very doable in the short-term.
I didn't even know that a samurai named Takayama Ukon was exiled in Manila for his faith. I haven't noticed, too, his statue at Plaza Dilao near the neighborhood in that part of the city where thousands of Japanese were said to have stayed during the Spanish era.
The Japanese ambassador told Moreno: "The trail where he (Takayama) stayed can be an asset I'm going to promote." To which the mayor quickly replied, "You promote, I protect."
Okay, I can't wait for them to fix it for keeps. Let me know what you think via chay.hofilena@rappler.com. 
We are also holding our Social Good Summit #2020Now: Insight for Impact this Saturday, September 21, at the Yuchengco Hall of De La Salle University on Taft Avenue. Join us!
And don't forget to join Rappler's exclusive YouTube members' circle.
Newsbreak is where you'll find Rappler's investigative, in-depth, and data- and research-based reports. Be updated on the latest stories by liking Newsbreak on Facebook and following @newsbreakph on Twitter.