Are we in a better place?
This newsletter is late today because I decided to wait for the results of the Supreme Court (SC) decision on the electoral protest filed by Bongbong Marcos against Vice President Leni Robredo. Prior to releasing its resolution on the case, the SC took great pains to project an image of collegiality. Rocked by controversy during the time of then-chief justice Maria Lourdes Sereno (she has since been banished from the rolls as if she never became chief magistrate), the institution needs to rebuild public trust.
Our justice reporter Lian Buan, who has been monitoring goings-on in the High Court, wrote about this deliberate effort to project collegiality and have a unified message: "we are collegial, we are united." Read about it here: During tense political times: Unity is Supreme Court's prime quest.
On Tuesday, October 15, when it ruled on the vice presidential electoral protest lodged by the Marcos camp, the SC opted for a compromise "decision" that would allow both sides some leeway to claim a degree of victory in this initial round. For the Robredo camp, the decision to release the results of the recount in the 3 provinces – Negros Oriental, Iloilo, Camarines Sur – favors her because they show Robredo still leading over her opponent. She gained 15,000 more votes, while Marcos got an additional 4,000.
But the High Court also had something for Marcos: instead of outrightly dismissing his motion to void results in the 3 provinces in the former Autonomous Region in Muslim Mindanao (ARMM) – in keeping with a PET rule that says no recount if no substantial recovery of votes is made) – it opened the possibility of a recount in these provinces. 
This essentially opens the gates to the inclusion of more provinces, which could alter the number of votes for the two. Remember that Robredo won by just 263,473 votes in the 2016 elections and that could be easily overturned, depending on how voting in those additional provinces goes. Read more about the decision here: Supreme Court to release initial recount results in VP protest.
Clearly the fight isn't over. And the SC is taking its time to decide with finality on this electoral dispute. By the next round (or rounds), current Chief Justice Lucas Bersamin would have retired, a new chief magistrate would be in place, and another justice would be appointed, too, by the President. Will this change the equation? It could. The case could also be a factor in the choice of a new chief justice.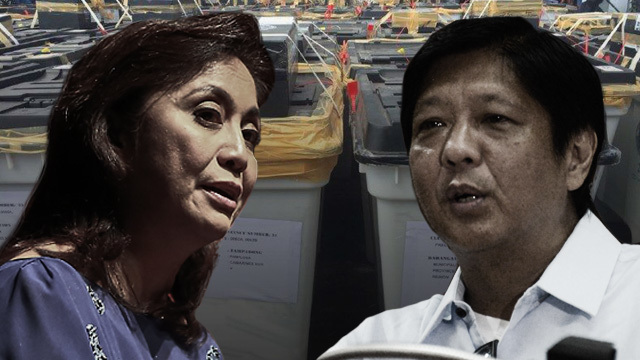 Rating the SC. In a Social Weather Stations survey on public satisfaction with the Supreme Court, there is increasing satisfaction with the institution. Whether this is deserved, is something being debated even in lawyers' circles.
The High Court recorded its lowest rating in June 2018 after justices ousted Sereno on May 11 that same year. The en banc voted 8-6 to grant the petition that sought to remove her on the basis of an invalid appointment. The lead up to that final decision was ugly, to say the least, with justices shamelessly washing dirty linen in public.
The highest climb was in the first quarter of 2019 after Bersamin assumed the post of chief justice in November 2018. We published a story about him back then: FAST FACTS: Who is new Supreme Court chief justice Lucas Bersamin? Barely 10 months in the top seat, he retires this Friday.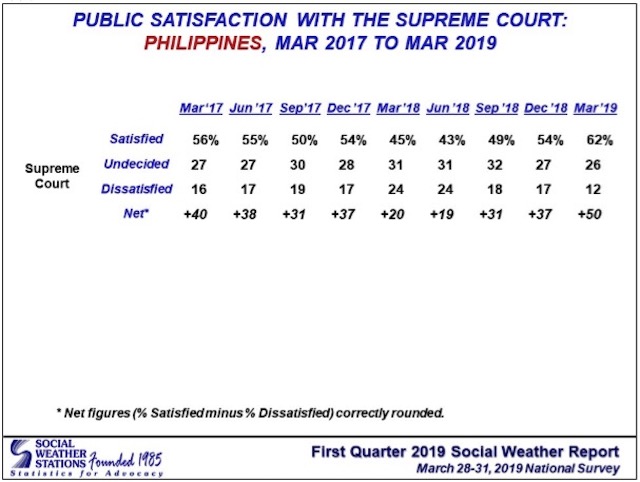 In a democracy seen to be threatened by a president with authoritarian tendencies that satisfy a public hungry for fast action and quick results, a legislature dominated by administration supporters, and even a Supreme Court that will soon be packed with Duterte appointees – save for only 3 – the significance and impact of their collegiality can be interpreted either way. 
At the moment there are 8 Duterte appointees still sitting in the High Court that consists of 15 justices. Two other appointees have since moved out – one became Ombudsman (Samuel Martires) while another retired (Noel Tijam). Besides his latest appointee, Associate Justice Rodil Zalameda, the other 7 are Associate Justices Andres Reyes Jr, Alexander Gesmundo, Jose Reyes Jr, Ramon Paul Hernando, Rosmari Carandang, Amy Lazaro Javier, and Henri Jean-Paul Inting. 
After the October retirements of Bersamin (October 18) and Senior Associate Justice Antonio Carpio (October 26), more appointees are forthcoming within the year.
The question running in the heads of many is whether a collegial Court will mean a "coopted Court" or a Court that will issue no-balls (pardon me) decisions that will try to accommodate various legal positions on key issues. What matters, many will agree, is that decisions are made based on the rule of law and the Constitution. If there is consistency with past decisions, so much the better. After all, laws are the bedrock of a working democracy.
First 100 days.  In other major developments, we've been watching how some of our young mayors in the metro have performed in their first 100 days in office – among them:
These young chief executives spell hope for the future and will need all the support, even as the media makes sure to watch them and let them know if they go off-track. You should too!
Let me know what you think via chay.hofilena@rappler.com.

Newsbreak is where you'll find Rappler's investigative, in-depth, and data- and research-based reports. Be updated on the latest stories by liking Newsbreak on Facebook and following @newsbreakph on Twitter.