The fishermen of Gem-Ver received an old boat that turned out to be useless
What a gift says. A gift usually reflects the value of that friendship to the gift-giver. In this case, a Chinese company gives a gift to Filipino fishermen left to die in open waters by a Chinese fishing vessel.
The vessel they bought for the fishermen was second-hand and old – like 14 years old. It was badly in need of repairs and could not have survived a grueling trip to the West Philippine Sea. It could not even weather one of our storms.
Ironically, the fishing vessel is named Pengyou. It means friend in Mandarin.
Watch. This one you have to see for yourself.
Baffling. A lot of questions come to mind in this fiasco. Does the company which gave the gift know the condition of the boat purchased using its money? Who decided to buy a second-hand, unseaworthy vessel? Was it the office of Special Envoy to China Ramon Tulfo, since the gift-giving was channeled through it?
One can argue the fishermen had no right to complain – and really they did not. They timidly accepted the gift even though they saw there was a fissure in it and knew the vessel wouldn't get far.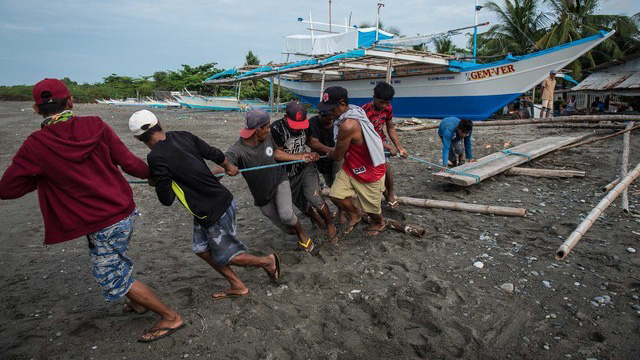 Is this adding insult to injury? Look at the expression on the face of the Gem-Ver captain.
But despite that disappointment, the fishermen of Gem-Ver mark November 14 as their new beginning. Today, a reconstructed Gem-Ver is back at sea. (READ: PH boat sunk by Chinese sailing again to Recto Bank)
---
Leni's choice. Last week's biggest story was Vice President Leni Robredo's choice to accept an appointment by President Rodrigo Duterte as co-chair of the Inter-agency Committee on Anti-illegal Drugs (ICAD).
Is she ready? You be the judge, starting with her opening speech at the first meeting of ICAD. Beside her is her co-chair Philippine Drug Enforcement Agency chief Aaron Aquino. Watch the video above.
Promises are promises. Robredo says she will not let her new post as anti-drugs body co-chairperson get in the way of her promise to help those at the fringes or "laylayan" of society.
---
2022 elections a factor? Robredo says the next presidential election was not a factor in her decision to accept the ICAD co-chairmanship.
---
Probe China. Anti-drugs body co-chair Leni Robredo wants China probed for illegal drugs, money laundering in PH.
---
Bato's advice. Former drug-war implementer and now senator Ronald dela Rosa tells the VP to get out of her air-conditioned room to lead the war vs illegal drugs. But he admits there's some danger to that. And he didn't join operations during his time.
---
Highly recommended videos:
Prelude of things to come?. Marinduque Representative Lord Allan Velasco says House Speaker Alan Peter Cayetano should honor their term-sharing deal after 15 months. Earlier, Cayetano said he was open to staying on as Speaker. Are we looking at a speakership war again?
---
University and business district. Hong Kong protesters fought intense battles with riot police in the Chinese University of Hong Kong and paralyzed the city's business district, Tuesday, November 12. The confrontations follow a brutal day when police shot a protester and a man was set on fire.
---
Colonialists are good guys?. Filipinos are fuming online after a poster for an animated movie about "the first voyage around the world" went viral. The voyage was part of the Spanish expedition led by Portuguese Ferdinand Magellan and concluded by Spaniard Juan Sebastián Elcano.
---
Matteo speaks. Last time, it was that enigmatic stone on Sarah Geronimo's engagement finger that sent the internet aflutter. Now, her boyfriend, Matteo Guidicelli, confirms the engagement in an interview and shows his message to Sarah's parents: "Hangad ko po na maging isang pamilya tayo."
---
From cartoons and animations timelapses
to newsroom tours to Live Jam soundchecks
get access to Rappler's MEMBERS-ONLY content here