Newly appointed assistant secretary Mocha Uson can no longer 'misbehave' in her blog
MANILA, Philippines – Mocha Uson took care to declare on her popular Facebook page that all her posts there are about her personal views and not that of the Presidential Communications Operations Office (PCOO), where she is now an assistant secretary. 
Emblazoned across her page as its cover photo, the declaration seeks to draw a line between public and personal.
But given her new career, Uson should know that, as a public official, all her public posts impact public interest.
Making it even trickier for her to draw that line is the nature of her job – assistant secretary in charge of communicating programs of government to the public through social media.
Since she is now a government official, Uson is bound by the "Code of Conduct and Ethical Standards for Public Officials and Employees," otherwise known as Republic Act No 6713.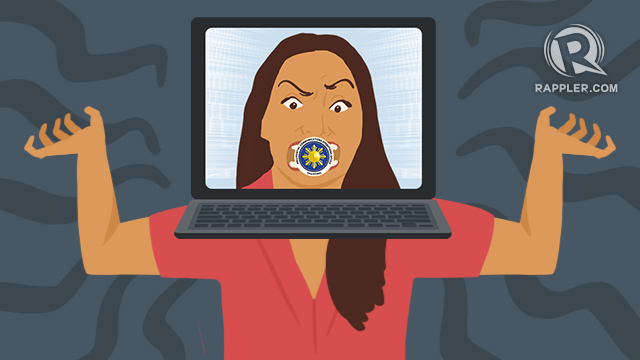 According to this Code, the line Uson wants to draw between personal and public is non-existent in certain cases. 
"She can no longer misbehave in the blog, she can't curse," said a lawyer from the Office of the Ombudsman.  
"She could be made administratively liable for any misbehavior for conduct prejudicial to the interest of public service," added the lawyer.
Public vs private
According to the definition of "conduct prejudicial to the interest of public service," an act does not need to be related to or connected with a government official's functions. As long as the act damages the reputation of the official's department, the official can be held liable administratively. 
"The acts of respondent constitute the administrative offense of Conduct Prejudicial to the Best Interest of the Service, which need not be related to, or connected with, the public officer's official functions. As long as the questioned conduct tarnishes the image and integrity of his public office, the corresponding penalty may be meted on the erring public officer or employee," reads jurisprudence on Civil Service Commission laws. 
No matter how much Uson says her blog is for her personal views, her readers know she is a PCOO assistant secretary. From hereon, her posts, especially those made publicly, will be the posts of a government official being paid taxpayers' money (at least P106,454 a month, to be exact).
It also cannot be denied that she was appointed to her post primarily because of the popularity of her blog and her fierce defense of the President on her blog.
Duterte himself said he gave her the job out of "utang na loob" (debt of gratitude).
Uson also uses her Facebook page to post Palace-released photos and information, further blurring the line between personal and public, to the disservice of Filipinos. 
Foul, derogatory language
Uson has frequently used foul, derogatory language in public online posts or broadcasts.
On her DZRH show, for instance, she called Vice President Leni Robredo "bobo" and cursed her and her staff with several outbursts of "putang ina" (son of a bitch). DZRH eventually suspended her show because of this incident.  
On her blog, Uson has frequently cursed and insulted reporters and media outfits. Without citing any proof, she has labelled media groups like Inquirer, Rappler, and ABS-CBN as "presstitutes," or journalists paid to write fake or biased news. 
With this in mind, Uson must abide by other provisions of the Code of Conduct.
Under Section 4 or Norms of Conduct of Public Officials and Employees, she must observe the following:
Professionalism – Public officials and employees shall perform and discharge their duties with the highest degree of excellence, professionalism, intelligence and skill.
Justness and sincerity – They shall at all times respect the rights of others, and shall refrain from doing acts contrary to law, good morals, good customs, public policy, public order, public safety and public interest. 
Political neutrality – Public officials and employees shall provide service to everyone without unfair discrimination and regardless of party affiliation or preference.  
Public officials and employees are also told to extend "courteous" service to the public. 
If found to have violated provisions of the Code of Conduct, Uson may be penalized with a fine equivalent to 6 months' salary or suspension for up to a year. If the offense is grave enough, she could be removed from office. – Rappler.com