The man from Mindanao, if he were truly the one to turn things around, now has to start reimagining himself as the leader of a divided nation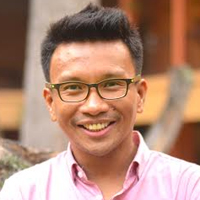 Some are already celebrating, some are not. But one thing is clear: many people are baffled by the rise of Duterte. It is incredible that a mayor from Mindanao can make it to the national scene.  
To make it more incomprehensible, his support base is phenomenal and broad. He enjoys overwhelming loyalty from NCR, Visayas, and Mindanao and attracts tremendous backing from all socioeconomic classes.  
But his rise is not unprecedented. Not too long ago, Poe was where Duterte is now. She was at the top of the game, enjoying significant support across classes and in the different regions of Broader Luzon, the Visayas, and NCR ).  
What makes it different now?  
Duterte has arrived at the national scene at the right time with the right political maneuvering that keeps him a staple of conversations at the dining table.
The Alternative
Duterte has effectively become the more credible alternative to the original alternative.  
Although a neophyte, Poe's decision to run was a welcome turn of events to challenge what then felt as Binay's unstoppable rise.  Binay's popularity declined and Poe was hounded with one issue after another.  Her citizenship, while affirmed by the Supreme Court, has created ripples of doubt about her loyalty to the Philippines, a country whose sense of nationalism remains parochial.  
Poe, the alternative, needed to have another alternative.  Perfect timing for the arrival of the one who curses, speaks Bisaya, and has promised to turn things around in three to six months.  
Like it or not, Duterte is charming not because of his figure but because of his narrative.  He says he is not smart, but vows to make things happen and is willing to hunt down criminals.  As his guarantee, he has also pledged to resign if he fails to deliver on his promises.  
It is this narrative of the feisty oppressed that sets him apart from the loving Poe, that Makati boy, and if I may include him, too, the highly educated man from Cubao.  
When he decided to run for President, he made an unprecedented statement: "Because I have to solve so many problems, stop fucking me….If you want me to do it, then I'll do it but in my way." 
Resonating with people's longings
Mayor Duterte's brashness does not inspire me but I do recognize that his message is one that resonates with many people's longings. Contrast him to the others and his narrative becomes understandably convincing.
Mar Roxas is a technocrat and speaks the inaccessible language of policy elites. Grace Poe wants to offer her love but her sincerity is now in question. Binay, of course, can't be Binay without his dynastic family and the recurring allegations of corruption. Miriam Santiago is perhaps the other feisty candidate who could effectively challenge Duterte. But this is no longer 1992. Her vigor has become regrettably episodic.  
Mayor Duterte's narrative is the very authenticity that his supporters had been looking for in a long while now.  
He is not afraid of offending people and makes promises based on his accomplishments in Davao. On several occasions he has also dressed down the administration's bet. Forget the fact that his statements are not all factual, like the one he gave on Philhealth.  
The point is that he gives voice to what many people, especially in Mindanao, feel.  Among many other issues during last Sunday's presidential debate, he was spot on when he reminded the crowd of the historical injustices committed in Mindanao.  
Authenticity accompanies his message of understanding oppression, the willingness to confront even the elite, and above all, his ordinariness.
In the final analysis, Duterte's authenticity is what gives him that enviable appeal. But it is also the weapon his supporters are willing to use.  
This explains why many have gone on social media to assist him in this war.  In a statement that evokes recent images of violence and pain, a student I met in Mindanao has this to say on Facebook: 
"You know what, you cannot understand us. You cannot understand poor people because you're elite. You cannot understand…why we keep on bashing Mar and LP and Binay. Hey, it's all we can do.  We don't have any weapon against your money or guns that's why we resort to cyberbullying.  Para kahit papaano, makabawi kami.  Because we know that if we ever do it properly, you will send your fire trucks and bombard us with your water cannons." 
I am certain that many others still wish that Duterte's mouth – or his supporters' fervor – would be his downfall. But that has not happened at all. In fact, he has not backed down.  His recent controversial statements have brought a fresh wave of support for him, perhaps even galvanizing the loyalty of his new followers.
However, it is precisely Duterte's authenticity that repels many others as well.   
For Duterte's hopeful loyalists, May 9 is D-day for which celebrations have already begun.  But for many others, May 9 is a day of fearful reckoning.  
The man from Mindanao, if he were truly the one to turn things around, now has to start reimagining himself as the leader of a divided nation.    
With all due respect, Mayor Duterte and his committed supporters need to get this right. – Rappler.com     
Jayeel Serrano Cornelio, PhD is a sociologist and the Director of the Development Studies Program at the Ateneo de Manila University.  He is also one of the investigators on Vote of the Poor 2016, an ongoing study funded by the Institute of Philippine Culture.  Follow him on Twitter @jayeel_cornelio.