The Ombudsman's revelation about Chief Justice Corona's multi-million dollar accounts has provided his trial a new twist, and proved the old adage that truth will find its way out, no matter the hindrances.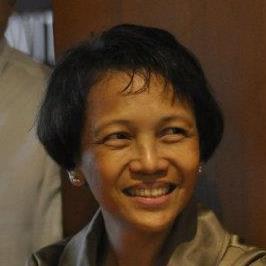 I did not miss the impeachment trial. In fact, I felt that life was blessed and peaceful without the daily courtroom drama of an all-star amateur-hour prosecution team up against a solid blocking force led by a seasoned lawyer who could say "I object!" with ferocity and lightning speed.
Did you notice, too, that there was less toxicity in the air, as fewer lies zipped through radio, TV, cyberspace, and print?
Like many others, I was able to focus on real work, without distractions from senators preening for the cameras and pundits who fill up dead air with hollow chatter. 
Still, I look forward to the trial which resumes Monday (May 7). I marked this date in my calendar, as if it were a red-letter day, because it signifies that we're finally going to reach an end to a stressful, if not painful, episode in our national lives. (More on this later.) The uncertainty of the trial's outcome definitely contributed to the stress.
But the revelation from Ombudsman Conchita Carpio-Morales about Chief Justice Renato Corona's multi-million dollar accounts has provided the trial a new twist, the prosecution a decisive edge, and proved the old adage that truth will find its way out, no matter the hindrances.
It's ironic that a former colleague in the Supreme Court would tighten the noose on the chief justice. Well, things have a way of haunting people. Corona showed his vindictive and petty hand when he slashed Carpio-Morales's retirement budget by more than half, claiming that the Court did not have enough funds. (He did not like it that Carpio-Morales strongly dissented when the Court allowed President Arroyo to appoint a midnight chief justice.) This was not true, of course, as we've seen, during the trial, evidence of the chief justice's "discretionary funds" and, during congressional budget hearings, the Court's "fiscal autonomy fund," where they keep their billions of pesos in savings.
As the Inquirer has reported, the Ombudsman wrote Corona, asking him to explain his $10-million deposits. This is part of an investigation process her office has been conducting. She needed to get his side of the story. Hers is a deliberate move based on powers granted to the Ombudsman. Corona, through one of his lawyers, outrightly denied the existence of such deposits.
Our antiquated bank laws are tight on information on foreign currency deposits. In this age of concerted global action against corruption and money-laundering, the Philippines remains a holdout, secretive about dollar deposits.
But it is within the power of the Ombudsman to ask government agencies for information on public officials she is investigating. This is where the secretive Anti-Money Laundering Council (AMLC) comes in. Carpio-Morales, our sources tell us, based the information on the "mind-boggling" dollar deposits of the chief justice from AMLC data.
These millions of dollars are not in one bank account. We learned that they are spread out and apparently also in overseas accounts. Furthermore, the $10 million represents total transactions during a certain period, we gathered, and not bank balances. The Ombudsman's Office had to do a "forensic audit" to arrive at this figure.
For impeachable officers, the Ombudsman is required to submit her findings to Congress, which should initiate impeachment proceedings. But, in this case, with the impeachment trial already in full swing, the prosecution can present the results of the Ombudsman's investigation as evidence.
Here's where we expect the defense to do what it does well: block this damning evidence against their client. They may go to the Supreme Court and pray for a TRO against the Ombudsman. After all, they were able to get a TRO that prevented PSBank from disclosing Corona's dollar account/s, one of which had an opening balance of $700,000, as a PSBank document showed.
How this will play out will be crucial to the trial.
Thus I return to my earlier point about this trial being a painful experience. It's the realization that: 1) corruption is excessive in the highest court, shocking even for someone who has watched it closely; 2) a number of our senators' standards for ethical public office are low, as low as a crocodile's belly; and 3) the Supreme Court, after all, is not an oracle of truth and impartiality. Like the defense, they can be a blocking force.
Sometimes I ask myself if it is necessary for us to go through this upheaval, for the great branches of government to clash, for a president, with an uncompromising anti-corruption rhetoric, to take us through this course correction. I think, overall, this is an experience that will help shape us as a nation and provide lessons in leadership and strengthening our democracy.
I await the trial's conclusion and, mercifully, a verdict than can raise the bar for intolerance against corruption in this country. – Rappler.com