'It is time to prove the power of righteous indignation!'
Editor's Note: Below is an excerpt from the keynote address that Senator Miriam Defensor Santiago delivered before the Annual Convention of the Philippine Psychiatric Association Inc at the EDSA Shangri-la Hotel on Tuesday, January 21. Originally titled "Medical Leadership," the speech tackled the pork barrel scam and what Filipinos should look for in their leaders in 2016.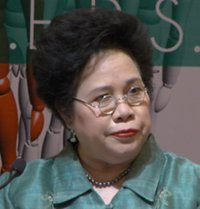 I will go to the part of my speech about political leadership after PDAF and DAP. I will again succeed in making myself angry.
PDAF means Priority Development Assistance Fund and DAP means Disbursement Acceleration Program.
Ang ibig sabihin ng pork barrel ganito. Bibigyan ang bawat kasapi ng House of Representatives at ng Senado, lahat sila kasi elected official, ng definite amount. P70 million for each representative every year, and P200 million for each senator every year.
Kaya isipin mo na lang. 10% lang ng P70 million, P7 million na at 10% ng P200 million ay P20 million na. Eh ngayon 20% na ang pinaka-basic. Ibig sabihin, imbis na P7 million, P14 million kaagad 'pag nanalo ka as congressman. Pwede mong kaltasin. Kausapin mo ang contractor. Kasi alam ng contractors iyan eh. Ibibigay mo sa kanya ang pera at proyekto pero pagkasyahin niya ang kinaltasan mo na.
Iyan ang dahilan kung bakit napakahina ng mga public works projects natin kasi kinakaltasan eh. Mas malaki ang tinatanggap ng senador, mas malaki naman ang kaltas niya. Biro mo, ang 10% ng P200 million is P20 million. After that, it became 20% so it's now P40 million every year, and that is for 6 years, times 6.
Bakit ka pa magnegosyo, magdoktor, mag-abugado? Mag-member of Congress ka na lang, congressman o senador, madali. 'Di ka pa kailangang maging marunong. Pwedeng-pwede kahit low IQ. I can testify. Kahit ano ang question mo, sasagutin ka ng, "That is a good question." Mag-antay ka na ngayon kasi may susunod pa.
Pagkatapos kung ayaw mo sa kanila, galit sila sa iyo. Tinatanong ko sila, "Bakit, may pagkukulang ba ako? Bakit ganyan kayo? May pagkukulang ba ako sa sex appeal?"
The 2016 presidential elections are now within sight of the political horizon.  This will explain the increasing number of self-serving press releases from those who hope to run for president or vice-president.  
Ngayon pa lang, nakikita mo sa mga frontpages, may mga storya na walang kahala-halaga na lumalabas tungkol sa senador na ito, sa congressman na iyan kasi umaasa ang senador na tatakbo siyang presidente o bise presidente, at ang congressman umaasa na makatakbong senador.
Kaya maaga pa lang, nagpapapropaganda na sila para 'pag nag-survey, kasama na sila. Bakit sila nasa diyaryo? Binibigyan din nila ang peryodista. Kaya sila nagkakaltas sa pork barrel, ang rason nila, "Binabalik din naming sa taumbayan." Imagine!
'Power of righteous indignation'
I dare to hope and predict that any incumbent public official who runs for national public office in 2016, will lose in the elections, if the Ombudsman charges him with plunder or malversation, in connection with the pork barrel scam, and/or in connection with what appears to be the impeachment scam. 
Dapat matalo sa 2016 ang mga taong kasangkot na iyan kasi ang mga kasangkot, iyan ang pinakamalaking ninakaw nila. Meron pang iba pero kaunti lang ninakaw nila. Kasi may gradations din iyan eh: small, medium, large.
Charges filed in the Sandigan in connection with the PDAF and the DAP should disqualify any candidate in the view of irate voters.  It is time to prove the power of righteous indignation!
Palagi na lang akong pinagsasabihan, "Palagi ka na lang galit." Aba, kung ganyan ba naman ang political environment mo, 'di ka ba magalit?
I said in public when I discovered that additional pork barrel was given to senator-judges after they voted guilty, I said I was heartbroken. But now, sa sinasabi ng dalawang senador na galit ngayon sa Malacañang, na nilatag pala talaga ang verdict na iyon, I'm not only heartbroken. I'm about to suffer a heart attack so I prepared to sue for damages in case I croak.
Both in the psychiatric profession and in presidential politics, leadership is crucial, as a product of both culture and vision.  A very wise man said, "Life is a consequence of all moral choices." Every single day in our lives, we make moral choices. Shall I turn left or right? Shall I accept or decline? Shall I join or be by my lonesome self? We make all these choices every single day of our lives.
So do not just accept a person who immediately rises on the horizon based on his paid advertisement on the paid media. Magkaiba iyon. Pinupuri ang sarili niya. If I had known I would become a politician on the day of my birth, I would have taken a scalpel and slashed my throat. I swear.
Choose leader, not manager
We are looking for a leader to provide a blueprint for Filipinos to follow.  In the 2013 book Leadership in Psychiatry, the editors emphasized that leadership can be transformational if it involves the management of change and if the leader has the skills set to influence individuals, events, and processes. 
Iyon ang dapat lider. Hindi status quo, things as usual. Mapayapa tayong lahat dahil walang gulo. That's management. A leader should be willing to risk even his own life, his reputation so he can bring his people to the right direction, to a good place.
Leadership requires skills that are technical, human, and conceptual.  Technical skill in psychiatry requires that the leader should understand technical aspects, but should also be able to communicate to the key stakeholders.  Human skills are concerned with dealing, negotiating, and working with people.  Conceptual skills deal with ability to work with ideas and concepts. 
To find a new leader, we have to look for a person with the important attributes of leadership such as individual style and competencies; problem solving; effective communication, passion and courage. 
Passion, iyon ang kulang. Walang passion eh. Sige-sige lang lahat. Bakit ang mga Pilipino, ganoon?
At an individual level, the candidate should possess: "general cognitive ability, crystallized cognitive ability; modification; and personality."
In both the medical and political fields, individual personal traits will allow each person to develop certain skills.  As a result, voters should ensure that our next leader should be able to manage change effectively and should not insist on maintaining the status quo.
For the next presidential elections, the Filipino people shall not look for a manager but should probe more deeply and look for a leader.  I repeat the distinction.  On the one hand, management is about coping with complexity.  Its practice and procedure are in general a response to the development of large and complex organizations.  On the other hand, leadership is about coping with change.  While the manager identifies results, a leader sets the direction.
In our modern life, Filipino children, in the attempt to find an individual identity, tend to identify external figures as role models.  If their role model is a leader or a teacher, well and good.  However, if the role model is a pop star, a film star, or other celebrity, the result, as we have seen in Philippine politics, is that these unqualified people assume leadership roles even if they are not true leaders.
3 stages of political candidacy 
Between 2014 and 2016 lie two potentially seismic political years. 
In my humble view, leadership requires first of all a mass base, which I define as approval by a major sector of the electorate, such as: university students; the economic lower class; the social media; or even just the regional constituency of the candidate.  If there is no mass base, then there is no realistic basis for the ambition to become president or vice-president. 
Of course, every candidate succeeds in deluding himself that he has a mass base. Lahat sila naniniwala na popular sila. If so, he has a mental health problem.
If the candidate proves to be popular in initial surveys, he or she should be able to attract contributions from the rich in society, which can go higher or lower, or even dry up, depending on the results of the periodic popular surveys. 
Once invested with sufficient funds, the candidate can then build his organization and take out the expensive media advertisement that make elections so noisy and clutter the airwaves. 
Three stages iyan. Una, kailangan mag-rate ka sa survey, may mass base ka. 'Pag nasa surveys ka, ang negosyante sa Makati at Binondo, bibigyan ka ng contributions nila. Una, kaunti pa lang ibibigay nila. Dadagdagan nila habang tumataas ka sa surey. Let's say there are 5 candidates, they will only give to the top two. 'Pag tumaas ka, bibigyan ka nila. Installments ang bigay ng contributors.
Ngayon, kung palagi kang nagagalit, pinapagalitan mo lahat, wala kang pag-asang makakuha ng contribution. Iyan ang problema ko.
In this 3-stage cycle of political candidacy, I ask: Where is the role of leadership?  Let us look for the reliable signs.
I do not necessarily believe that the key qualities of successful political leaders are the necessary qualities for true and genuine leadership.  But in the context of Philippine political reality, the first key quality is communication.  A charismatic leader should communicate and listen with others.  He should be able to convey his message in a straightforward way so that their followers will understand their roles and tasks clearly.
The second key quality is problem-solving, which is also part of the role of a clinical leader.  To solve a national problem, the leader should be able to correctly identify the problem and gather the right information and data. 
Thereafter, the leader should explore the range of alternative solutions, select the right action, implement it, evaluate the success, and communicate it effectively.  Inevitably, some matters will have to be delegated, but the leader should retain authority, responsibility, and a certain degree of accountability.
Police have higher standards
In the final analysis, I humbly submit that the next president and vice-president should possess 3 non-negotiable traits: honesty, competence, and efficiency. Dapat iyon na lang hanapin natin. Huwag na tayong makinig sa propaganda nila.
By honesty, I mean that this trait should not be self-proclaimed. Tingnan mo, sa lahat ng mga pulitikong narinig at nakita ninyo, may nagsabi bang kumuha sila ng pera? Wala. Lahat daw nagnakaw maliban sa kanila. Ang lakas ng loob ng mga gago.
By honesty, I mean that this trait should not be self-proclaimed, particularly by rascals who try to advertise their integrity, mostly by attacking those of others.  Honesty is best proved, not by self-paid propaganda in the media, but by awards from respectable awards-giving organizations. 
This is most notable when a Filipino, in a search covering the whole of Asia, is chosen to be the laureate of the Magsaysay Award for Government Service.  Of course, as you have seen, even a laureate should expect mudslinging from political Nazis, whose manicured toes have been stepped upon. 
Metro Manila knows who these people are, because they are universally condemned as selfish, greedy, and mean, mean, mean. And I mean you, since you are watching me.
By competence, I mean that although there is no constitutional requirement, any candidate for president or vice-president should have finished at least a college degree, and at best a graduate degree. 
Pwede ba. Maraming senador walang college degree, akala ninyo. 'Di man lang nagtapos ng high school. Ang pulis, hindi pwedeng i-appoint ng pulis kung walang college degree. Pero ang senador o presidente, pwede. What is the state of our law?
Premium should be placed on graduation with honors from a prestigious university.  Dapat naman nag-graduate sila with honors. Bakit sila lider? Gusto nila mataas sila sa iba eh wala naman pala silang sinabi.
Based on experience, I venture the observation that the best trained leaders come from law, public administration, business administration, and political science.  To keep the process democratic, we should allow candidates without these degrees to compensate by attending, perhaps, a 3-month seminar at the UP National College of Public Administration.
Para intindihin nila ang proseso. To be a lawmaker means to make law, listen to everybody in society and make the best law that will produce the best results for the greatest number of people. To be a lawmaker doesn't mean that you'll get your pork barrel and never attend session or if you attend session, member ka ng committee on silence dahil wala kang kakibo-kibo, kung minsan natutulog pa! 
By efficiency, I mean a person known to be hardworking.  He or she should manifest a working belief in management by results.  The president or vice president should stop presiding at inaugural ceremonies such as ribbon-cutting.
Hay! How are we going to have good governance if you cut so many ribbons?! – Rappler.com