'I have never been your teacher Tiffany Grace Uy, but I congratulate you and welcome you as my new colleague in a community of scholars'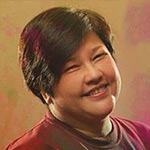 Two things in my newsfeed on Tiffany Grace Uy made my blood boil. Here is a young woman who is graduating with the highest grades ever post-war from UP. And instead of celebrating:
1) Some netizens are not happy because she is Chinese-Filipino.
This is so blatantly racist, I don't even know how to discuss this. Best I can do is to say that those who put her down because of her ethnicity are less deserving of their Philippine citizenship than Tiffany. If it were up to me, I would immediately have them become stateless. They belong to no nation and certainly don't belong to any community of nations. They are racists. 
2) Some UP professor pointed out to me that another UP professor ranted that Tiffany is not to be admired because her grades only prove that she has completed her reaction papers, or done extra work or had money to buy and access and read all the books. It seems the professor prefers that Tiffany had joined a couple of protest actions instead.
This, on the other hand, is so bad on so many levels, I do not know where to begin. (READ: How a UP student's near-perfect grade got people talking)
As a start, I think this professor has no respect for his colleagues . Let me assure him that when people get a high mark in my class, it's because their scholarship and critical thinking, not their subservience, has been tested by my own rigorous standards and found to be excellent. I actually assume the same of my colleagues, including this professor. He apparently does not extend the same courtesy to most, if not all, of Tiffany's teachers.
I am also irritated by the idea that we should hold our students to only one form of social engagement in order to assess whether they are truly scholars for our people. Tiffany may serve in many other ways if she wishes. This form of ideological bias is unhealthy in the academe and unhealthy for any teacher who must encourage all students to excellence not just on narrow terms, not just on the teacher's terms, but more importantly, on the students' terms too.
This is rank anti-intellectualism. Those high grades, extra papers, long days with books prove Tiffany has the humility and discipline to do the grunge work so necessary to true scholarship and true activism.
I have never been your teacher Tiffany Grace Uy, but I congratulate you and welcome you as my new colleague in a community of scholars. Like most of your teachers I look forward to your increasing personal growth and greater contributions to the country.
Whether they took my class or not, I consider all UP students, as my students too. And I am proud of the vast majority of them.
Congratulations to Tiffany and this year's graduating class. Mabuhay ang mga Iskolar ng Bayan. – Rappler.com
This was first posted on Facebook. Republished with permission.