To prevent the spread of COVID-19, the first line of defense is to have sex only with a partner you live with or with yourself
Lockdown is an occasion for couples to get down and for those going solo to indulge in some self-love. But the alphabet shuffle of quarantine acronyms come with imposed curfews and curtailed public transportation – all making it hard to get your hands on condoms, lube, and other supplies that will make your lockdown jiggy safe and pleasurable.
The Red Whistle, an advocacy group focused on filling in gaps in the country's HIV response through community programs and the use of creative platforms, put together The Condom Heroes – a bunch of brave and fun-loving volunteers ready to answer distress calls for sexy supplies discreetly delivered to you – and best of all, for free.
I followed Condom Hero Jodee Aguillon last month as he went around the Makati-Poblacion area on a bike to make some fresh "love drops." Gift bags from popular retail stores and inconspicuous brown paper bags contained carefully packed condoms and lubricant.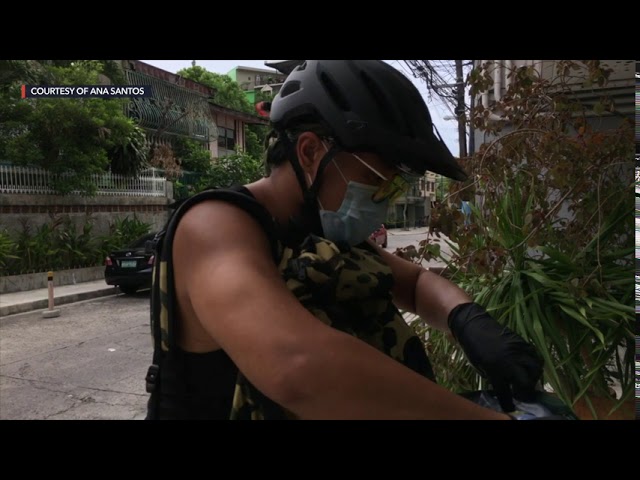 "Parang Grab food lang," Aguillon quipped.
Need for intimacy in times of social isolation
The Red Whistle has always anchored its advocacy on HIV prevention and sex positivity.
During the outbreak of COVID-19 and its ensuing lockdowns, The Red Whistle focused on delivering anti-retroviral (ARV) medication to people living with HIV (PLHIV) in partnership with HIV treatment facilities. ARV is a treatment therapy that suppresses the HIV virus and helps stop the progression of HIV. ARV therapy allows PLHIV to manage HIV and live a normal and healthy life.
That effort morphed into a related but similarly necessary service when he UNFPA (United Nations Population Fund) partnered with The Red Whistle  to pilot-test a project that would make free condoms accessible through volunteers who serve as condom access points in their barangays.
"Many people who ask for condoms are people living with HIV quarantined with their partners. In a period of increased mental health strain and anxiety, safer sex can be a healthy way for partners to release stress and express emotional support for each other. Some individuals who requested it did so in anticipation of the lifting of the lockdown. They just wanted to be ready in case restrictions were eased," said Benedict Bernabe, president of the Red Whistle.
Throughout the quarantine imposition seesaw, the Condom Heroes served hundreds of clients. "Our clients are usually between 18-35 and about 3% are women. We believe this project definitely served its purpose to bring sexual health services closer and more accessible to the community," said JF Escobañez, Vice President of The Red Whistle.
Direct distribution of condoms is an effective way of ensuring access to sexual health services, especially for vulnerable communities like young people who are prohibited from leaving their homes during quarantine or those living in urban poor areas. Apart from the Condom Heroes, the humanitarian organization Community and Family Services International (CFSI) also distributed free condoms to urban poor communities in Pasay through their outreach workers.
In this era of COVID-19-imposed social isolation, our sex lives are bound to take a hit. Local statistics are not readily available, but according to a survey by the Kinsey Institute, 44% of couples said their sex life declined while another 23% said their relationship is in a better place.
Whether you're locked down with someone or alone, condoms and lubricant go a long way in making sex safe and pleasurable. Sex therapists and public health experts all say that to prevent the spread of COVID-19, the first line of defense is to have sex only with a partner you live with or with yourself. If you're flying solo, condoms can help ensure the safe and hygienic use of sex toys. Use a condom and a squeeze of lube when using your sex toy and throw away the condom after. You still have to wash your sex toy afterwards, of course.
Barriers to accessing condoms in the Philippines
Public health statistics show that condom usage in the Philippines remains low. Current condom use is about 35% while the UNAIDS goal is to increase usage to 85% to 90%. Condom access is lowest among MSM (men who have sex with men) aged 15-17.
Common reasons for not using condoms is unplanned sex and not having a condom on hand, the perception that condoms reduce sensation and the influence of the partner.   Young people also report feeling embarrassed to buy condoms directly from pharmacies. 
The Red Whistle condom packet comes with lubricant which significantly amps up the pleasure factor of condoms. When used correctly and consistently, condoms have been scientifically proven to be effective in preventing unplanned pregnancy and sexually transmitted infections (STIs) like HIV.
The Condom Heroes have already finished their pilot run but they're not hanging up their capes, bikes, or masks just yet. As they said on their social media page, they "might be in your neighborhood soon!" – Rappler.com
Ana P. Santos writes about sexual health rights, sexuality, and gender for Rappler. She is the 2014 Miel Fellow under the Pulitzer Center on Crisis Reporting and a 2018 Senior Atlantic Fellow for Health Equity in Southeast Asia.Follow her on Twitter at @iamAnaSantos and on Facebook at @SexandSensibilities.com