'Japan has really been our biggest helper... The fact is they are really so very kind'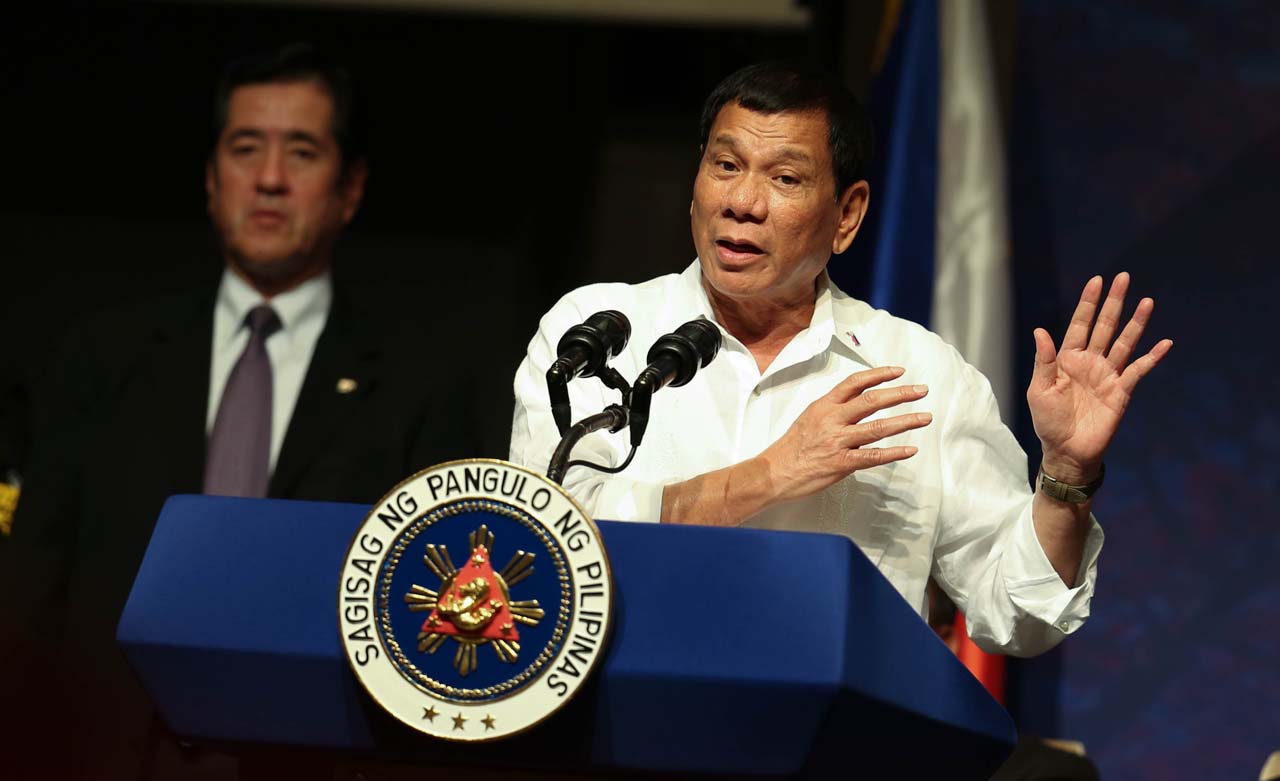 TOKYO, Japan – Philippine President Rodrigo Duterte was set Wednesday, October 26, to persuade Japanese executives his country is "open for business", after upending traditional alliances by insulting the US and making overtures to China.
The acid-tongued leader arrived in Tokyo Tuesday, October 25, on his first visit to Japan since taking office June 30 – and immediately continued a tirade against longtime ally the US begun earlier in the day. (READ: Duterte's Japan visit to focus on defense, investments)
Duterte has vehemently criticized Washington for questioning his crime crackdown, which has claimed some 3,700 lives and attracted widespread international criticism – but has also sent the 71-year-old former mayor's domestic popularity soaring.
He has insulted President Barack Obama, calling him the "son of a whore" and saying the Philippines can live without US assistance, though he walked back a statement in Beijing last week announcing a "separation" from the US.
On Tuesday in Japan, before a cheering audience of resident Filipinos, Duterte called Americans "stupid" – but went out of his way to praise his hosts. (READ: Duterte to foreign critics: 'Do not fuck with our dignity')
"Japan has really been our biggest helper," he said, pointing to help with an airport and road-building projects. "The fact is they are really so very kind."
Duterte told reporters before he left that he was keen to boost bilateral trade and was looking forward to meeting top Japanese executives.
"I will tell them clearly that the Philippines is open for business," he said, adding he wanted Japanese cooperation on key infrastructure projects. (READ: DTI chief: 200,000 jobs expected from Japan deals)
"In particular, we can tap the experience and expertise of Japan in developing high quality and modern public transportation," he said.
He is set to speak to Japanese business executives on Wednesday before holding a summit with Prime Minister Shinzo Abe later in the day.
Duterte will also meet with Emperor Akihito during the trip, which follows his headline-grabbing state visit to China last week.
Bilateral relations
Duterte's harsh criticism of Washington is likely to be embarrassing for Tokyo, which depends on the US for its security. But Japan itself has so far avoided any criticism, while the US has taken a calm approach.
"We're going to take the long view," State Department spokesman John Kirby said regarding Tuesday's verbal assault.
"We're not going to react and respond to every bit of rhetoric. We're going to continue to work at this relationship," he added.
Abe had worked to improve bilateral relations with Duterte's predecessor, Benigno Aquino, and has continued that approach with Duterte.
Japan provided patrol boats to support the Philippines in its territorial row with Beijing over rival claims to the South China Sea, as it sought backing in its own maritime dispute with China.
Aquino took Beijing to an international tribunal over its extensive claims in the South China Sea – where it has built artificial islands capable of hosting military facilities – and the Philippines won a resounding victory in July.
But Duterte has not sought to use the verdict to anger China, instead working to improve ties and attract billions of dollars in Chinese loans and investments.
Yoshihide Suga, Japan's top government spokesman, said on Wednesday that the government will continue to aid Philippine development, but he sidestepped whether relations with the US will be a summit topic.
He said Abe will seek "frank exchanges of views from the standpoint that Japan and the Philippines will continue to contribute to regional peace, stability and prosperity." – Rappler.com