This is AI generated summarization, which may have errors. For context, always refer to the full article.
Media from around the world take part in a global campaign calling for the end of impunity against journalist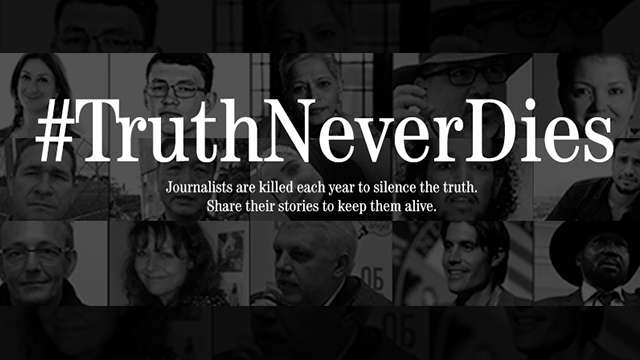 MANILA, Philippines – Journalists all over the world are still being killed while doing their job. As the world marks the International Day to End Impunity for crimes against journalists on Friday, November 2, different media groups speak up to commemorate the lives that were lost in the name of journalism.  
According to the 2018 Global Impunity Index, the Philippines ranks 5th among countries where murderers of journalists are left unprosecuted. The country has remained on the impunity list for 11 years, with some 40 unsolved cases. But this is not just a local phenomenon. 
"Journalists around the world continue to be threatened by ever-more brazen attempts to malign and distort truth – by the very powers designed to safeguard and protect," said Andrew Heslop, Director of Press Freedom at the World Association of Newspapers and News Publishers (WAN-IFRA), recalling the murder of Jamal Khashoggi, a Washington Post contributor and critic of Saudi policies; the death of Daphne Caruana Galizia, a Maltese anti-corruption journalist; and the tolerance of US President Donald Trump of media attacks such as when a US congressman assaulted a reporter.
With this, the United Nations Educational, Scientific, and Cultural Organization (UNESCO) led a global campaign called #TruthNeverDies to commemorate the importance of safeguarding journalists as much as the stories they need to tell. 
Journalists and media groups from all over the world participated on the campaign. Here are a few: 
Journalists are there to bring the truth to the people. What happens when they are all killed off? #TruthNeverDies

Rights group pushes for U.N. convention to protect journalists: https://t.co/0S0a7ZuDnK pic.twitter.com/Doh3nC8TQB

— Rappler (@rapplerdotcom) November 2, 2018
On average, a journalist is killed every week in a highly corrupt country. Attacks of all kinds on journalists are on the rise all over the world in order to silence the truth. But #TruthNeverDies. > Learn more: https://t.co/Yurhbih9S3 #EndImpunity #Journosafe pic.twitter.com/mcIhZeVezl

— Transparency Int'l (@anticorruption) November 2, 2018
Freedom of expression and the media are essential qualities of any functioning democracy; people must be allowed to discuss and debate issues freely, to challenge their governments, and to make informed decisions.#JournoSafe#EndImpunity#TruthNeverDies pic.twitter.com/j55eoijBJI

— Human Rights at FCO (@FCOHumanRights) November 2, 2018
Today we remember all those journalists who have given their lives to bring the truth to light #EndImpunity #TruthNeverDies #IDEI pic.twitter.com/nlivL32EJU

— Estonian MFA (@MFAestonia) November 2, 2018
Killing a journalist does not kill the truth.

Send a message of hope. Support @UNESCO's #TruthNeverDies campaign. https://t.co/lIhPqGDigl pic.twitter.com/As7TJoXUR4

— United Nations (@UN) November 2, 2018
His name was Samir Kassab.
The Lebanese journalist was kidnapped on Oct. 14, 2013, along with his Mauritanian @skynewsarabia colleague Ishak Moctar and a Syrian driver, while on a routine trip in #Syria@UN @UNESCO#TruthNeverDies pic.twitter.com/QiKtSTZNL9

— Anthony Mirza (@AnthonyMirzaa) November 2, 2018
Reporter: Serena Shim (29)
Date of death: 19/10/2014
While covering the Siege of Kobanê, she was allegedly murdered in a car crash. Her employer called the accident "suspicious" as she was killed 2 days after Turkey accused her of spying.#IDEI #TruthNeverDies #EndImpunity pic.twitter.com/OrWc1HZ5b9

— JSCommittee (@jscommittee) November 2, 2018
–Rappler.com