Ban also said that the Nobel Peace Prize award to OPCW should also be accompanied by a new push to get all countries to sign the Chemical Weapons Convention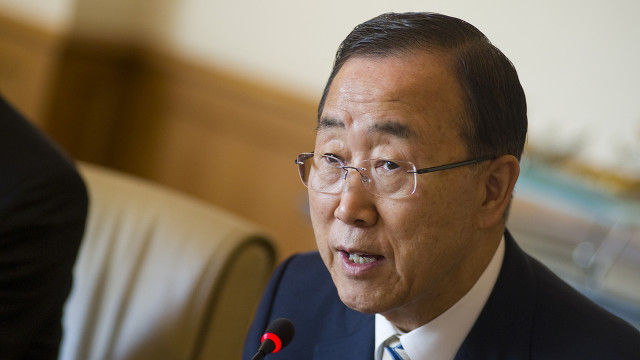 UNITED NATIONS – UN leader Ban Ki-moon said Friday that the Nobel Peace Prize award to the global chemical weapons watchdog highlights the everlasting threat from the banned arms.
"This recognition occurs nearly 100 years after the first chemical attack — and 50 days after the appalling use of chemical weapons in Syria. Far from being a relic of the past, chemical weapons remain a clear and present danger," Ban said in a tribute to the Organization for the Prohibition of Chemical Weapons (OPCW).
The OPCW and the United Nations were "born from a fundamental abhorrence at the atrocities of war," the UN secretary general said in a statement.
"From the battlefields to the laboratories to the negotiating table, the United Nations is honored to work hand-in-hand with the OPCW to eliminate the threat posed by chemical weapons for all people and for all time.
"Together, we must ensure that the fog of war will never again be composed of poison gas," he added.
Ban said that on top of eliminating chemical weapons around the world, the OPCW has "a broad mission to prove that the inhumanity of war can give rise to the humanity of solidarity and international cooperation."
The UN leader congratulated the OPCW for its Nobel win and praised its role in strengthening "the rule of law in the field of disarmament and non-proliferation."
Its success in eradicating an estimated 80% of declared chemical weapons stockpiles should "inspire other parts of the global disarmament machinery to live up to the expectations of the international community."
Ban added that the Nobel award should also be accompanied by a new push to get all countries to sign the Chemical Weapons Convention. – Rappler.com