From intense political showdowns to an uproar over government decisions, here are five major political hot spots around the world right now
MANILA, Philippines – Twenty-eight years ago, in February 1986, hundreds of thousands of Filipinos gathered at Epifanio de los Santos Avenue (EDSA) to protest the results of a snap election, which pitted the wife of a martyr against a dictator who has ruled the country for nearly 21 years, more than 8 years of which under Martial Law.
With the help of a fearless radio station, the number of protesters in EDSA multiplied to support a brewing rebellion by two top military leaders. Despite the tension, the uprising remained peaceful.
On the fourth day, February 25, amid mounting pressure, the strongman Ferdinand Marcos and his family left the country. Meanwhile, Corazon "Cory" Aquino ascended to the Presidency, restoring a democracy that we enjoy up to this day.
The unprecedented act of Filipinos on those four days inspired the world. Since then, countless "people power" movements have taken place in different parts of the world – the Arab Spring of 2011 in the Middle East is one example – to fight for social justice and freedom from oppression of various kinds.
And the struggle goes on in some countries. From intense political showdowns to an uproar over unpopular government decisions, here are 5 major hot spots of unrest around the world right now:
Venezuela
Since: January 2014
It's a shocking death that launched a multitude of protests.
On January 7, 2014, former Miss Venezuela Monica Spear and her boyfriend were shot by gunmen in front of their younger daughter. The brazen murders highlighted the increasing criminality in oil-rich Venezuela. (READ: Thousands in Venezuela march against violent crime)
Because of a low supply in basic goods and a poor showing of the economy, more street protests took place the following month, this time between supporters and opponents of President Nicolas Maduro, who was elected in April 2013 after the death of Hugo Chavez.
On February 18, one of the opposition leaders, Harvard-educated economist Leopoldo Lopez, calmly surrendered to authorities. He was ordered arrested by Maduro on charges of homicide and inciting violence after violent street clashes in Caracas led to casualties.
Ukraine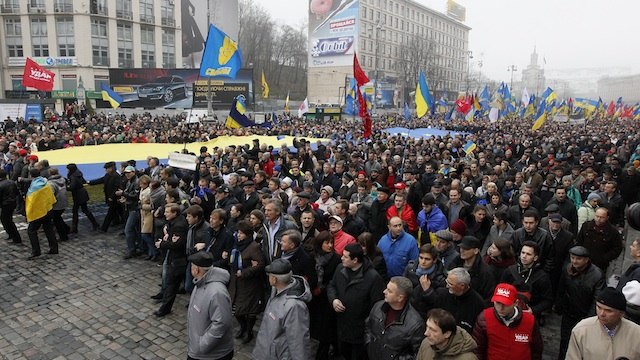 Since: November 2013 (KEY FACTS: Ukraine)
The protests began on the night Ukraine halted preparations to sign a landmark trade and political agreement with the European Union, choosing instead to have closer economic relations with Russia. (READ: EU 'disappointed' after Ukraine scraps plan to sign historic deal)
In the following months, numerous chaotic clashes raged on between police forces and protesters – who favor an EU integration and the ouster of President Viktor Yanukovych, among other demands – in capital Kiev's Independence Square and in other parts of the country. (READ: 200,000 mass in Ukraine in defiance of protest curbs)
On January 31, Yanukovych signed a law offering an amnesty to jailed opposition activists and repealed controversial laws cracking down on protests. At the same time, the law gave protesters 15 days to vacate the public buildings they have occupied since the protests started.
On February 21, Yanukovych and 3 top opposition leaders, including charismatic boxer turned lawmaker Vitali Klitschko, signed a deal to end the political crisis. The deal aims to hold early elections and form a new unity government.
However, things took an unexpected turn the next day, when reports of the departure of Yanukovych from Kiev surfaced. Klitschko then turned to parliament to call a new presidential poll for May 25, and ask for the release of jailed opposition icon and former Prime Minister Yulia Tymoshenko, who Yanukovych defeated in the 2010 presidential polls. (READ: Ukraine leader losing grasp on power)
On February 23, the parliament named Oleksandr Turchynov, a close Tymoshenko ally, as interim president. He is tasked to form an interim government by Tuesday, February 25, three months before the polls.
However, Yanukovych, who faces an arrest warrant over the "mass murder" of protesters, stood defiant. "I am not leaving the country for anywhere. I do not intend to resign. I am the legitimately elected president," he said in a firm voice. (READ: Protesters hail freed Tymoshenko but Ukraine leader defiant)
Thailand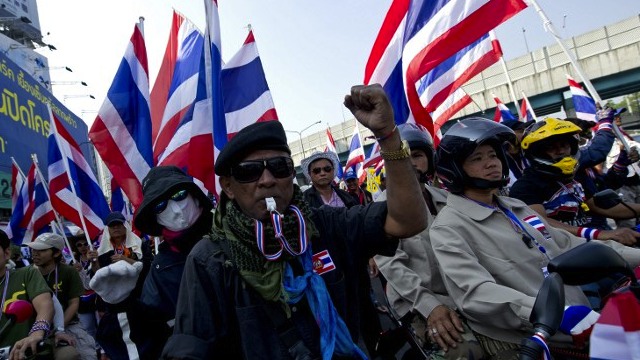 Since: October 2013
On November 1, 2013, the lower house of Thai parliament passed a "blanket amnesty" bill pardoning the offenses of protesters and some government and military leaders since the anti-government protests started in 2004.
Opposition leaders Abhisit Vejjajiva and Suthep Thaugsuban were seen to benefit from the bill, as a pardon over murder charges against them. But critics assailed the "blanket amnesty" as a ploy to allow the return of former Prime Minister Thaksin Shinawatra, who was ousted in 2006 military coup, and escape jail time. Thaksin was convicted of abuse of power by Thailand's Supreme Court in 2008.
The amnesty bill was hotly debated in the Senate, but was unanimously rejected 10 days later. However, protests went unabated between the pro-Thaksin "Red Shirt" and anti-Thaksin "Yellow Shirt" rallyists.
The "Yellow Shirt" group seek the ouster of the ruling Pheu Thai party and Prime Minister Yingluck Shinawatra, the sister of Thaksin. They also want to see the creation of an unelected "People's Council" to oversee political reforms. (READ: Political violence rocks Thai capital)
They took over many government buildings in November. In January 2014, they staged a "shutdown" of capital city Bangkok. They also conducted a boycott and disruption of advanced voting for the February 2 elections.
PM Yingluck Shinawatra, meanwhile, survived a vote of confidence in late November. She met with Thaugsuban in December, but the opposition leader refused to back down from the protests and demanded Yingluck to "hand over power to the people." (READ: Thai PM rejects protesters' demand to step down)
She then imposed an emergency rule on January 21, 2014. The February 2 polls proceeded, but not without controversy. On February 12, the Thai Constitutional Court rejected the opposition's plea to nullify the election.
Brazil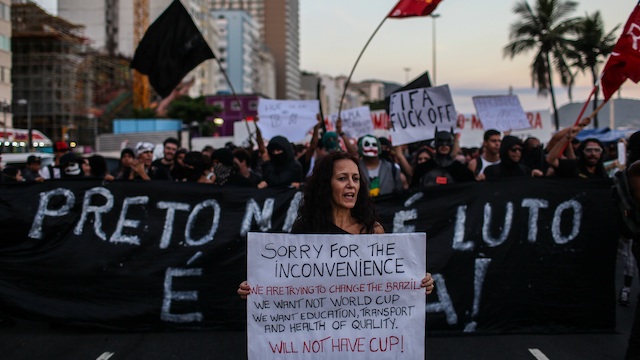 Since: June 2013
Brazilians are not only among the world's most avid football fans; they are also the most avid supporters of social change.
Protests in Brazil simply began due to public outrage over public transportation fare hikes. But, as Brazil spent huge amounts of money to host multiple global sports events, while corruption scandals hounded the government and issues in public services remain unaddressed, more frustrated Brazilians took to the streets. (READ: Brazilians cry foul over football costs, corruption)
The birth of these massive protests in June 2013 coincided with the country's staging of the 2013 FIFA Confederations Cup. More than a million people participated in the Latin American country's biggest street protest in 2 decades.
The Brazilian government has responded to the protesters' demands, specifically in the reduction of public transportation fares and the drafting of political reforms by President Dilma Rousseff.
However, anti-World Cup protests are still underway. (READ: World Cup protests spark violence in Brazil)
Brazil is set to host the 2014 FIFA World Cup in June this year, and the next Summer Olympics in August 2016.
Turkey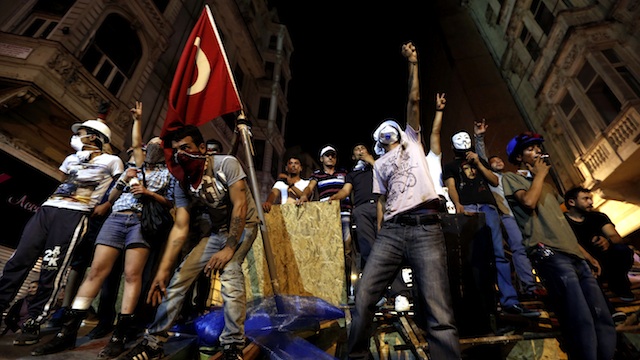 Since: May 2013
A protest against the razing of Taksim Gesi Park, the last patch of greenery in Istanbul, in favor of the construction of a shopping mall escalated into a protest against the government of Prime Minister Recep Tayyip Erdogan.
Erdogan gave the protesters a June 16 ultimatum to leave the park, but the defenders stood defiant, leading to a violent showdown between police and protesters. In July, a court eventually annulled the construction in Gezi Park.
However, new waves of protests that criticized Erdogan's increasingly conservative & authoritarian agenda popped up across Turkey in the following months. (READ: Turkey police fire tear gas to disperse protesters)
In December 2013, Erdogan's government was rocked by a vast corruption probe. His close allies were detained over allegations of bribery for construction projects, among others. (READ: Tens of thousands at anti-Erdogan protest amid vast graft probe)
Following the scandal, the Turkish parliament passed a bill tightening control of the judiciary, while President Abdullah Gul signed a controversial Internet bill into law. – Rappler.com