China shoos away a US warship sailing near Panatag (Scarborough) Shoal, a rocky sandbar off the coast of Zambales province in the Philippines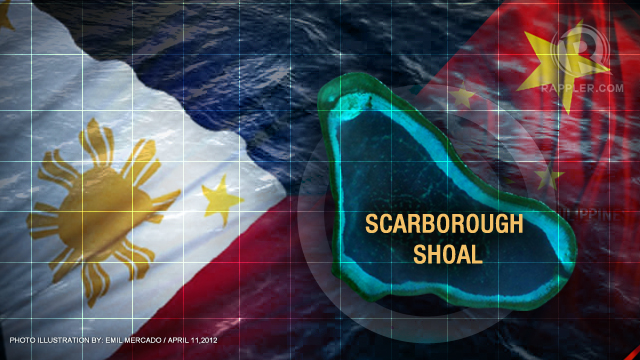 MANILA, Philippines – China on Saturday, January 20, protested the presence of a US warship close to Panatag (Scarborough) Shoal, a rocky sandbar off the coast of Zambales province in the Philippines that China practically occupied since a standoff in 2012.
China said it dispatched its own warship to shoo away US guided missile destroyer USS Hopper for supposedly violating its "sovereignty" when it sailed within 12 nautical miles of Panatag's waters on Wednesday, January 17.
The US warship recently entered the US Navy's 7th Fleet area of operations, where the ship is on an "independent deployment," according to a statement released earlier this month on the US Navy's website.
Chinese Foreign Ministry spokesperson Lu Kang was quoted by state-owned news outfit Xinhua saying "the US warship has impaired China's sovereignty and security interests, and caused a serious threat to Chinese vessels and personnel working in the area."
International law, under normal circumstances, gives countries sovereignty over waters 12 nautical miles from their coastlines. But Panatag is a shoal although China calls it "Huangyan Island." 
It lies about 230 kilometers (140 miles) from the Philippines in the West Philippine Sea (South China Sea), where 6 countries have overlapping claims. China has pratical occupation of Panatag since a standoff with the Philippines in 2012.
The previous administration of President Benigno Aquino III filed an international arbitration case with the Permanent Court of Arbitration based in The Hauge. But the ruling did not resolve sovereignty over the shoal. It declared it a common fishing ground. 
President Rodrigo Duterte, who succeeded Aquino, developed warmer relations with China. The government claimed Filipino fishermen are now allowed in Panatag and China supposedly vowed to stop developing the artificial islands.  (READ: 5 ways Duterte can defend Scarborough without going to war)
Concerns have been raised, however, about supposed continuation of the militarization of the artificial islands. The Philippine government has dismissed protests from pioneers of the case against China. (READ: Roque, Lorenzana contradict each other on China's promise on man-made islands)
The mission of USS Hopper mission in Asia involves "security cooperation, building partner capacity, and performing routine operations within the area".
News of the encounter follows Friday's (January 19) release of a new US national defence strategy that says America is facing "growing threats" from China and Russia.
China is a "strategic competitor using predatory economics to intimidate its neighbors while militarizing features in the South China Sea", the document says. 
China's defence ministry dismissed those claims on Saturday, saying "the situation in the South China Sea has steadily stabilised," in comments attributed to spokesman Wu Qian.
But it added, "the United States has repeatedly sent warships illegally into the adjacent waters of the South China Sea islands and reefs."
Beijing asserts sovereignty over almost all of the resource-rich South China Sea despite rival claims from Southeast Asian neighbours and has rapidly built reefs into artificial islands capable of hosting military planes.
China seized Scarborough Shoal in 2012 after a brief stand-off with the Philippine navy. The shoal is also claimed by Taiwan.  – with reports from Agence France-Presse / Rappler.com