Its role as a hub for criminal networks using false documents is in the spotlight after two unknown passengers on vanished flight MH370 used passports stolen in the kingdom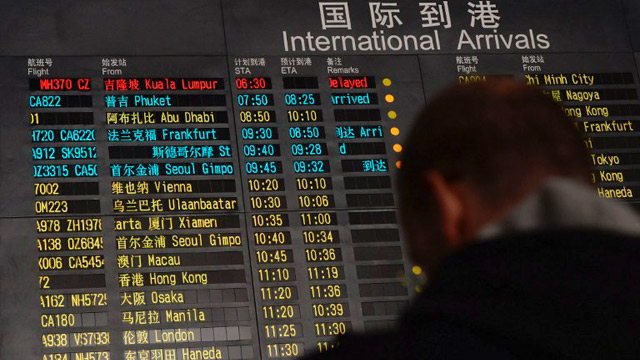 BANGKOK, Thailand – Thailand's role as a hub for criminal networks using false documents is in the spotlight after two unknown passengers on vanished flight MH370 used passports stolen in the kingdom, sparking fears of a terror attack.
Two European names were on the passenger list for the missing Malaysia Airlines flight, which disappeared in the early hours of Saturday, March 8 en route from Kuala Lumpur to Beijing.
But neither Christian Kozel, an Austrian, nor Luigi Maraldi from Italy, ever boarded the plane — instead two mystery passengers used their passports, which had been stolen from the men in separate incidents in Thailand.
The revelation has triggered a terror probe by Malaysian authorities, who are working with other intelligence agencies including the FBI.
"Thailand has been used by some international terrorist groups as a zone of operation, to raise funds or to plan attacks," said Rommel Banlaoi, an analyst on terrorism in South-East Asia.
In 2010, two Pakistanis and a Thai woman were arrested in Thailand on suspicion of making false passports for Al-Qaeda linked groups, as part of an international operation linked to the 2008 attacks in Mumbai and the Madrid train bombings in 2004.
But Banlaoi stressed that the false passports used on the Malaysia flight "could also be linked to other criminal activities, like illegal immigration".
"Thailand is a destination for international crime organizations who use it to secure travel documents, financial documents," a Thai intelligence source told AFP.
"It's not just linked to terrorism but to other crimes. It's a complex network, connected to other networks."
Intricate web
The intricate web includes Thais and foreigners, passport thieves, counterfeiters, intermediaries and clients, he said.
Thai police have announced an investigation into a possible passport racket on the resort island of Phuket — Maraldi's passport was stolen there in 2013 and Kozel's on a flight from Phuket to Bangkok, according to authorities in Vienna.
Flight information seen by AFP shows that two tickets in Kozel and Maraldi's names were issued in Pattaya, a beach resort south of Bangkok, on March 6, 2014, and were paid for in Thai baht.
So far little has emerged about the passengers who used the stolen passports to board the vanished flight, who have been identified by Malaysian airport video surveillance.
At a press conference late Monday, a Malaysian aviation official said authorities had confirmed that two people who boarded the flight with stolen passports were not of Asian appearance, as Malaysia's home minister had earlier said.
"It is confirmed now that they are not Asian looking males… The team of investigators have looked at the video footage (from airport CCTV)," Civil Aviation Department chief Azharuddin Abdul Rahman said, declining to give any other details on the men's appearance.
He said that security measures had been complied with, adding that there was the possibility of a criminal ring in operation.
"I have hereby to confirm that all security protocols have been complied with. But on another angle there is a possibility of… a stolen passport syndicate," he said.
Police turn blind eye
Geographically well-placed and with a major international airport, Thailand is best known for being a hub for drug and wildlife trafficking, including elephant ivory from Africa.
But it also supplies documents to illegal immigrants moving within or passing through the region.
The route of the two unknown MH370 passengers — from Kuala Lumpur via Beijing then on to Europe — was "a typical path," for illegal immigrants one diplomatic source told AFP, adding that a large proportion of passports stolen from tourists in Thailand were then used for illegal immigration.
"They (the passports) are genuine, so they find someone who looks like the owner, or they falsify the first page," the source said.
The ease with which police officials can be paid off also helped the industry to thrive.
"The police can turn a blind eye if you have the money," he added.
Under Thai law, anyone caught selling or "owning in order to sell" an illegal passport can be sent to prison for up to 20 years.
But entering Western countries with a stolen Western passport "is not easy," said Ahmed Salah Hashim, Associate Professor at Singapore's S. Rajaratnam School of International Studies.
He gives credence to the theory that terrorists may have targeted MH370, particularly since the two stolen passports were under Interpol surveillance.
Thailand does not check passports against Interpol's Stolen and Lost Travel Documents (SLTD) database — which has more than 40 million entries — a senior Thai immigration police officer told AFP.
The international police organization has urged countries to screen all passports "for the sake of innocent passengers".
"I sincerely hope that governments and airlines worldwide will learn from the tragedy of missing flight MH 370 and begin to screen all passengers' passports prior to allowing them to board flights," said Interpol Secretary General Ronald Noble.
"Doing so will indeed take us a step closer to ensuring safer travel." – Rappler.com