This is AI generated summarization, which may have errors. For context, always refer to the full article.
This presidential election is being redefined by the Indonesian voters' massive use of social media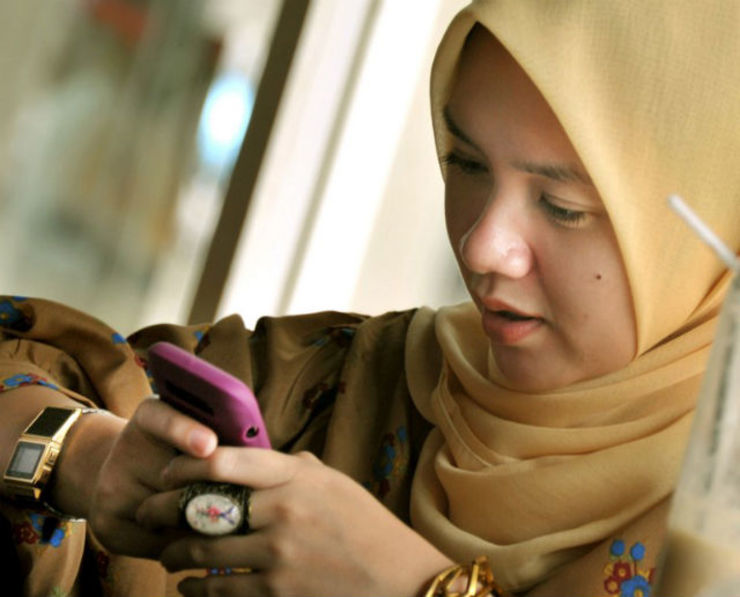 JAKARTA, Indonesia – A rock star in Nazi uniform sings to an unauthorized version of Queen's "We Will Rock You" (the video was originally uploaded to YouTube on June 19 and has since been removed). A human rights activist is slammed for posting a photo on Twitter of an Indonesian writer (with her child) who had written about the rock star on Time.
As Indonesians prepare to vote for their next leader on July 9, social media is flooded with memes, photos, videos and chatter about the campaign, its candidates and its very passionate supporters. It's hard to ignore the feeds; Indonesia's social media users are, after all, among the most active in the world. (Check our liveblog of the Indonesian election) 
There are about 65 million Indonesians on Facebook today, making the country the 4th largest market for the social networking giant. At least 15.3 million are on Twitter as well. Those under 30 years old, including the 5 million who will be voting for the first time, are heavy social media users, and they make up a third of total eligible voters (approximately 185.6 million) in Indonesia.
The two presidential hopefuls – Joko Widodo and Prabowo Subianto – recognize where the young are and have reached out to them on social media. And the candidates' social media strategies pretty much reflect their different personalities.
Prabowo's structured campaign
"We have long sensed the importance of social media, and Gerindra has its own digital team since 2009," said Noudhy Valdryno, a digital strategist for the Great Indonesia Movement Party (Gerindra), which was founded by Prabowo, a former three-star general, in 2008. "The team receives personal support from Prabowo, he's quite a tech-savvy, so he understands [these things]," Noudhy told Rappler.
Prabowo's Facebook page has been active since 2008, and as of July 3 has garnered 7.3 million "likes." His Twitter account @Prabowo08, which he manages, was set up in 2009 and has close to a million followers.
Jakarta governor Joko "Jokowi" Widodo has more followers on Twitter (1.65 million), even though it was only created in 2011. But his official Facebook page only has a little more than 84,000 "likes." A Google search for Facebook and Jokowi will bring readers to his unofficial pages, which have more "likes."
The online campaigns of Prabowo and Gerindra are run by Noudhy and 3 other digital strategists, all no older than 28 years old. "We also have a YouTube channel, online radio, we have mobile games, and our own social network," Noudhy added.
Gerindra's digital team has grown from 4 to 50, working from "behind the screen" at the third floor of the party's headquarter in Ragunan, South Jakarta.
In line with Prabowo's military culture are the uniforms employees are required to wear every day: a white safari shirt from Monday to Thursday, Batik on Friday, and casual wear for the weekends. Not to forget a Prabowo-Hatta brooch pinned on their chests.
"The office is manned by 20 people in a typical work day, then we take turns [doing the graveyard shift]," Noudhy explained. "This way Gerindra and Prabowo's online activities and interaction can be monitored 24 hours a day, 7 days a week."
Noudhy would not disclose the cost of managing their digital team these days, but "6 months ago, our operational cost ran from IDR 20 to 30 million per month." (Between $1,600 to $2,500)
Jokowi's volunteers
If Prabowo has a structured and well-organized social media team, Jokowi's is run by volunteers under JASMEV, or Jokowi Advances Social Media Volunteers scattered all over the country.
"Our volunteers are everywhere, it's very sporadic," said the social-media savvy Kartika Djoemadi who started the group.
A public policy advocate with ties to national celebrities and politicians, Kartika first formed JASMEV to support Jokowi and Basuki Tjahja Purnama when they ran for Jakarta governor and vice governor, respectively, in 2012  (the A in JASMEV used to stand for Ahok, Basuki's nickname). Kartika called on her old comrades to revive the movement when Jokowi was declared presidential candidate in March 2014.
Kartika said more than 30,000 Indonesians joined the volunteer network. She also approached public figures who have openly declared their support for Jokowi and advised them to streamline their online posts and comments regarding certain issues or topics.
"I also target those who are still undecided. I would meet up with them and try to persuade them," she said.
"I don't approach those who were seen actively campaigning for Prabowo. I can see that they were already being paid for it, so there's no use," she said, hinting on a number of celebrities including Ahmad Dhani.
"[Celebrities] usually stay away from practical politics, it's different when money is involved."
Decentralized attacks
Kartika believes that a loose structure enables her volunteers to come up with their own unique campaign ideas and that her "last-minute" team is still a force to reckon with. (READ: Indonesian voters place hopes in Jokowi's past)
"Our power is decentralized, you can never guess when or from where the 'next attack' would be," Kartika said. "We managed to make Jokowi hashtags to be Twitter's trending topic every presidential debate."
While Noudhy has the comfort of his party's financial backings, Kartika claimed that all expenses for JASMEV come from her own pocket.
"Since June 9 I have set up a 'war room' [in Menteng, Central Jakarta], where up to 50 volunteers are 'guarding' social media 24/7," Kartika said. Before, volunteers held meet-ups and workshops sporadically.
"I also invite guest speakers every day now to give talk to my volunteers regarding specific issues."
She viewed this as necessary since Jokowi has been hit hardest by black propaganda that has spread mostly on social media.
He has had to counter claims over his ethnicity and religion (that he's supposedly a closet Christian and secretly Chinese). At one point Jokowi had to post on social media his birth certificate and personal photos of him on a pilgrimage to Mecca – just to counter these accusations. And the latest one: that he's a communist.
This image of Jokowi visiting Boris Yeltsin's cemetery in 2008 has been described by @TM2000back (an anonymous Twitter account full of political gossip) as proof that he supports communism.
Tuh waktu dia belajar komunis ke Beijing dan Moscow ..ziarah ke makam Gembong Komunis Rusia, dijamin asli hehe >> pic.twitter.com/mIMHfM0NOM

— Triomacan2000 (@TM2000Back) June 27, 2014
Prabowo also had to deal with the revival of reports linking him to human rights abuses under the Suharto regime, especially those perpertrated during the unrest that brought down Suharto in 1998.
A letter from the army's disciplinary council surfaced online, which showed how Prabowo was dishonorably discharged and declared a "psychopath." Wiranto, Prabowo's former military boss and now a leader of a small party backing Jokowi, released details of a military council's findings which said Prabowo had deliberately misinterpreted orders and told troops who were not under his command to arrest political activists. (In a televised debate, when asked about his human rights record, Prabowo retorted: "Ask my boss.").
There were also people questioning Prabowo's eligibility to run as he allegedly holds a Jordanian citizenship.
"We know when to respond to commenters and when to back down," Nouhdy explained. In the face of questions about Prabowo's human rights record, Noudhy and his team consider silence as their best policy.
"We have been preparing for July 9 for years, so now we just stick to the framework and make sure things stay on course," he said. (READ: Why Prabowo is the president Indonesia needs today)

This seems to be working as Prabowo, despite the negative attacks against him, has been able to close the gap between him and Jokowi. (READ: Narrow race, rising tensions in Indonesia)
Social media guru Nukman Luthfi, however, thinks that whatever opinion plays on social media, they do little in swaying voters from each side.
"The social media is so polarized already. It is useless to try persuading people via social media. Most of [those using them] have already chosen," Nukman said.
Echoing Nukman, Abdul Qowi of @AyoVote, a youth political awareness community that organizes frequent meetings and discussions, added that based on his experience, swing voters rely on mainstream media (television, national newspaper) to get information.
A recent national survey showed that at least 23 percent of the voters are still undecided. – Rappler.com