This is AI generated summarization, which may have errors. For context, always refer to the full article.
'A Caucausian friend will scream, 'What?! You sell shark fins?' And I, as an Indonesian, will pretend to explain to the restaurant manager. It's very successful in annoying the restaurant owner'
JAKARTA, Indonesia – Riyanni Djangkaru's devotion to her campaign to save sharks in Indonesia borders on the slightly perilous. She is unrelenting in her quest, and won't shy away from actions that lead to public embarrassment just to get her message out.
Fortunately, the mother-of-one is not alone. She has friends, families, volunteers, and even "crazy Caucasians" supporting her.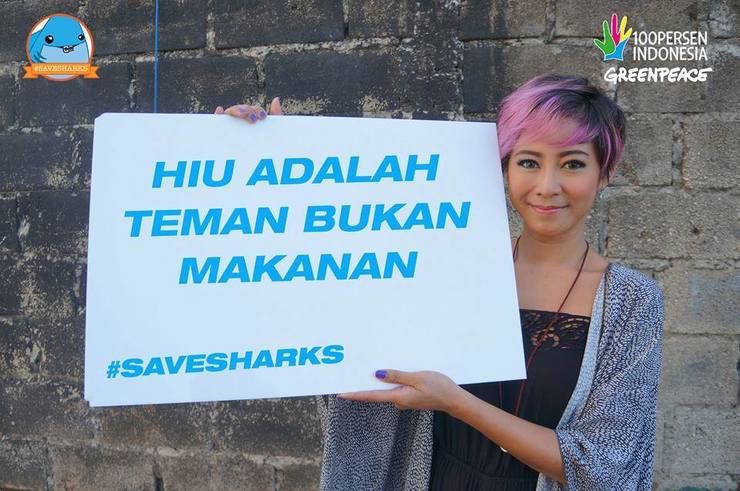 "My friends and I would frequently 'visit' restaurants that still serve shark fins. We would collect information about these restaurants, and then we'll come and visit," Riyanni says.
"There we get dramatic. A Caucausian friend will scream, 'What?! You sell shark fins?' And I, as an Indonesian, will pretend to explain to the restaurant manager. It's very successful in annoying the restaurant owner," she adds.
"In the last 30 years, the population of sharks has declined by almost 90%, and it's sad that Indonesia is one of the top exporters of shark fins in the world. It's time to reflect and ask ourselves to care more about Indonesia's oceans, because maritime issues are not only about the rapidly declining number of sharks. And it will affect us all."
– Riyanni Djangkaru
 
Does it actually stop the restaurant from selling shark fins?
"I was once laughed at. Now, if they see me, their faces turn pale. A supermarket selling shark younglings once offered it to me, saying it was delicious. Now, if I visit them again, they won't admit to selling it. There is a sense of fear," she says.
"In other words, they're beginning to get scared and maybe feel guilty."
And she won't hesitate to visit the same shop over and over again to ask the same question: "Why are you still selling shark younglings?"
"What will they do? At most, they would get angry and ask me to leave. If that happens, I'll just come back the next day. If they still don't heed my concerns, I'll come dressed in something revealing," she jokes.
Why save sharks?
Riyanni and her friends at Dive Mag started the #SAVESHARKS campaign 4 years ago. The campaign, part of the magazine's corporate social responsibility efforts, serves as a platform to educate the public on maritime issues.
"Sharks are predators of sick maritime animals. They play a role in maintaining the variety of food from the sea. We are not fighting for something too far removed, but for a future where you can still enjoy snapper and baronang (a type of rabbitfish). There are many places in the world where sharks do not exist, and as a result the fish there are not varied anymore," Riyanni explains.
Not many understand that sharks are not mere aggressive predators with razor-sharp teeth, says Riyanni, who's an avid scuba diver. Sharks also balance the underwater ecosystem.
"We are talking about omega 3, nutrition supply. We are talking about the fish-eating movement. What if the fish stock is depleted? What will we eat? Corals? The cool jargon is food security," explains the yoga enthusiast.
Riyanni believes the demand for shark fins or shark younglings remains high because many people are misguided or not critical enough.
"Why eat shark cartilage? Because it is believed that it is rich in glucosamine, said to be a cure for ailments. If we really think about it, there are many alternative glucosamine sources, such as chicken cartilage, sea urchin, even anchovies," she says.
Promoting a lifestyle
Raising awareness and correcting misconceptions such as these are just part of what they're trying to do with the #SAVESHARKS campaign.
"We focus the #SAVESHARKS campaign on consumers, seeing that they have the power to determine what they eat. We approach the community. We do events such as 'Itong Goes to School' (Itong is their mascot), starting from elementary schools all the way to universities, traveling communities, and many more," she says.
---
How to support #SAVESHARKS
---
"Our approach is not education but participation, showing that saving sharks is not just intended for certain people only, but should be the lifestyle of Indonesians," she adds.
Riyanni says they also equip volunteers to become independent in campaigning for #SAVESHARKS. "I want them to act on their own, instead of waiting for directions from me."
They do these by providing ideas and examples, such as selling shark-shaped cookies to fund their campaign. "We make cookies, and the proceeds we use to repair banners and conduct more media promotions."
So far, the response has been good. Riyanni asks her followers on Twitter to provide information on restaurants and shops still selling shark fins or other shark products.
The result? "Stunning! There were so many [responses] from across Indonesia."
Some supporters have in fact become so passionate about the cause, it became more than a lifestyle. "We once had a volunteer whose wedding theme was #SAVESHARKS," she says."It was both touching and funny." – Rappler.com