This is AI generated summarization, which may have errors. For context, always refer to the full article.
(UPDATED) The new bill proposes a jail term of between three months and 2 years for anyone caught drinking alcohol.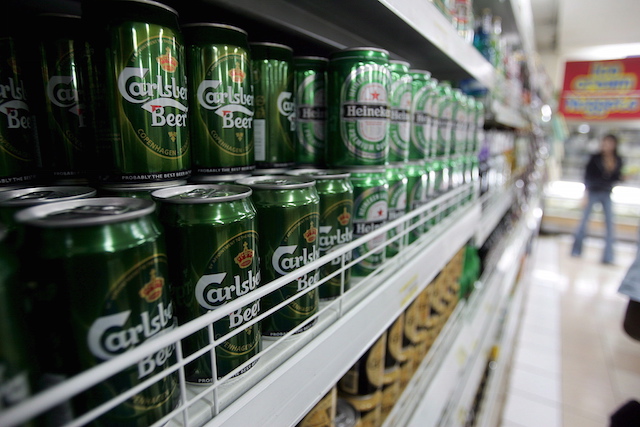 JAKARTA, Indonesia (UPDATED) – Indonesian Islamic parties have proposed a law banning alcohol consumption that could see offenders jailed for up to two years, lawmakers said on Tuesday, April 14, in the latest bid to crack down on drinking in the Muslim-majority nation.
News of the move came as socially conservative groups increasingly voice concerns about rising consumption in the booming economy, particularly among the young, and emerged just days before a ban on small retailers selling alcohol comes into force. (READ: Jakarta governor asks: What's wrong with beer?)
It is not the first time that Islamic parties in Indonesia – home to the world's biggest Muslim population – have sought to ban alcohol. Previous attempts have not succeeded, and have been viewed as an attempt to pander to conservative voters.
Under the bill currently before the House of Representatives, the consumption, sale, production and distribution of all drinks containing more than 1% alcohol would be prohibited.
RUU Larangan Minuman Beralkohol 24Jun14.pdf
'Protecting people's health'
Lawmakers claimed the move was aimed at protecting people's health and was not being pushed purely on religious grounds. Drinking alcohol is against Islamic law.
"Alcohol consumption is increasing, especially among young people and it threatens their future because it causes addiction and potentially damages their health," lawmaker Muhammad Arwani Thomafi, from the United Development Party, one of the parties pushing for the ban, told AFP.
The bill, which could become law by the end of the year, proposes a jail term of between 3 months and 2 years for anyone caught drinking alcohol, while anyone caught producing or distributing alcoholic drinks could face between two and 10 years in jail.
Thomafi said there could be some exemptions, such as for religious rituals and tourism sites – meaning drinking may still be allowed in holiday hotspots, such as the Hindu-majority island Bali.
Job losses
However, the proposal drew swift condemnation from the Indonesian Brewers Association, which said a total alcohol ban could lead to the loss of up to 190,000 jobs.
"It would be quite huge," said Charles Poluan, head of the association that represents beer distributors in Indonesia.
"It will give a negative message to the international market, the effect on the tourism industry will also be quite substantial."
The alcohol market in Southeast Asia's top economy is dominated by the Indonesian brewer of Bintang Beer.
Several international alcohol giants, including Heineken and Diageo, which distributes Guinness in Indonesia, have a substantial presence in the archipelago.
On Thursday a ban on the sale of alcohol at small retailers comes into force across the country, although supermarkets, bars and restaurants will not be affected, and the trade ministry has pledged to ease the restrictions on Bali.
The bill has been proposed by the United Development Party (PPP) and the Prosperous Justice Party (PKS), two of several Islamic parties in Indonesia.
The majority of Indonesia's 250 million people practice a moderate form of Islam, and most do not drink.
However, in big cities such as the capital Jakarta and areas popular with tourists, drinking is more common and alcohol is widely available. – Rappler.com