'I don't think we deserve this, [or] the people of Myanmar deserve this. I am worried about press freedom, we don't know how far we can push.'
Sonny Swe, CEO of independent news agency Frontier Myanmar, expressed concern for the state of press freedom in his country amid a military coup that shocked the world and toppled Aung San Suu Kyi's government.
While there are no current regulations in place, Swe said the nation is "so lost" as to what will come next. A new minister of information was already appointed.
"Our democracy is only 10 years old, very fragile. I always have this feeling that it's too young to die. And I don't think we deserve this, [or] the people of Myanmar deserve this. I am worried about press freedom, we don't know how far we can push. Everything is so lost at this point. Everything is confusing not knowing what's gonna happen or what to expect next," Swe told Rappler CEO Maria Ressa in an exclusive interview for Rappler Plus members on Monday, February 8.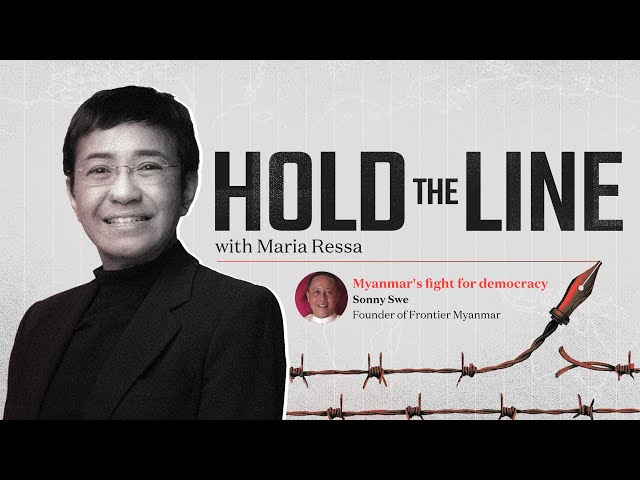 Swe, who was unjustly imprisoned for more than 8 years before launching the news group, highlighted the need for journalists to hold the line.
"Hold the line. Always report the truth without any bias and emotion. The stakes are quite high but I think it's quite important for our readers to understand what is going on in this country," Swe said.
"I think we're all very happy with what we're doing and we just have to explain [what's happening] as much as we can and wait for the new regulators…. We haven't heard any regulations in terms of press freedom, censorship. We are all keeping our fingers crossed…. We're working no matter what," he said.
The three-finger salute, or the Hunger Games symbol, became the popular sign of peaceful protest in the nation. The current scenario is a far cry from the violent 1988 uprising. (READ: Thousands protest Myanmar coup despite internet ban)
"Everything is very, very peaceful and quiet at this point. We don't see any road blockage, neither soldiers carry guns, only the police. They're very, very friendly. The demonstrators are giving them water," Swe said.
"It's very difficult to stop people not to go out on the street. I don't think people are thinking about COVID-19. They are just basically reclaiming democracy and that's what we want," he added.
Misinformation, disinformation abound
Swe said the government's earlier shutdown of the internet for more than 24 hours caused "chaos."
Even with no social media for over a day, rumors still spread via text messages.
"Internet was shut down for 26 hours. That was a big chaos…. People are sending SMS to each other and a lot of rumors or fake news circulated on the phone," Swe said.
"For instance on Saturday night, the whole Yangon was cheering using fireworks and they were hitting pot and pans and clapping – it went really, really wild. They thought there was another coup and that Aung San Suu Kyi was released and was back in her office," he added.
Asked about the different tech platforms, Swe said these "giants" have to do more.
"What I can tell you now, it's very, very poisonous. It is good to use Facebook for very peaceful demonstrations. As long as people are reading real news on Facebook, it's great, but then it's quite dangerous…I always say Facebook is like, look at Stone Age, human beings started fire…it's exactly like fire. If you know how to use Facebook it's really great for you…. But if you start abusing it, it's gonna burn and kill you."
Facebook was the primary tool of the military to spread propaganda and incite hate against the Rohingya people.
"I think at this point Facebook is everything. We are getting all the number, COVID-19 patients, everything is on Facebook, everything quite ok in that sense. But this disinformation, misinformation, hate speech is getting and getting more powerful," he added.
Swe also cited other platforms that have contributed to the problem.
"TikTok is also used to incite these things and YouTube is another channel. [There's] a lot more spreading on Twitter as well. I think platforms are gonna be there all the time…. I think tech giants have to be a lot more serious in taking care of our society," Swe said. – Rappler.com