The Philippine embassy is in constant contact with the small community of Filipinos in Myanmar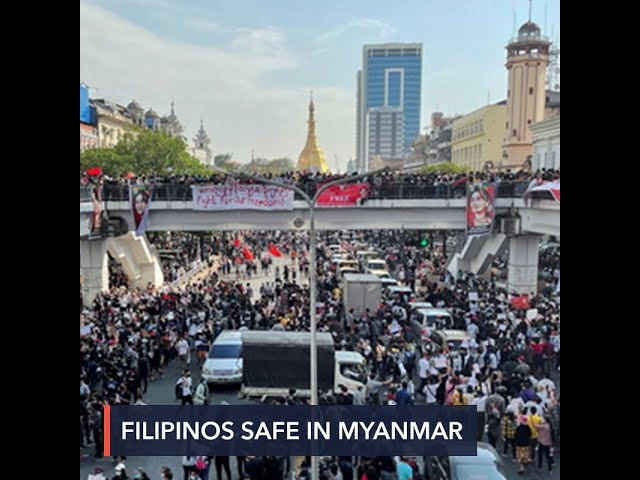 Overseas Filipino workers (OFWs) are "staying put and staying safe" despite ongoing protests in Myanmar, a member of the small community told Rappler on Monday, February 8.
There are about 1,273 Filipinos in Myanmar as of June 2020, according to the Department of Foreign Affairs. Many work in the manufacturing industry as supervisors, while a number also work for United Nations agencies and other international organizations.
While avoiding participating in protests themselves, foreigners, including at least one OFW, are supporting the pro-democracy movements in light of an ongoing military coup.
Tens of thousands of people across the country joined the third day of demonstrations on Monday, February 8, against the military's detention of elected leader Aung San Suu Kyi and other key officials a week ago.
The military declared a coup, placing Myanmar under a state of emergency, after an election they denounced as fraudulent.
On February 4, internet providers in Myanmar blocked access to Facebook-owned services for the sake of "stability," according to a letter from the Ministry of Communications and Information.
Waking up to a coup
Claire Vanessa Lim, a Filipino worker in a Myanmar-based venture capital firm, woke up on February 1 to an emergency unfolding on television. It was unlike anything she'd ever experienced in her 3 years of living in the country.
"There were whispers about [the coup] the week before, but it came as an absolute shock because I woke up at 6 am and immediately saw the news break on BBC. It was shared on all my Messenger groups. Then, a few minutes later, I started getting messages that there will be a communication blackout. I immediately rushed to the bank to withdraw some money and then I called my family right away to let them know that I will be unreachable but not to worry," Lim told Rappler over e-mail.
By 8 am, the communication blackout started happening, she said. All cellular networks were down, and her internet at home was not working. She had withdrawn money at the right time as ATMs had begun to close as well.
Until 5 pm that day, she was disconnected.
On the day of the coup, the Philippine embassy in Myanmar advised Filipinos to remain calm and stay at home. Despite the shock and uncertainty, Lim said she had not felt any danger to her personally, and that the embassy has been taking good care of the Filipino community.
The embassy kept in touch with Filipinos over WhatsApp and other messaging apps when the Facebook ban began to take effect. "They even schedule video calls for anyone [with] questions and to further disseminate information, to keep us up to date on what is happening, how to be careful, some tips," said Lim.
While the embassy has opened relief flights for repatriation, Lim said Filipinos in her circles, including herself, are choosing to stay in Myanmar.
Despite being able to carry on with life normally by working from home and being able to access Facebook with a virtual private network (VPN), she regrets that millions are unable to access information and run their businesses.
Despite risks, foreigners support Burmese friends
For days, the streets of Myanmar's biggest city Yangon have been lined with peaceful anti-coup protesters.
On Monday morning, Lim recorded a video of thousands marching outside her apartment building, chanting for democracy, demanding for the release of the detained officials, and calling for the end of military rule.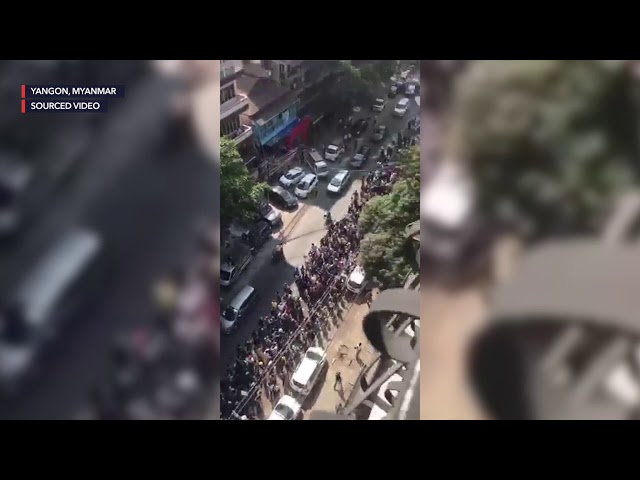 Lim is just one member of the foreign community who felt a responsibility to raise awareness about what was going on and to support Burmese friends in "non-controversial and non-political ways" they are able to.
She described how inspired she was to witness the "people fighting for their rights, in complete solidarity and strength."
"Even foreigners are supporting Myanmar…. I think it's the least we can do. That's what all my Myanmar friends are asking for, sila mismo they're telling us not to go to the protests out of concern for our safety. But they are always saying, please help us tell the world what is happening in Myanmar," said Lim.
Lim also said it is important for governments to fully understand how the people in Myanmar would be affected when world leaders respond to the crisis, whether through a press statement or an international trade disruption.
"Imposing sanctions, for example, was something that world leaders seemed to be rushing to implement. But sanctions hurt the Myanmar people and ONLY the Myanmar people, so that's absolutely not the correct way to go about it," Lim wrote.
"The more the world understands what is happening here, the better positioned the world will be to help the country and its people resolve this peacefully," she added.
Foreign Secretary Teodoro Locsin Jr, meanwhile, said on ANC Headstart also on Monday that the government is prepared to help Filipinos in Myanmar if necessary.
"It is a military emergency, I assume that our people are apolitical and that they're safe. My first reaction was to prepare for evacuation if the situation will deteriorate but I'm not going to speculate it will," said Locsin. – with Sofia Tomacruz/Rappler.com