WHAT YOU NEED TO KNOW
Thailand announced this week it would start its coronavirus inoculation program in February. This comes amid criticism that the government has lacked transparency and been too slow to secure vaccines.
Thailand's vaccination program will prioritize health workers in Samut Sakhon province, the epicenter of the latest outbreak in the country.
Meanwhile, Malaysia has secured deals with two domestic companies to purchase 18.4 million doses of COVID-19 vaccines produced by Russia's Gamaleya Research Institute and China's Sinovac – enough to cover 9.2 million people or 28.75% of the population.
Bookmark and refresh this page for updates and analyses of the latest news in Brunei, Cambodia, Indonesia, Laos, Malaysia, Myanmar, the Philippines, Singapore, Thailand, and Vietnam.
LATEST UPDATES
VIETNAM: COVID-19 outbreak reaches Hanoi as 9 more cases confirmed
Vietnam reported 9 more new COVID-19 infections early on Friday, January 29, as its first outbreak for nearly two months spread to Hanoi, the capital, where the ruling Communist party is holding its five-yearly congress.
The new cases, including one in Hanoi and 8 in nearby Haiphong city and Hai Duong, Quang Ninh and Bac Ninh provinces, brought the total number of cases in the outbreak that began on Thursday, January 28, to 93, the Ministry of Health said.
One of the first two cases recorded on Thursday was a factory worker exposed to an individual who had tested positive in Japan for the more contagious UK variant of the coronavirus. The ministry said it was analyzing gene sequences to determine if the new patients had contracted the new variant.
Most of the 2,340 workers at the factory in Hai Duong province had tested negative for the virus. Authorities will conduct mass testing in affected areas, deputy health minister Nguyen Truong Son said.
Read more here.
VIETNAM: Gov't to build 3 field hospitals in new COVID-19 outbreak site
Vietnam will build 3 field hospitals in the northern province of Hai Duong after the Southeast Asian country earlier Thursday, January 28, reported its first locally transmitted COVID-19 infections in nearly two months, the government said.
The government didn't give the size of the field hospitals.
MYANMAR: Poll body says no election fraud after army warns of 'action'
Myanmar's election commission on Thursday, January 28, rejected allegations by the country's military of vote fraud in last year's election and said there were no errors big enough to impact the credibility of the vote.
The commission's statement comes two days after the armed forces spokesman declined to rule out a coup and warned the military would "take action" if its demands to investigate irregularities were not met.
The National League for Democracy (NLD) party won the November 8 election in a landslide, taking 83% of available seats, in what was seen as a referendum on the democratic government of former political prisoner Aung San Suu Kyi.
The military-backed Union Solidarity and Development Party won just 33 of the 476 available seats.
"In this election, weaknesses and errors in voters lists cannot cause voting fraud," the commission said in a six-page statement on its Facebook page, adding voting was conducted transparently before election observers.
It said it was investigating 287 complaints and that errors like duplicated names had appeared in some lists, but voters could not cast multiple ballots with fingers marked in indelible ink.
A military spokesman could not immediately be reached for comment.
VIETNAM: Coronavirus jolt casts pall over Communist Party's coronation congress
Vietnam's worst single-day coronavirus outbreak so far, its first for nearly two months, gatecrashed the Communist Party's carefully choreographed five-yearly congress on Thursday, January 28 – a major headache for a government that has prided itself on keeping the pandemic at bay.
After 83 new cases were detected in the northern provinces of Hai Duong and Quang Ninh, the health ministry massively ramped up testing and quarantine calls. The current outbreak could lead to as many as 30,000 cases in the country, Vietnam's coronavirus task force chief warned.
The health ministry has proposed halting international flights and banning large gatherings ahead of the Lunar New year holiday season, just two weeks away.
Prime Minister Nguyen Xuan Phuc urged calm and promised swift action at an urgently called meeting on the sidelines of the congress. Against a backdrop of a buoyant economy, bolstered by keeping coronavirus cases to less than 1,600 and deaths to just 35, the congress will select Vietnam's leadership and shape policy for the next 5 years and beyond.
Read more here.
Thailand's ASEAN Heritage Parks
Learn about the Hat Chao Mai National Park and Mu Ko Libong Non-Hunting Area, Thailand's ASEAN Heritage Parks.
VIETNAM: Think tank hails successful campaign vs COVID-19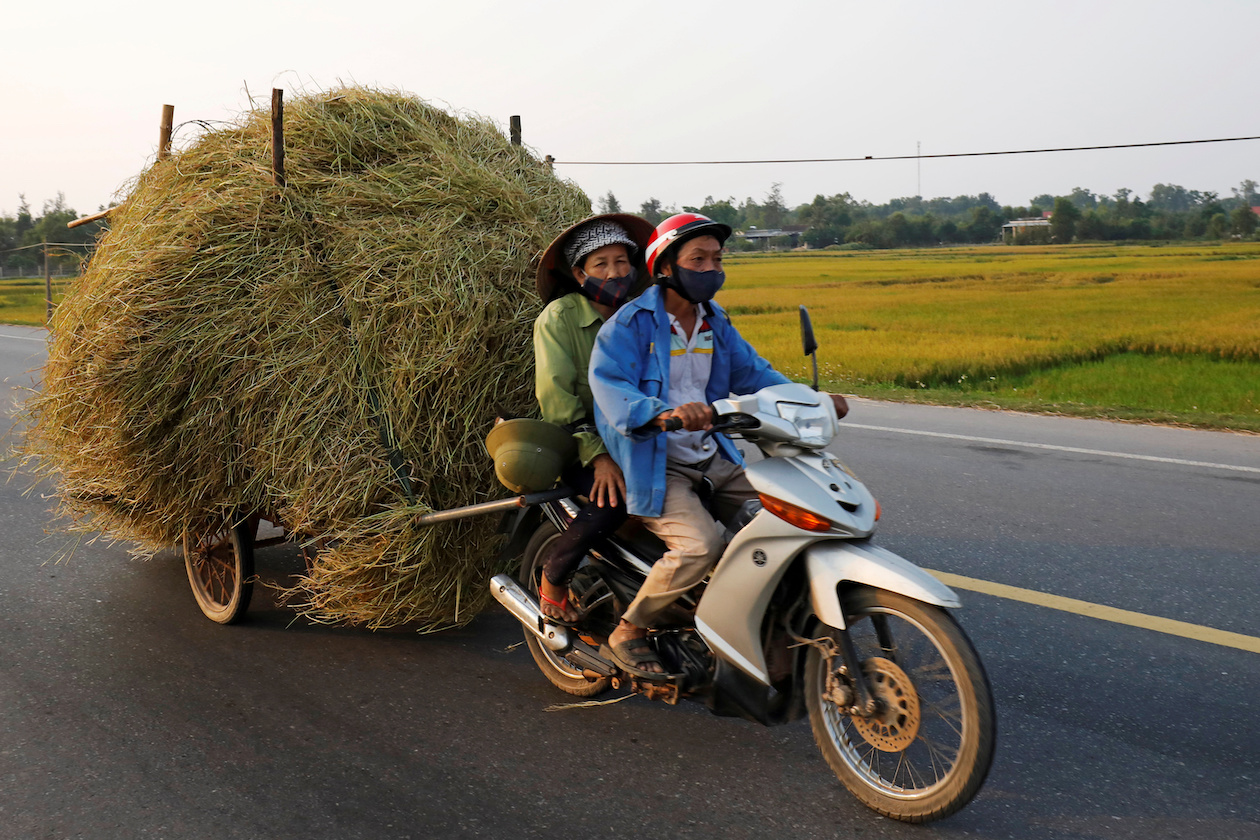 File photo shows a couple wearing face masks transporting a cart of rice straw home along a national road, during the coronavirus disease (COVID-19) outbreak, in Quang Binh province, Vietnam May 3, 2020. REUTERS/Kham/File Photo
New Zealand, Vietnam, and Taiwan rank the top 3 in a COVID Performance Index of almost 100 countries for their successful handling of the coronavirus pandemic, with Britain and America near the bottom of the pile.
The Lowy Institute said its index published on Thursday, January 28, excludes China, where the first cases were identified in December 2019, due to a lack of publicly available data.
Other countries in the top 10 include Thailand, Cyprus, Rwanda, Iceland, Australia, Latvia and Sri Lanka – countries with fewer reported cases and deaths both in aggregate and per capita terms. Read full story here.
VIETNAM: Official says country should prepare for 30,000 coronavirus cases after new outbreak
Vietnam should prepare for 30,000 COVID-19 cases, state television said, citing the coronavirus task force chief, after the country reported its biggest daily number of new infections on Thursday, January 28, and ended a 55-day run without a local case.
Deputy Prime Minister and task force head Vu Duc Dam said the two northern provinces where 83 cases were found should put measures in place to contain the spread, speed up contact-tracing and prepare for the scenario of 30,000 cases, state broadcaster VTV reported.
MALAYSIA: Country reports 4,094 new coronavirus cases, 10 new deaths
Malaysia reported 4,094 coronavirus cases on Thursday, January 28, raising the cumulative total in the country to 198,208 infections.
The health ministry also reported 10 new deaths, bringing total fatalities during the pandemic to 707.