Hong Kong continues to see unrest despite social distancing rules put in place amid the coronavirus pandemic
As the People's Republic of China marked its national day on Thursday, October 1, the unrest in Hong Kong continues as protests rock the financial hub despite social distancing rules.
Tommy Walker reports: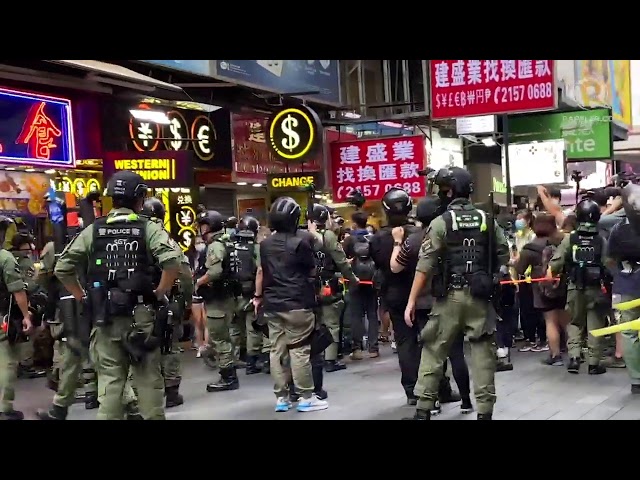 Today marked China National Day, the 71st year China has been ruled under the Chinese Communist Party. In Hong Kong, it's Mid-Autumn Festival and a public holiday
The Civil Human Rights Front (CHRF) is a democracy group that is responsible for some of Hong Kong's largest demonstrations in the past. They had applied for this rally to be approved to the Hong Kong Police Force, but the authorities rejected it, citing public health concerns because of the COVID-19 pandemic and also recent incidents during these events that often turn violent.
Furthermore, the march was arranged to show support for the 12 Hongkonger dissidents who recently fled the city in August. They were capture by mainland Chinese coast guards after trying to flee to Taiwan by boat and taken into the custody in the mainland.
This time last year on the 1st of October, we saw widespread demonstrations escalating into skirmishes between protesters and police. Back then, we even saw live firearms used as one young protester was shot in the chest by a police officer.
Today with COVID-19 social distancing laws still in place, legally people in Hong Kong can only gather in groups of 4, limiting the possibilities of larger rallies.
Despite the planned demonstration being rejected by the authorities, protesters had planned to come out anyway.
Police numbers were reportedly doubled for the event, with a reported 6,000 officers on duty throughout the whole day.
A heavy police presence began from SOGO shopping mall in Causeway Bay, effectively preventing a march from happening. But protesters, activists and residents passing by all voiced their anger from afar.
The police raised yellow, blue, and purple flags in an attempt to disperse crowds as tensions increased.
Despite the Hong Kong police recently announcing they would only recognize certain media when covering events, dozens of media and journalists reported on the day's events.
Police cordoned off areas to stifle any momentum from protesters to begin a march.
The tensions between the press and police have worsened in 2020, and today was no different.
Residents chanted slogans from afar as police attempted to roundup numbers and make arrests.
Throughout the whole day, at least 70 residents were arrested, as some were escorted by police bus.
So I'm on the ground here in Causeway Bay in Hong Kong, where there has been large demonstrations planned for this afternoon on China's National Day.
Now, the heavy police presence has effectively prevented any march from taking place.
As you can see behind me, police have cordoned off areas.
Now, residents and protesters came out to voice their concerns from a distance, heckling, shouting at the police, raised the flags to try and disperse numbers.
So far, 46 have been arrested as police are trying to prevent any escalations.
Hong Kong is still going through unrest despite social distance laws, despite the global pandemic.
The city is still angry.
As you can see, however, right now the police have got control.
This is Tommy Walker for Rappler, Hong Kong. – Rappler.com