This is AI generated summarization, which may have errors. For context, always refer to the full article.
Aktor asal Korea Selatan Joo Won berhasil membuat para penggemarnya di Jakarta histeris.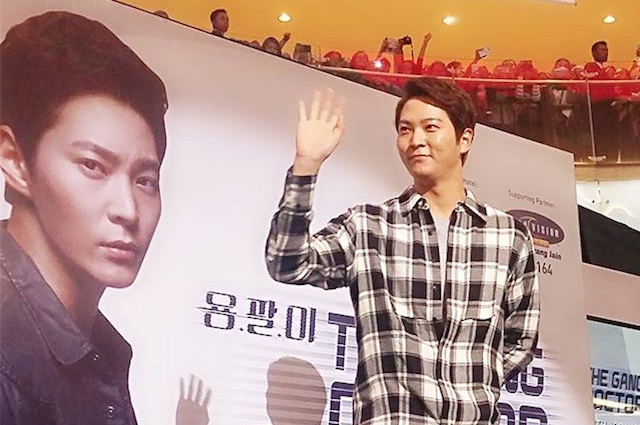 JAKARTA, Indonesia—Jumat malam, 9 Oktober Lotte Shopping Avenue di bilangan Jakarta Selatan dipenuhi banyak orang yang terlihat antusias menanti seseorang di lobby utama.
Mereka menunggu kehadiran Aktor asal Korea Selatan idola mereka, Joo Won.
Joo Won telah tiba di Jakarta sehari sebelumnya, 8 Oktober malam hari.
Ia datang kesini untuk menghadiri acara yang bertajuk A Date with Joo Won. Jika kamu tidak hadir, kamu bisa ikuti keseruannya di sini.
Berikut beberapa fakta yang terjadi saat kedatangan pemeran Dokter Yong Pal dalam serial The Gang Doctor ini di Jakarta.
1. Acara dimulai terlambat
Menurut pengumuman yang diberikan oleh ONE TV ASIA, acara seharusnya dimulai pukul 19:15. Namun, Joo Won baru tiba di lobby Lotte Avenue sekitar pukul 19:45. Penggemarnya dengan setia menanti. 
Sudah menunggu kehadiran #DrJooWon! @RapplerID pic.twitter.com/jOcyZfQ0Pl

— Sakinah Ummu Haniy (@hhaanniiyy) October 9, 2015
2. Joo Won ditemani Park Hye Su 
Acara dimulai dengan Park Hye Su, salah satu pemeran dalam The Gang Doctor. Hye Su, lulusan ajang pencarian bakat K-pop Star, menyanyikan lagu tema serial tersebut yang berjudul Please Remember Only Me.
​
3. Lotte Shopping Avenue penuh hingga ke lantai atas
Meskipun acara berlangsung di main atrium yang terletak di lantai dasar, namun antusiasme penonton terlihat hingga ke lantai 2.
Clearer look on how full @LOTTE_LOVE_JKT is NOW #DrJooWon http://t.co/AYRr5tRVvU @RapplerID pic.twitter.com/HSuckYywAM

— Sakinah Ummu Haniy (@hhaanniiyy) October 9, 2015
4. MC beberapa kali memberi peringatan
Sepertinya banyak penonton yang saling mendorong. Untuk mencegah adanya penggemar yang celaka, MC beberapa kali mengingatkan kepada para penonton untuk tetap tenang dan kondusif. Untungnya, acara berjalan lancar hingga akhir.
Kata MCnya, acara ga akan dilanjutkan kalau penonton masih dorong2an http://t.co/AYRr5tRVvU @RapplerID

— Sakinah Ummu Haniy (@hhaanniiyy) October 9, 2015
5. Beberapa orang penggemar naik ke atas panggung 
Salah satu mata acara yang mengundang histeria para penonton adalah saat empat orang penggemar terpilih naik ke atas panggung dan bermain secara langsung dengan Joo Won. Bahkan ada penggemar yang mendapatkan kesempatan untuk berfoto dan berpelukan dengan pria berusia 27 tahun ini.
It's happy faces and blissful smiles all around for our 3 lucky fans who got to go on a date with #DrJooWon on stage at the fan meet in Jakarta! Aren't you envious of them? 󾌳

Posted by ONE TV ASIA on Friday, October 9, 2015
— Rappler.com
BACA JUGA: