This is AI generated summarization, which may have errors. For context, always refer to the full article.
Real Madrid kalah 1-0 saat menghadapi Villareal, sementara Barcelona masih kokoh di klasemen La Liga meski Atletico Madrid menang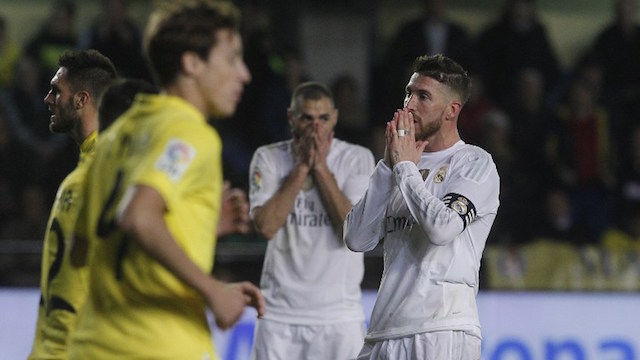 JAKARTA, Indonesia — Lanjutan pertandingan Liga Spanyol kembali digelar pada Minggu, 13 Desember.
Barcelona masih kokoh di puncak klasemen sementara, meskipun Atletico Madrid berhasil menyamakan poin setelah menang 2-1 atas Atletico Bilbao.
(BACA: Ditahan imbang Deportivo, Barcelona tetap di posisi teratas klasemen La Liga)
Sementara Real Madrid mengalami kekalahan ketiganya dalam lima pertandingan terakhir setelah ditaklukkan Villareal 0-1.
Dalam pertandingan lainnya, pertandingan pertama Liga Spanyol bagi Gary Neville sebagai pelatih Valencia harus berakhir imbang 1-1, sedangkan Rayo Vallecano kalah 1-2 dari Malaga.
Atletico Madrid samai poin Barcelona
93′ | 2-1 | Final whistle! Win and co-leadership! Come on, team! #AtletiAthletic #GoAtleti pic.twitter.com/a0fUhSDLX6

— Atleti English (@atletienglish) December 13, 2015
Atletico Madrid kembali mendulang kemenangan 2-1 saat menjamu Atletico Bilbao di Vicente Calderon Stadium, Madrid.
Di babak pertama, Bilbao sempat memimpin 1-0 pada menit 27 melalui gol Aymeric Laporte.
Namun di babak kedua, Atletico mengejar ketinggalannya lewat gol Saul Niguez pada menit 47 dan Antoine Griezmann pada menit 67.
Kemenangan ini membuat Atletico menyamai poin Barcelona, namun masih tetap berada di posisi dua klasemen karena selisih gol Barcelona yang lebih baik.
Real Madrid kalah dari Villareal
FT: Villarreal 1-0 Real Madrid (Soldado 8′) #RMLiga pic.twitter.com/a8P6kiYF9Y

— Real Madrid C.F. (@realmadriden) December 13, 2015
Real Madrid kembali menderita kekalahan setelah kemanangan berturut-turutnya dalam lima pertandingan terakhir saat bertandang ke stadion Estadio El Madrigal.
Madrid kalah 1-0 dari Villareal melalui gol tunggal Roberto Soldado di awal babak pertama pada menit delapan.
"Saya tidak senang dengan kondisi babak pertama dan saya rasa tindakan di babak kedua merupakan hal yang harusnya kami lakukan sejak awal," kata pelatih Real Madrid Rafael Benitez kepada AFP.
Kekalahan ini tidak merubah posisi Real Madrid sebagai yang ketiga di klasemen sementara Liga Spanyol.
Valencia seri, Malaga menang
FULL-TIME | So that's it! Finally the game ended in a draw -> https://t.co/uEMZKw3gVp #eibarVCF pic.twitter.com/zJN4IWhBz2

— Valencia CF English (@valenciacf_en) December 13, 2015
Pertandingan pertama Gary Neville di Liga Spanyol sebagai manajer Valencia berakhir seri 1-1 melawan Eibar di Ipurua Municipal Stadium.
Eibar sempat unggul di babak pertama melalui gol Seigi Enrich pada menit 44.
Pada menit 85, Valencia akhirnya berhasil menyamakan kedudukan melalui gol bunuh diri David Junca.
Dengan hasil tersebut Valencia dan Eibar tetap bertahan di posisi delapan dan sepuluh klasemen sementara Liga Spanyol.
Dalam pertandingan lainnya, Malaga menang 1-2 saat bertandang menghadapi Rayo Vallecano.
Vallecano unggul cepat pada menit 6 melalui gol Javi Guerra, namun Malaga berhasil membalas di babak kedua melalui gol Charles pada menit 59 dan Duje Cop pada menit 87 —Rappler.com
BACA JUGA: