This is AI generated summarization, which may have errors. For context, always refer to the full article.
Sementara Gary Neville belum bisa membawa kemenangan untuk Valencia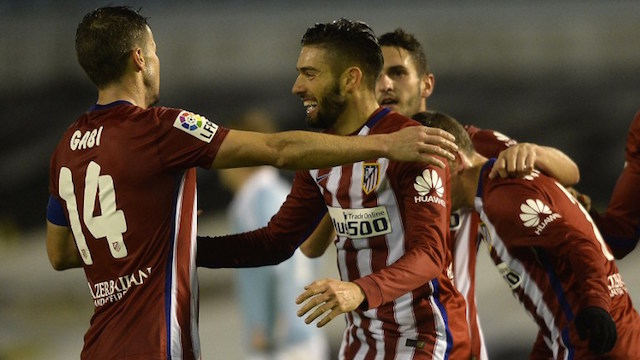 JAKARTA, Indonesia—Dalam lanjutan pertandingan Liga Spanyol di akhir pekan lalu Atletico berhasil kembali ke puncak klasemen sementara Liga Spanyol menyalip Barcelona setelah mengalahkan Celta Vigo 2-0 dalam pertandingan pada hari Minggu, 10 Januari.
Sementara Gary Neville meneruskan rekor tanpa kemenangannya bersama Valencia saat dikalahkan Real Sociedad.
Berikut hasil pertandingan La Liga pada Minggu, 10 Januari.
Atletico Madrid balap Barcelona, Villareal kalahkan Sporting Gijon
92′ | 0-2 | Final whistle! A win to end the first round. Great work, team! #CeltaAtleti #GoAtleti pic.twitter.com/KW7Mt6OYMZ

— Atleti English (@atletienglish) January 10, 2016
Atletico Madrid berhasil mengatasi perlawanan tuan rumah Celta Vigo dengan skor 2-0.
Gol perdana dicetak di babak kedua oleh Griezmann pada menit 49. Atletico menambah keunggulan di menit 79 lewat gol Carrasco.
Hasil tersebut membuat Atletico Madrid berhasil memuncaki klasemen sementara Liga Spanyol, dengan selisih dua poin dan satu pertandingan dari Barcelona di posisi kedua.
Sementara Villareal berhasil mengalahkan tamunya Sporting Gijon 2-0 lewat dua gol dari Bakambu pada menit 26 dan 51.
Valencia dan Espanyol kalah, Las Palmas dan Malaga berbagi poin
FULL-TIME | Game over, finally Real Sociedad take the win at Anoeta -> https://t.co/gRzynpwesI #VCFrealsociedad pic.twitter.com/dP6RdcgFzX

— Valencia CF English (@valenciacf_en) January 10, 2016
Tim asuhan legenda Manchester United Gary Neville, Valencia, kembali meneruskan rekor tanpa kemenangannya setelah ditundukan tim tuan rumah Real Sociedad 2-0.
Valencia harus menerima kekalahan lewat dua gol yang disarangkan Jonathas dalam waktu lima menit, pada menit 78 dan 82.
Sedangkan Espanyol harus tunduk dari tuan rumah Eibar 2-1. 
Eibar unggul terlebih dahulu di babak pertama lewat Inui pada menit 15. Selang enam menit kemudian Espanyol menyamakan kedudukan melalui gol Jordan.
Gol kemenangan Eibar dicetak melalui titik putih yang dieksekusi dengan baik oleh Baston pada menit 73.
¡Final! #UDLasPalmas 1-1 @MalagaCF (gol de @tanadp_24) ¡¡#VamosUD!! #LPAvMCF pic.twitter.com/7oKjiKPI78

— UD Las Palmas (@UDLP_Oficial) January 10, 2016
Dalam pertandingan lainnya, Las Palmas dan Malaga harus berbagi poin setelah pertandingan usai dengan skor 1-1.
Tuan rumah Las Palmas sempat memimpin 1-0 lewat gol Tana pada menit 51. Namun Malaga berhasil mengejar ketertinggalannya melalui gol Santa Cruz di menit 72.—Laporan AFP/Rappler.com
BACA JUGA: