This is AI generated summarization, which may have errors. For context, always refer to the full article.
Donald Trump menolak pengunduran diri penulis naskah plagiat istrinya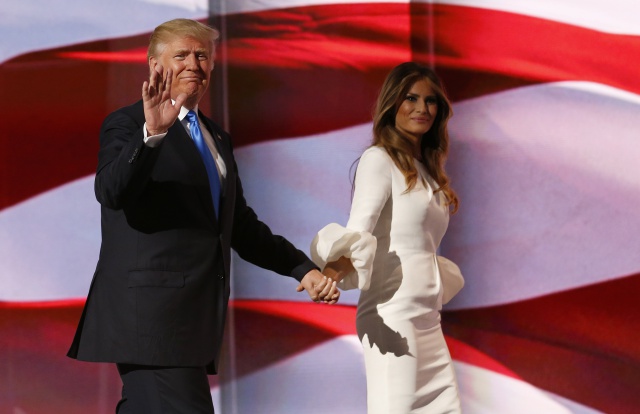 JAKARTA, Indonesia – (UPDATED) Setelah ramai tuduhan plagiat pidato Michelle Obama oleh Melania Trump pada Konvensi Nasional Partai Republik Selasa, 19 Juli, akhirnya Meredith McIver, si penulis naskah pidato, memutuskan untuk mengundurkan diri.
McIver mengatakan bertanggung jawab atas pidato tersebut. "Saya merasa bersalah atas kekacauan yang saya timbulkan terhadap Melania dan keluarga Trump, juga Nyonya Obama. Tidak ada tujuan buruk dari peristiwa ini," kata dia lewat pernyataan resmi.
Berikut isi surat pengunduran diri McIver: 
Pidato tersebut memang memuat beberapa frasa dari Michelle Obama, yang dibacakan Melania lewat telepon saat penyusunan naskah. Kepada McIver, Melania mengaku terinspirasi oleh istri Presiden Amerika Serikat Barack Obama ini. Akhirnya, coretan itu menjadi naskah final pidato Melania, tanpa dicek terlebih dahulu isi keseluruhan naskah.  
Sebagai pertanggungjawaban, McIver memutuskan untuk mundur dari jabatannya. Namun, permintaan ini ditolak oleh Donald Trump.
"Tuan Trump mengatakan kalau manusia membuat kesalahan kecil, dan pengalaman ini membuat kita tumbuh dan berkembang," kata dia. McIver mengaku sangat bersyukur atas pemahaman Trump atas kasus ini.
Pembelaan Donald Trump
Sementara itu, Donald Trump pun turun tangan untuk membela pidato sang istri, yang menjadi bahan lelucon netizen. Lewat akun Twitternya, Trump mengatakan kalau pidato Melania mendapatkan 'publikasi lebih banyak dibanding pidato lain sepanjang sejarah politik' dan tak lupa mencantumkan 'kalau kau percaya media itu baik.
Good news is Melania's speech got more publicity than any in the history of politics especially if you believe that all press is good press!

— Donald J. Trump (@realDonaldTrump) July 20, 2016
Ia pun sempat melontarkan sindiran terhadap media yang dianggapnya 'lebih fokus pada pidato Melania ketimbang masalah surat elektronik Hillary.'
The media is spending more time doing a forensic analysis of Melania's speech than the FBI spent on Hillary's emails.

— Donald J. Trump (@realDonaldTrump) July 20, 2016
Plagiat pidato
Melania Trump berpidato untuk mendukung suaminya, Donald Trump pada Konvensi Nasional Partai Republik (Republican National Convention) pada hari Selasa. Setelah pidato tersebut ditayangkan, para netizen menunjukkan beberapa bagian yang sangat mirip dengan pidato Michelle Obama di tahun 2008.
Dalam pidatonya, Melania berbicara mengenai kerja keras, hormat untuk sesama, dan keinginan untuk masa depan yang lebih baik bagi generasi selanjutnya. Bagian dari pidato yang menyinggung hal ini hampir semuanya diambil dari pidato ibu negara AS Michelle Obama di Konvensi Partai Demokrat tahun 2008.

Kesamaan ini pertama kali ditemukan oleh Jarrett Hill, seorang jurnalis dan desainer interior. "Seperti sebuah lagu yang kamu sudah lama tidak dengar, namun kamu mengingat liriknya saat kamu mendengarnya lagi. Atau sebuah dialog dalam film yang kamu ingat dan kamu meresponnya," kata Hill kepada LA Times. 
Ketika ia mengunggah temuannya di Twitter, ternyata ia adalah orang pertama yang  menyadari kesamaan pidato Melania Trump dan Michelle Obama. Ia mencuit: "Koreksi: Melania mencuri keseluruhan paragraf dari pidato Michelle."
CORRECTION: Melania stole a whole graph from Michelle's speech. #GOPConvention
WATCH: https://t.co/8BCOwXAHSy pic.twitter.com/zudpDznGng

— Jarrett Hill (@JarrettHill) July 19, 2016
Hanya dalam waktu singkat, video perbandingan kedua pidato mereka pun beredar di dunia maya. Timothy Burke, editor di Deadspin, mencuit video perbandingan pidato dan menuliskan "Bahkan muridku yang terburuk tidak akan melakukan hal ini."
I taught speech for ten years. Even my worst students would not have done this: https://t.co/QhPPC8ENUA pic.twitter.com/co5VveF5cq

— Timothy Burke (@bubbaprog) July 19, 2016
Berikut perbandingan side-by-side pidato Melania Trump dan Michelle Obama yang diunggah oleh Mike Hearn, manajer produk New York Public Radio. Kesamaan pidato Melania Trump dan Michelle Obama terdengar semakin kentara.
So that's pretty blatant, right? pic.twitter.com/EPnHME7afV

— Mike Hearn (@mikehearn) July 19, 2016
Karena bukti-bukti yang beredar semakin menunjukkan kalau Melania Trump (dan timnya) mengambil sebagian pidato Michelle Obama, netizen ramai-ramai mengunggah meme dengan tagar #FamousMelaniaTrumpQuotes.
Salah satu netizen membandingkan kontroversi plagiarisme ini dengan perseteruan antara Taylor Swift vs Kanye West. "Ketika Don diam-diam merekam pidatomu, dan Michelle mengunggahnya ke internet."
That moment when Don secretly records ur speech, then Michelle posts it on the Internet. #FamousMelaniaTrumpQuotes pic.twitter.com/eGagDPmKty

— mariah (@chanelsiren) July 19, 2016
Ronan Farrow, putra dari aktris Mia Farrow, "yakin kalau Melania Trump telah meminta izin Michelle Obama untuk menggunakan sebagian dari pidatonya, dan Kim Kardashian merekam segalanya."
I have every confidence that Melania Trump had Michelle Obama's consent to use that passage, and that Kim Kardashian was recording it all.

— Ronan Farrow (@RonanFarrow) July 19, 2016
Luke O'Neil, penulis untuk majalah Esquire, "membocorkan" history dari browser Melania Trump.
EXCLUSIVE: Melania's browser history from today pic.twitter.com/R2sfhD2edz

— Luke O'Neil (@lukeoneil47) July 19, 2016
 Ada juga netizen yang mengedit foto Michelle Obama yang memegang kertas bertuliskan "#Bring Back Our Girls" untuk kampanye yang mengecam penculikan 273 siswa perempuan oleh Boko Haram di Nigeria.
Welp. pic.twitter.com/xB8yVTFMNq

— Capt. Jake Ballard (@kidnoble) July 19, 2016
Apa yang terjadi kalau Melania benar-benar mengutip keseluruhan pidato Michelle?
"In the beginning God created the heavens and the earth…" #FamousMelaniaTrumpQuotes pic.twitter.com/bLe51c1Bgp

— OctavioAHinojosaMier (@OctavioHM71) July 19, 2016
The best one on the timeline – lol
#FamousMelaniaTrumpQuotes pic.twitter.com/RP2DAAHCVv

— Mais AbuSalah (@MaisAbusalah) July 19, 2016
Craig Rozniecki, seorang satiris politik, menyindir Trump yang "membuat Amerika hebat kembali" dengan bantuan Tuan dan Nyonya Obama.
Trump: "With the help of the Obamas writing our speeches for us, we're gonna make America great again, believe me."#RNCinCLE

— Craig Rozniecki (@CraigRozniecki) July 20, 2016
Inilah penampakan keyboard yang digunakan Melania Trump untuk menulis pidatonya:
The keyboard used to write her speech #FamousMelaniaTrumpQuotespic.twitter.com/IBcE8Slb6H

— Sebastian Cevallos (@SebCevallos) July 19, 2016
Tapi, siapa sebenarnya yang menulis pidato Melania Trump? Apakah Rick Roll, penyanyi Never Gonna Give You Up?

But to reiterate (and to paraphrase @tvoti), the real speechwriter's scandal here is this ACTUAL RICKROLL?!?!?!?!?! pic.twitter.com/eSuFbbVs43

— mr. sonia (@soniasaraiya) July 19, 2016
Ini buktinya:
Sementara itu, manajer kampanye Trump, Paul Manafort mengatakan pada CNN bahwa sangat "gila" untuk berpikir ini adalah plagiarisme. "Tidak ada yang mengambil bagian dari pidato Michelle Obama," kata Manafort. "Ini adalah kata-kata dan nilai yang lazim digunakan —ia peduli dengan keluarganya, hal-hal seperti itu. Ia berbicara di hadapan 35 juta orang tadi malam, Melania tahu itu. Untuk berpikir bahwa ia mengambil kata-kata Michelle Obama adalah, gila."
"Tentu ada proses dan kolaborasi," tambahnya. "Yang ia gunakan adalah kata-kata yang umum."
Bagaimana menurutmu? Apakah Melania Trump benar-benar mengutip pidato Michelle Obama? – Rappler.com.