This is AI generated summarization, which may have errors. For context, always refer to the full article.
Dengan GrabHitch, Anda bisa 'nebeng' pengguna motor yang searah dan menghasilkan uang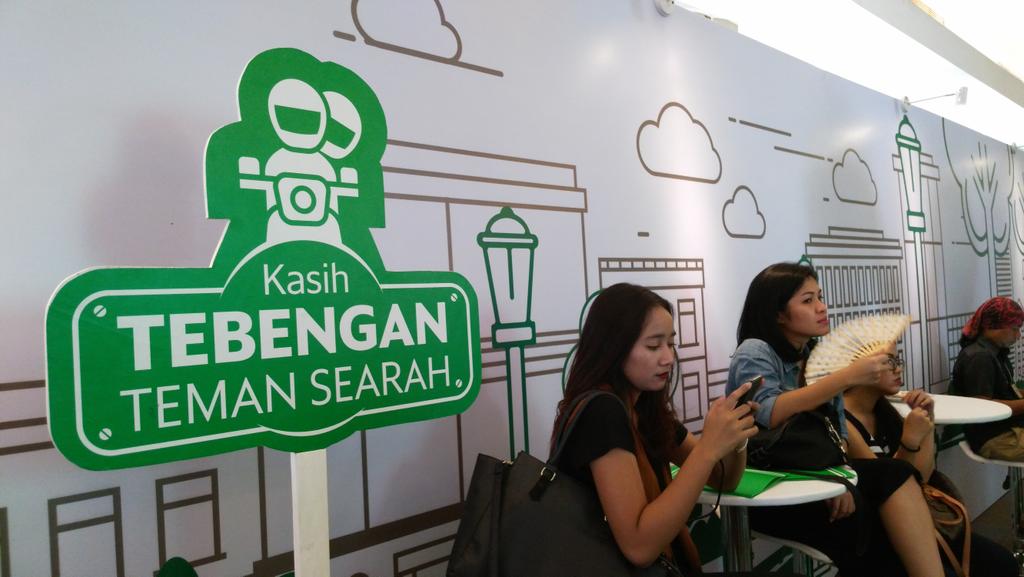 JAKARTA, Indonesia — Perusahaan pengembang aplikasi pemesanan kendaraan secara online, Grab, meluncurkan fitur baru yang diberi nama GrabHitch, pada Rabu, 19 Oktober.
Fitur GrabHitch, atau "Nebeng", merupakan layanan berbagi kendaraan roda dua untuk masyarakat di wilayah Jakarta dan sekitarnya.
"Kami melihat ada peluang untuk mengurangi jumlah kendaraan pribadi yang melintas di Jakarta, makanya kami keluarkan layanan GrabHitch, yakni orang lain dapat nebeng dengan seseorang yang memiliki rute pergi atau pulang yang sama," kata Managing Director Grab Indonesia Ridzki Kramadibrata saat peluncuran GrabHitch di Jakarta, Rabu.
Dapatkan tebengan searah sekaligus mengurangi kemacetan!

Buat rute perjalanan & pesan untuk perjalanan besok di >> https://t.co/fJ4MS5mhZK pic.twitter.com/QVNtW1sDKk

— Grab Indonesia (@GrabID) October 19, 2016
Caranya?
Menurut Ridzki, masyarakat yang akan menggunakan GrabHitch hanya perlu mengisi rute dan jadwal perjalanan dalam aplikasi Grab, untuk kemudian dicocokan dengan jadwal pengemudi, yang akan pergi ke arah sama.
"Pengemudi yang memiliki tujuan sama dengan Anda akan menjemput, sehingga yang digunakan hanya satu motor. Ini akan mengurangi jumlah pemakaian kendaraan pribadi," ujarnya.
Berapa tarifnya?
Ridzki menyebutkan layanan khusus untuk jarak jauh tersebut akan membuat biaya perjalanan harian penggunanya menjadi lebih efisien karena pada 15 kilometer pertama dikenakan sebesar Rp20.000 dan tarif dasar kilometer selanjutnya hanya sebesar Rp1.000.
Apa bedanya dengan GrabBike?
"Yang uniknya lagi, GrabHitch dapat dipesan sejak tujuh hari sebelum perjalanan. Jadi Grabhitch ini memang berbeda dengan produk kami sebelumnya, GrabBike," ungkapnya.
Sedangkan GrabBike adalah layanan antar jemput penumpang dengan pengendara layaknya ojek online pada umumnya.
Siapa target pengguna GrabHitch?
Menurut Ridzki, berdasarkan data Badan Pusat Statistik (BPS) Provinsi DKI Jakarta pada 2014, sebanyak 56,83% dari 1,38 juta orang melakukan perjalanan sehari-hari dengan kendaraan roda dua pribadi dari wilayah pinggiran ibu kota, di antaranya Bekasi, Depok, dan Tanggerang.
Terkait dengan data itu, perusahaan yang telah beroperasi mencakup wilayah Asia Tenggara ini, kemudian berupaya memberikan solusi bidang jasa transportasi serta pendapatan tambahan bagi masyarakat daerah penyangga ibu kota, yaitu dengan fitur GrabHitch ini. —Antara/Rappler.com