This is AI generated summarization, which may have errors. For context, always refer to the full article.
Sejak awal Gus Mus sudah memaafkan cuitan menghina yang diketik oleh Pandu Wijaya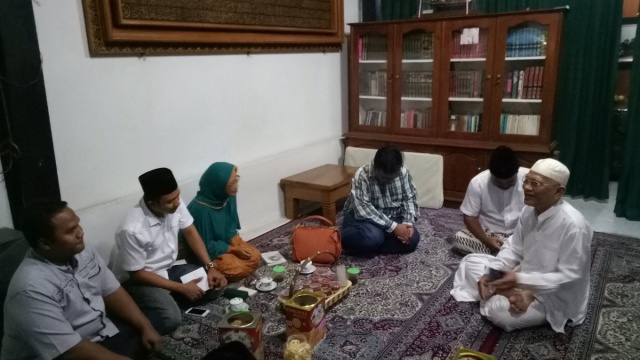 JAKARTA, Indonesia – Karyawan PT Adhi Karya, Pandu Wijaya pada Jumat malam, 25 November mendatangi kediaman KH Mustofa Bisri atau yang akrab disapa Gus Mus. Dengan didampingi sang ibu, Pandu meminta maaf karena telah menghina tokoh Nahdlatul Ulama (NU) itu.
Dari foto yang dicuit dari GP Ansor Kraksaan, keluarga Pandu nampak disambut secara hangat oleh Gus Mus. Pandu terlihat lesehan dengan mengenakan kemeja kotak-kotak dan lebih banyak menunduk. Sementara, Gus Mus mengenakan peci, celana dan baju koko berwarna putih.
Selayaknya tuan rumah, Gus Mus menyajikan minuman dan kue kecil kepada keluarga Pandu.
Dari pertemuan tersebut, masalah penghinaan yang dilakukan pria berusia 25 tahun tersebut sudah selesai. Gus Mus juga mengaku sudah memaafkan sejak awal.
Alhamdulillah, Pandu dan Bachtiar, sudah bisa tersenyum dan berfoto bersama Gus Mus, yang telah memaafkan hinaan mereka. Allahu ya Kariim. pic.twitter.com/uqHQoEp1fB

— Candra Malik (@CandraMalik) November 25, 2016
Keterlibatan Pandu dalam masalah ini, karena dia ikut memberikan komentar pedas dalam kultwit yang disampaikan Gus Mus mengenai rencana elemen dan organisasi Islam yang tetap ngotot untuk berdemonstrasi pada tanggal 2 Desember mendatang.
Orang ini > @panduwijaya_ < kasar sekali memaki Gus Mus. Konon sih karyawan BUMN Adhikarya. Cc. @fadjroeL pic.twitter.com/FrHQXm3TXF

— akhmad sahal (@sahaL_AS) November 23, 2016
Cuitan Pandu Wijaya ini langsung mendapat reaksi negatif dari netizen karena kata-kata yang digunakannya dianggap sangat menghina ulama besar. Gus Mus adalah mantan Rois Syuriah Nahdhlatul Ulama (NU), organisasi Islam terbesar di negeri ini.
Alhasil, tak lama setelah jari-jarinya mengetik kata-kata kasar tersebut, Pandu Wijaya pun langsung mendapatkan surat peringatan SP3 dari PT Adhi Karya. Bahkan Komisaris Utama PT Adhi Karya Fadjroel Rahman pun langsung meminta maaf kepada Gus Mus.
"Atas nama pribadi dan @AdhiKaryaBUMN saya ucapkan MOHON MAAF SEBESAR-BESARNYA kepada @gusmusgusmu atas ucapan tak pantas karyawan kami-FR," tulis Fadjroel lewat akun Twitter-nya @fadjroeL, Jumat 25 November.
Gus Mus sudah meminta agar Pandu tidak dipecat pasca kejadian itu. Tetapi, Fadjroel mengatakan Pandu adalah karyawan kontrak yang dipekerjakan dalam proyek renovasi Stadion Gelora Bung Karno. Sehingga begitu proyek GBK selesai, maka Pandu tidak lagi bekerja di ADHI. – Rappler.com