This is AI generated summarization, which may have errors. For context, always refer to the full article.
"Politik itu kalkulasi. Jadi orang politik bawanya kalkulator, bukan tasbih."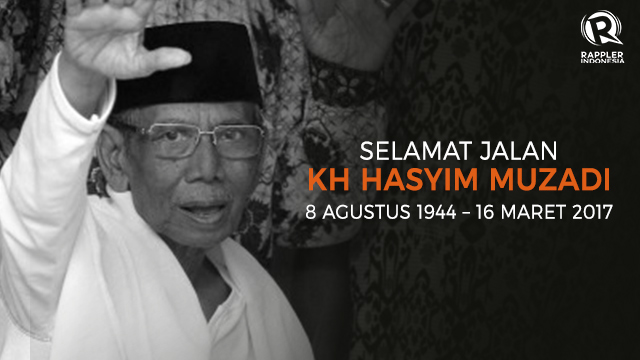 JAKARTA, Indonesia— Salah satu guru bangsa, KH Hasyim Muzadi, telah meninggal dunia. Ribuan orang melayat ke rumah duka di Malang dan mengantarkannya ke pembaringan terakhir di Depok, Jawa Barat.
Tokoh bangsa, pemuka lintas agama, hingga Presiden Joko Widodo pun menyampaikan duka cita. Hasyim Muzadi, tokoh Nahdlatul Ulama yang menyejukkan, meninggalkan duka mendalam.
Ada yang mengenangnya sebagai tokoh pejuang toleransi yang merangkul semua golongan. Ada juga yang mengingatnya sebagai kyai penuh humor. Berikut beberapa kutipannya semasa hidup yang ternyata masih relevan dengan situasi politik dan sosial saat ini:
Soal pejabat dan KPK
"Sesungguhnya tidak ada pejabat yang suka Komisi Pemberantasan Korupsi (KPK) di negara manapun. Gak mungkinlah pejabat korupsi suka diawasi, apalagi di Indonesia jumlahnya masya Allah luar biasa." 
>> Kutipan ini disampaikan KH Hasyim Muzadi saat menanggapi panitia seleksi pimpinan KPK. 
"Politik itu kalkulasi. Jadi orang politik bawanya kalkulator, bukan tasbih."  
>> Kalimat ini diucapkan KH Hasyim Muzadi saat mengomentari partai potik yang kepengurusannya sering terbelah.  
"Saya tahu kapasitas saja, heran dengan capres dan cawapres yang muluk-muluk, padahal mereka nantinya hanya bagian dari sistem. Tidak bisa berjalan sendiri tanpa lembaga lain."  
>> Kata KH Hasyim Muzadi tentang janji-janji calon presiden dan wakil presiden saat kampanye pemilu presiden 2004.
"Golput itu tidak berguna."   
>> Ucapan ini disampaikan KH Hasyim Muzadi saat menanggapi sikap Gus Dur yang ogah ikut pemilu 2004.
Tentang toleransi 
"Jangan rusak martabat bangsa. Lebih baik duduk bersama selesaikan masalah dalam negeri. Kenyataannya, agama selalu dipakai pihak tertentu untuk merusak bangsa." 
>> Kata KH Hasyim Muzadi saat menanggapi insiden Tolikora, Minggu 19 Juli 2015. 
"Walisongo mengislamkan orang. Wali celana cingkrang mengafirkan orang Islam."  
>> Kutupan KH Hasyim Muzadi saat menyindir orang-orang yang mudah mengafirkan sesamanya.
"Saya bingung debat dengan mereka, katanya Islam-nya paling benar, tapi baca Al-Quran saja tidak bisa." 
>> Sindiran KH Hasyim Muzadi menanggapi gerakan dan kelompok Islam garis keras yang muncul di Indonesia 10 tahun lalu.
 —Rappler.com