This is AI generated summarization, which may have errors. For context, always refer to the full article.
Journalists post photos of themselves in support of their jailed colleagues using #FreeAJStaff
MANILA, Philippines – Rappler calls on the Egyptian government to release the staff members of Al Jazeera. The convictions of the 3 journalists are unjust and detrimental to freedom of expression.
On Monday, June 23, an Egyptian court convicted 3 Al Jazeera journalists of aiding the now illegal Muslim Brotherhood and "reporting false news." Australia's Peter Greste and Egyptian-Canadian Mohamed Fadel Fahmy were each sentenced to 7 years, while Egyptian producer Baher Mohamed was given 2 sentences – one for 7 years and another for 3 years.
Amid mounting pressure on Egypt to pardon the journalists, Egyptian President Abdel Fattah al-Sisi said that he "will not interfere in judicial matters." Sisi cannot legally pardon the convicted journalists until a final court ruling after an appeal.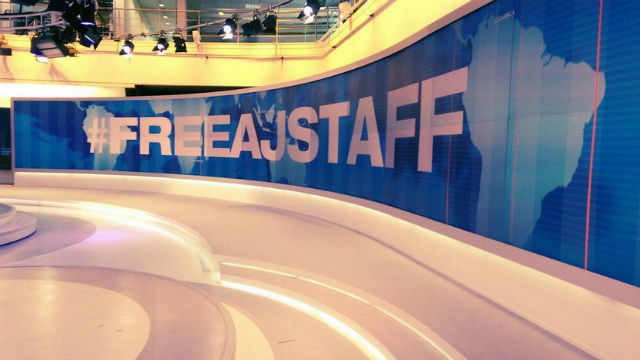 On Friday afternoon, Al Jazeera tweeted photos of their newsroom as the whole staff stood in silence for one minute on-air as a sign of protest.
Journalists and citizens around the world posted photos and made bold statements in solidarity with the imprisoned reporters.
Tweet and post your own photos. Join the rest of the world in letting the Egyptian government know that #JournalismIsNotACrime. – Rappler.com