WHAT YOU NEED TO KNOW
In Indonesia, the end of the pandemic has begun.
Proof is the photo above: 1.2 million doses of a China-made COVID-19 vaccine arrived in Jakarta on Sunday, December 6. The country expects to receive another 1.8 million doses in January 2021.
Aside from fighting COVID-19, else is happening in Indonesia and other Southeast Asian countries this week?
Bookmark and refresh this page for updates and analyses of the latest news in Brunei, Cambodia, Indonesia, Laos, Malaysia, Myanmar, the Philippines, Singapore, Thailand, and Vietnam.
LATEST UPDATES
INDONESIA: Only 1 in 3 okay with paying for COVID-19 vaccine – survey
The Health Ministry's online survey showed that only 1 in 3 Indonesians are willing to shell out out their own cash for a COVID vaccine.
More than 115,000 respondents participated in the survey, according to The Jakarta Post. Day laborers, drivers, and domestic helpers were the least willing to pay, although majority would like to get vaccinated.
Singapore approves Pfizer-BioNTech COVID-19 vaccine
Singapore became one of the first countries to obtain the Pfizer-BioNTech COVID-19 vaccine after the country approved the vaccine "for pandemic use."
According to a The Straits Times report on Monday, December 14, the first shipment of the vaccine is set to arrive by end-December.
"I am very happy to tell you that after studying the scientific evidence and clinical trial data, the Health Sciences Authority has approved the Pfizer-BioNTech vaccine for pandemic use," the report quoted Singapore Prime Minister Lee Hsien Loong as saying in a televised address.
Lee said "if all goes according to plan," Singapore will have enough vaccines for its 5.7 million population "by the third quarter of 2021."
Read more here.
Malaysian ministers wear PPE in parliament, opposition walks out
Two Malaysian ministers who should have been quarantining after being exposed to coronavirus voted in parliament in protective gear Monday, December 14, triggering an opposition walkout.
The politicians came into contact with COVID-19 patients earlier this month, but officials allowed them to partake in a key budget vote – provided they wore gowns, face masks, shields and gloves.
But the sitting quickly descended into pandemonium, with opposition MPs shouting out in protest and most deciding to leave the chamber rather than cast their votes.
Read more here.
SINGAPORE: Locally developed COVID-19 saliva test kit approved for use
An alternative to nasal swabs is now available for use, according to a report in The New Paper.
The Resolute 2.0 testing kit, which was developed by the Agency for Science, Technology and Research's Diagnostics Development (DxD) Hub and DSO National Laboratories, requires patients to spit into a specimen bottle. This means help from a medical professional is no longer necessary.
Jail sentences increased for 2 of UK's worst rapists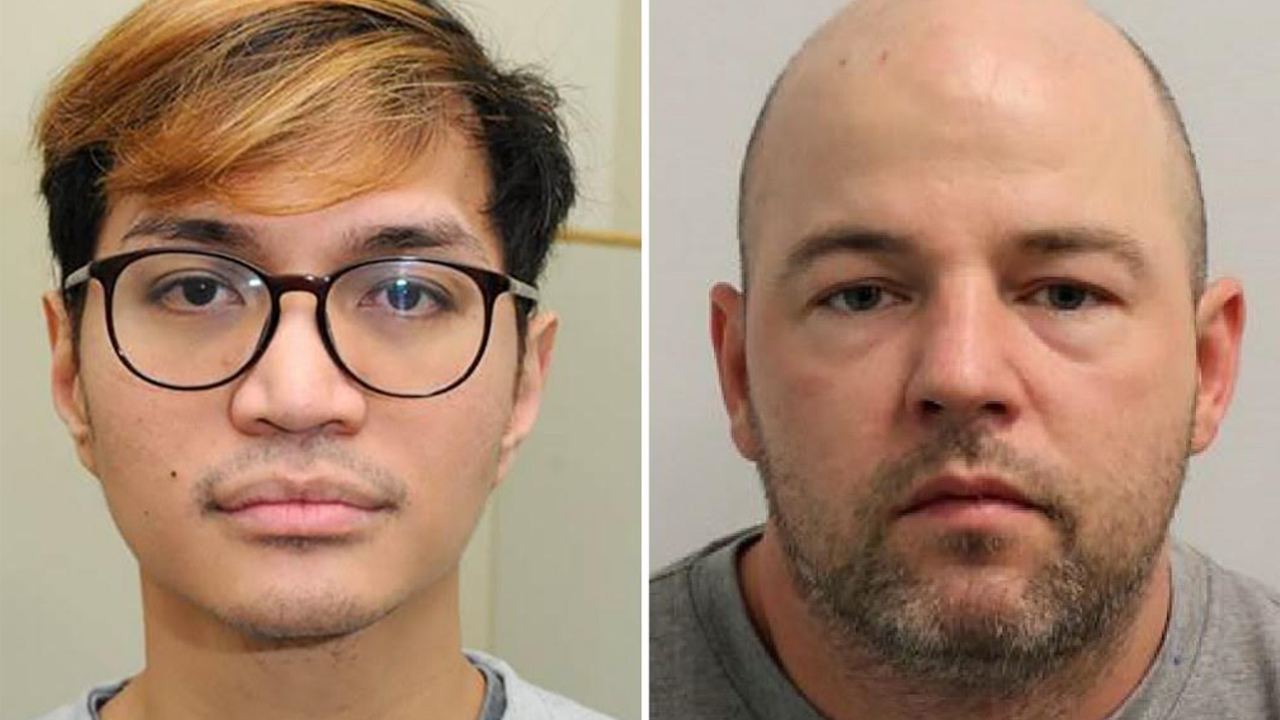 A combination of pictures created in London on December 11, 2020 shows a handout custody photographs from the Metropolitan Police showing Indonesian student Reynhard Sinaga (left) and Joseph McCann, both of whom are serving sentences after being convicted of multiple rape offenses. (Photo Handout / METROPOLITAN POLICE / AFP)
Two of Britain's most dangerous sex offenders will have to spend at least 40 years in prison, judges ruled on Friday, December 11, after a government appeal that their sentences were too soft.
Britain's attorney general had sought to ensure that Reynhard Sinaga, an Indonesian national, and Joseph McCann spent their rest of the lives behind bars because of the extent and nature of their crimes.
But 5 appeal court judges, including the head of the judiciary of England and Wales, Lord Chief Justice judge Ian Burnett, refused to impose whole-life terms. Read the full story here.
LAOS: Woman caught sneaking into Thailand for nose job
Authorities in Nong Khai, Thailand arrested a woman from Laos who entered the country illegally to visit a rhinoplasty doctor.
According to report by Ammarin TV, Thai authorities in Nong Khai Province have arrested a 46-year-old Thai man and woman from Laos caught aboard a boat illegally crossing from Laos into Thailand. They were caught near the border in Phon Sa Subdistrict, Tha Bo District, Nong Khai District Wednesday evening, December 9,
The 27-year-old Lao woman, identified as Ms. Sidavone, said she traveled to Thailand to have plastic surgery at a clinic in Udon Thani province. She admitted to hiring a boat from Phon Sa subdistrict of Thailand to pick her up on the Lao side of the Mekong Rive, according to a report in The Laotian Times.
MALAYSIA: Not practicing physical distancing still tops list of offenders
Individuals who failed to practice physical distancing continued to top the list of offenders breaching the movement control order's (MCO) standard operating procedures.
Malaysia's Senior Minister (Security Cluster) Datuk Seri Ismail Sabri Yaakob said 205 individuals who failed to observe physical distancing were among the 487 arrested by police on Monday, December 7, said a report by the New Straits Times.
Other offenses were engaging in activities at entertainment outlets (94), not wearing face masks (77), failure to register customer details (59) and others (52).
PHILIPPINES: Christmas parks rise despite COVID-19
Despite strict reminders to follow health protocols, Filipinos still flock Christmas parks.