In New York and New Jersey alone, 1 in every 4 Filipinos works in healthcare. They create their own resources to take care of their mental health amid the pandemic.
The seminar begins with a simple question: What are the changes in your regular routine?
No one answers.
Face masks, a woman finally responds. Excessive hand washing, says another. Isolation. Endless online meetings. The list goes on from those in this online mental health seminar. The Google Meetings room has 14 participants, all alumni of Manila's Far Eastern University (FEU).
A nurse administrator's disembodied voice says that the pandemic's impact has been "psychologically depressing" to many healthcare workers. "Some of my staff are already having panic attacks," she says. "That is a very, very big challenge."
With the first wave of coronavirus ebbing in New York City and many other cities around the world, Filipino healthcare workers finally have a moment to check in on themselves. Working long shifts, day after day, with little time to relax, many are physically, mentally, and emotionally exhausted. Experts predict a second wave of infections, but these workers are still reeling from first wave fatigue.
Laarni Florencio, 50, knows all too well the stress the COVID-19 pandemic has had on Filipino and Filipino American frontline workers in New York City (NYC), home to the 3rd largest Filipino population in the United States. Traditional comforts – church, community, and family – have been elusive for months. Even with phased re-openings of establishments, physical distancing guidelines reduce most gatherings to Zoom calls and live streams.
To address what experts say could be a looming mental health crisis, Florencio, a program director for a major NYC hospital corporation, and Michael Jimenez, a nurse psychiatrist in the Philippines, have started a free, online seminar, "Navigating the New Normal." They ask their largely Filipino audience – including many healthcare workers – questions about their mental health. Attendees share pandemic experiences to help alleviate stressors and find connection.
Bearing the pandemic's psychological brunt
Across the U.S., about 1 in 20 registered nurses are Filipino. In New York and New Jersey alone, 1 of every 4 Filipino works in healthcare. At least 30 Filipino healthcare workers have already died from COVID-19, according to a recent analysis by ProPublica. Like others working on the frontlines, Filipinos healthcare workers are among those bearing the emotional and psychological brunt of this pandemic.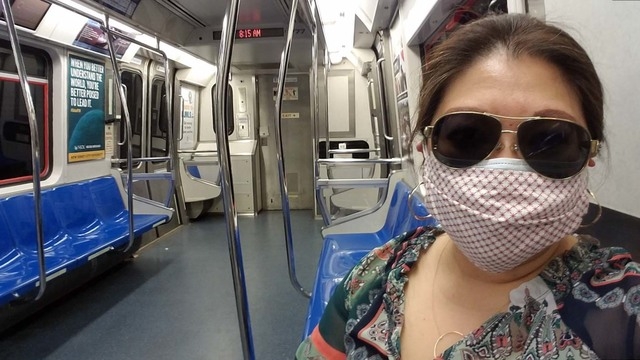 According to Florencio, fellow nurses say that COVID-19 has been worse than the 9/11 terrorist attacks on the city. "You don't really have time to give yourself a 5-minute break, or even a few seconds to say, 'Hang on a second, I just need a breather.'"
Florencio's own pandemic struggles made her realize others might be suffering, too. So she decided to try to help others.
During the seminar, Florencio asks questions and calls on participants, while Jimenez breaks down responses, and explains emotional responses.
So far, they have completed two sessions – with the alumni of the Makati Medical Center and FEU – and are talking to a US nursing home and a major US cosmetics company about future sessions. Their 20-person limit per session fosters intimacy and facilitates meaningful conversation. The team hopes to collect enough data to draw a larger picture of current mental health challenges for healthcare workers and other professionals.
Mental health resources during this pandemic are in demand, especially for hard-hit cities like New York, San Francisco, and Houston. A recent study from China suggests that half of all healthcare workers across 32 hospitals reported depressive symptoms. Another study from China also reports healthcare worker pandemic-related depression rates hovering around 23%. Insomnia and depression rates were higher for both nurses and female healthcare workers. Similar rates might be expected in other heavily impacted communities.
Talk about mental health more openly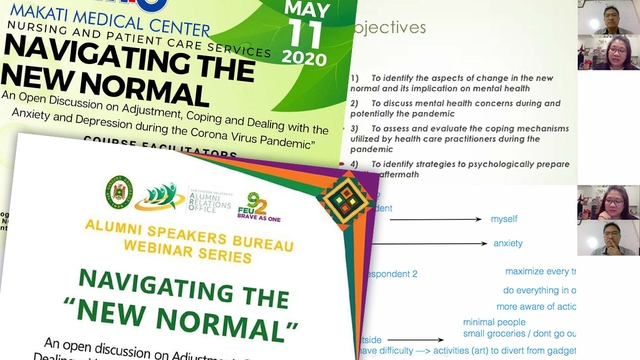 Having weathered the historic public health storms of AIDS, Ebola, and SARS, Catherine Ceniza Choy, professor of ethnic studies at the University of California, Berkeley, says that Filipino American healthcare workers have learned that self-advocacy is critical to survival.
Right now, that means addressing emotional and mental health concerns. Recently, the Philippine Nursing Association of America introduced a "Heal Our Nurses" campaign, highlighting "frontline heroes" and encouraging donations to outfit Filipino nurses in proper personal protective equipment. While the campaign is not solely focused on mental health, it seeks to mitigate underlying anxiety and stress. Lorelei Belardo of PNAA's New York chapter says members can contact the organization for help.
PNAA has also reportedly been cataloguing Filipino nurse deaths due to COVID-19 throughout the US. The association's representatives did not respond to requests for an interview.
Like many cultures, Filipinos have traditionally considered mental health a private or taboo topic. But Jimenez thinks the pandemic is spurring such discussions. "We've never talked about mental health the way that we are discussing the topic right now," he says.
Still, these conversations can be hard to start.
People are guarded, Florencio says, regardless of nationality, culture, or background. But in New York, talks and action around mental healthcare for frontline workers will be a necessity moving forward. The New York State Office of Mental Health now offers some resources on its website, including an emotional support call line. But frontline workers may find programs, like the one Florencio offers, more immediately helpful.
'You just hit a brick wall'
Ellen Arigorat, a 35-year-old nurse in New York, is trying to parse through her experiences with the pandemic. Once the virus hit, the nursing informatics specialist was reassigned to a 6-bed intensive care unit (ICU) for COVID-19 patients. The transition was tough. On her first day, Arigorat sat with a patient close to death. The patient had a "Do Not Resuscitate" order, so Arigorat held her hand and stroked her head while the woman struggled to breathe.

Before the pandemic, Arigorat decompressed after hard days by connecting with colleagues. They'd grab drinks at a nearby restaurant and talk through the day's stresses. Now, since she lives alone, Arigorat calls her mother or brother, seeking solace.
"We don't talk about mental illness, we don't talk about getting help for depression, we don't talk about anxiety, we don't talk about PTSD (post-traumatic stress disorder)," Arigorat says of Filipinos. Almost every nurse interviewed reiterated that many Filipino nurses turn to other things in difficult times, like faith, family, and friends. "It's kind of a silent thing that we just process ourselves."
But the pandemic is clearly taking its toll. "You just hit a brick wall," Arigorat says. The anxiety and stress of suffering patients, long shifts, sleepless nights, and a deadly virus are hard to handle. She worried about carrying the virus on her clothes, shoes, body. She started having nightmares.
The same week that Arigorat returned to her old unit, Lorna Breen, a top emergency doctor doctor who treated coronavirus patients, died by suicide. Arigorat knew she needed to address the trauma of her ICU experience.
Luckily, Arigorat says mental health was "a priority" at her hospital. She now sees a clinical psychotherapist who helps her with PTSD.
Janet Cuaycong, 56, a New York-based nurse manager at a major hospital, found that if she participated in hospital-sponsored online group support sessions, others would join too. For the past 8 weeks, she's been texting her staff to remind them to log in at 11 am.
Accepting the 'new normal'
Florencio says the seminar has been surprisingly helpful and humbling. Hearing others talk about their struggles helped her realize her situation wasn't unique. "It was nice to actually reach out to other people, to say, 'Hey, we have the same story.'"
In the Philippines, the virus' psychological impact is no different. The compounding stress of social isolation, unemployment, and severely altered routines is already taking its toll. But resources are slim. Jimenez suggests there is only one psychologist per 83,000 people and only about 500 working psychiatrists.
Yet, the World Health Organization estimates 3.09 million of the 107 million people in the Philippines already experience anxiety, and 3.29 million struggle with depression. Jimenez is certain there will be an increase in depression during COVID-19. And while that number is less than the rate at which Americans struggle, it is a growing need.
And it's not just frontline workers who are at risk. In 2019, the Philippine government passed the nation's first Mental Health Act to address mental health concerns. Yet a follow-up report on existing mental health services suggests that, despite this new legislation, economic barriers and a lack of mental health professionals and community-based help still hamper vital aid.
Experts say moving forward will require more policies and mental health programs. That's where Jimenez and Florencio's seminar comes in. Their class focuses on education and prevention – accepting the "new normal" instead of struggling against the tide.
"We still have a long way to go," Jimenez says. – Rappler.com