'That is the most powerful person in the world, and we see him like an obese turtle on his back flailing in the hot sun, realizing his time is over, but he just hasn't accepted it and he wants to take everyone down with him, including this country,' says CNN's Anderson Cooper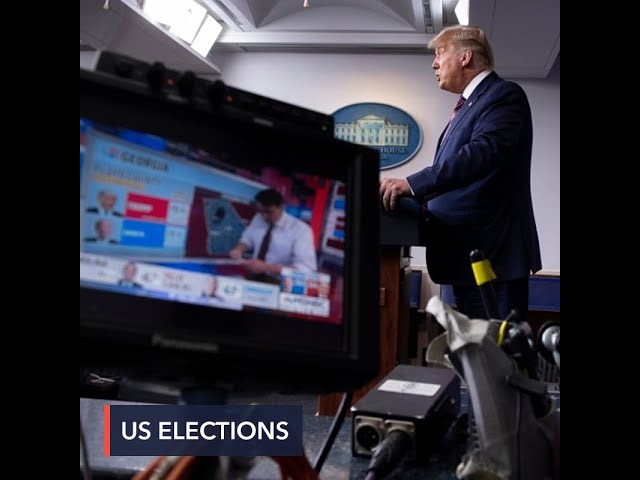 US networks cut away from President Donald Trump's live conference and called him out over his false claims on electoral fraud. (LIVE UPDATES AND RESULTS: Trump vs Biden – US presidential election 2020)
On Thursday, November 5 (Friday, November 6, Manila time), cable channel MSNBC interrupted Trump's press conference from the White House, with news anchor Brian Williams saying, "Here we are again in the unusual position of not only interrupting the President of the United States but correcting the President of the United States."
"There are no illegal votes that we know of, there has been no Trump victory that we know of," Williams added, as he went on to ask their chief legal correspondent on the baseless claims.
NBC News aired it for a few minutes before cutting away, with anchors talking over Trump and calling out the lies. NBC News did something similar on election night when Trump first claimed victory.
"We have to interrupt here because the President has made a number of false claims, including the notion that there has been fraudulent voting. There has been no evidence of that," news anchor Lester Holt said.
ABC News did the same, with anchor Linsey David saying: "He's been making a lot of, frankly, false accusations, baseless claims. That's not being partisan, that's just stating the fact. He has basically stated he has claimed he has won several states, which simply have not been projected or called."
USA Today stopped the livestream and later on removed the video from all of its platforms.
"President Trump, without evidence, claimed the presidential election was corrupt and fraudulent. We stopped the livestream of his remarks early and have removed the video from all of our platforms. Our job is to spread the truth – not unfounded conspiracies," editor-in-chief Nicole Carroll said in a statement.
CNN, for its part, aired the press conference in full but Jake Tapper called it "pathetic" immediately after.
Anderson Cooper said: "That is the president of the United States. That is the most powerful person in the world, and we see him like an obese turtle on his back flailing in the hot sun, realizing his time is over, but he just hasn't accepted it and he wants to take everyone down with him, including this country."
But on Fox News – as shown in a video snippet posted by CNN senior media reporter Oliver Darcy – anchors just repeated Trump's claims.
Host Martha MacCallum said the supposed "evidence" has yet to be "produced."
CNBC's Shepard Smith interrupted the speech and said Trump's claim is "absolutely untrue."
Don't put Trump on live TV
Media expert Dan Gillmor said news channels "should not put people on live television when they know ahead of time that the speaker is going to lie."
Gillmor is the co-founder of the News Co/Lab at Arizona State University's Walter Cronkite School of Journalism and Mass Communication.
In a reply to Rappler, Gillmor said that "it is a given that President Trump will lie" and added that "his lies are even more dangerous than usual" with democracy at stake in the tight 2020 presidential race.
"The only responsible way for journalists to act in these circumstances, in my view, is to record the video. Then, air the portions where he is not lying, and explain – without amplifying them – what the lies are about and what the truth is," Gillmor said.
Trump has filed lawsuits in several states calling for the stopping of vote count. Trump also said he would go to the Supreme Court to dispute the counting of votes.
Joe Biden, for his part, called for sobriety and said he was on track to winning the required 270 electoral votes to secure the presidency. – Rappler.com