Filipino Americans voting for President Donald Trump say they share his conservative views on family, religion, and faith
With nearly 2 million Filipino Americans eligible to vote on Tuesday, November 3, many Fil-Am voters are still going for US President Donald Trump despite his pandemic response and controversial anti-immigrant statements and policies.
While majority of Fil-Ams are leaning blue, 34% are still voting for Trump, according to the 2020 Asian American Voter Survey (AAVS) of nearly 1,600 Asian Americans.
Many Fil-Ams cited Filipino conservative values as among the reasons for their support for Trump.
"We cherish our family, our freedom to succeed, and our faith. We are traditionally conservative. This is who we are. Our conservative values are what defines our identity, our strength, and our hard-earned prosperity in the US," the group Raise The FilAm Voice said in its endorsement of Trump.
"We are disgusted by the hypocrisy of the Democrats who claim to be Catholics-Christians while justifying abortion and infanticide," the group added.
Edwin Duterte, a distant relative of Philippine President Rodrigo Duterte, told Rappler that "Republican values align with [his] Filipino values." In 2018, he ran for the US House to represent California's 43rd congressional district but lost in the primary election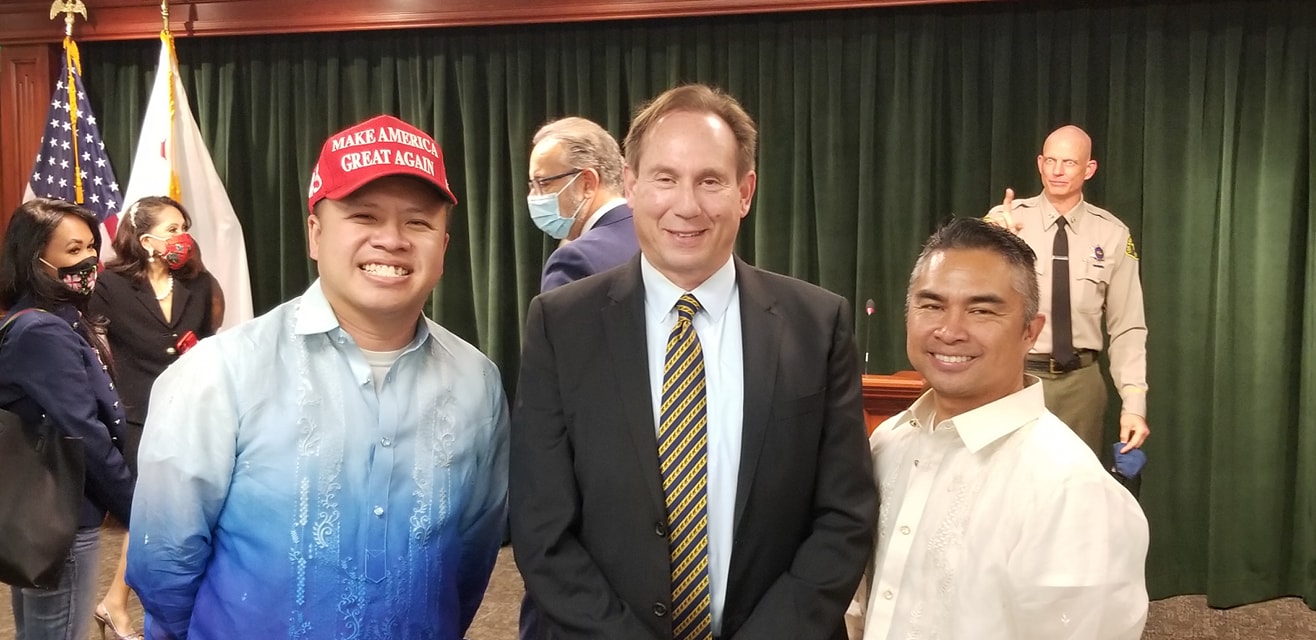 Republicans and Trump are known for their opposition to abortion and same-sex marriage, as well as for their tough immigration policies.
Brunswick, Ohio Mayor Ron Falconi said being a Fil-Am in the Republican Party "feels wonderful." Contrary to popular belief, he said not all non-Caucasians favor liberal politics.
"As the son of two Filipino immigrants who met at the US embassy applying for visas to come here in 1967, I know that the Filipino values of God, family, country, hard work, and self-reliance are also the values of the Republican Party. I have spent most of my adult life being active in partisan Republican politics…. They have always made me feel at home," Falconi told Rappler in an e-mail interview.
Marcelino Ramos, son of Filipino and Japanese immigrants, shared the same view when I met him in a Trump campaign rally in Phoenix, Arizona in February 2020. Having lived in the US his entire life, he said he views himself as an "American first."
"Because President Trump has the same values as I do…. I say if you're an immigrant and you're here legally and you're working your way toward citizenship, you're American first. That's what I consider myself regardless of my ethnicity," Ramos earlier told Rappler.
Duterte, Trump similarities
Presidents Duterte and Trump have been repeatedly compared to each other – both brash, unapologetic, and populists. These characteristics, deemed unacceptable by many, have endeared them to each other and to their core followers.
In March, Duterte even urged Fil-Ams to vote for his "good friend" Trump.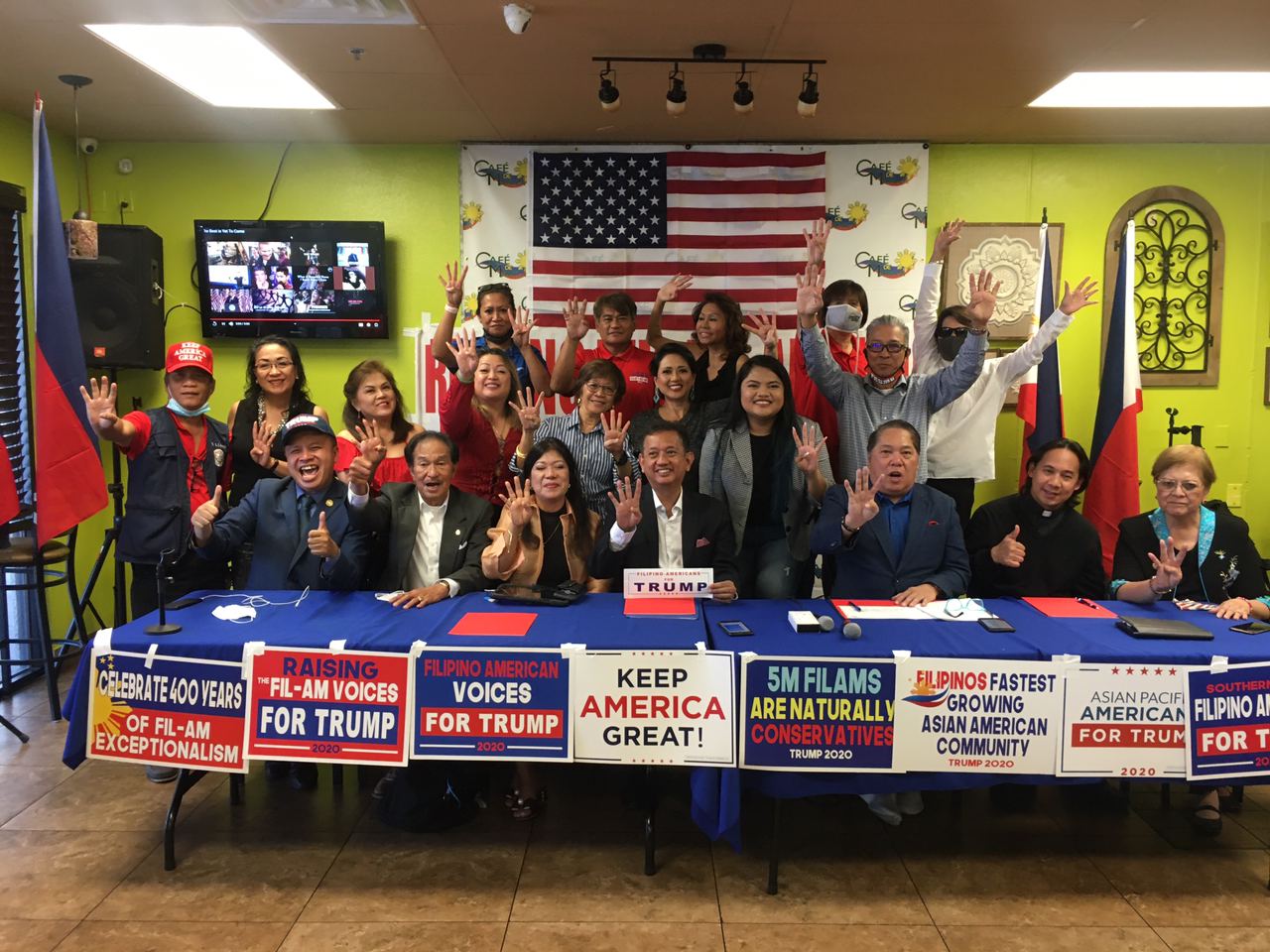 "The country has prospered because of [Trump's] leadership. He actually means what he says. People do not like the way he says things, but he really speaks for all of us. He is politically incorrect, and that is what people like about him," Falconi said.
"Look at the accomplishments. It's like that with every boss that I worked for. They asked me to do hard things, they pushed me. That made me a better worker. I did not like the way bosses treat me, it was a little harsh, but that made me a better worker, just like with Trump," Duterte said.
The two leaders are also known for their disdain for critical media and both even use similar tactics against the free press – actions that resonate with their base.
Alternative reality on COVID-19
To many supporters, Trump has handled the coronavirus pandemic well, despite the staggering increase of infections and deaths in the country. Trump should not be blamed because, to them, the states are responsible for the spread. (READ: Trump admits to playing down coronavirus danger)
The US president's narrative has worked for his base: that his was a decisive response and that he immediately closed US borders to China – a misleading claim.
Trump inaccurately claimed during the presidential debates that he imposed a "travel ban" from China. What he imposed was a restriction for non-American citizens, while Americans were still allowed to go back and forth at the time.
"This is a worldwide pandemic, and America is not alone in suffering from COVID-19. The President continues to work with doctors and scientists to make sure that we are safe and that a vaccine will be ready for public consumption over the next few weeks," Falconi said.
Experts, however, said that vaccines, won't be available anytime soon.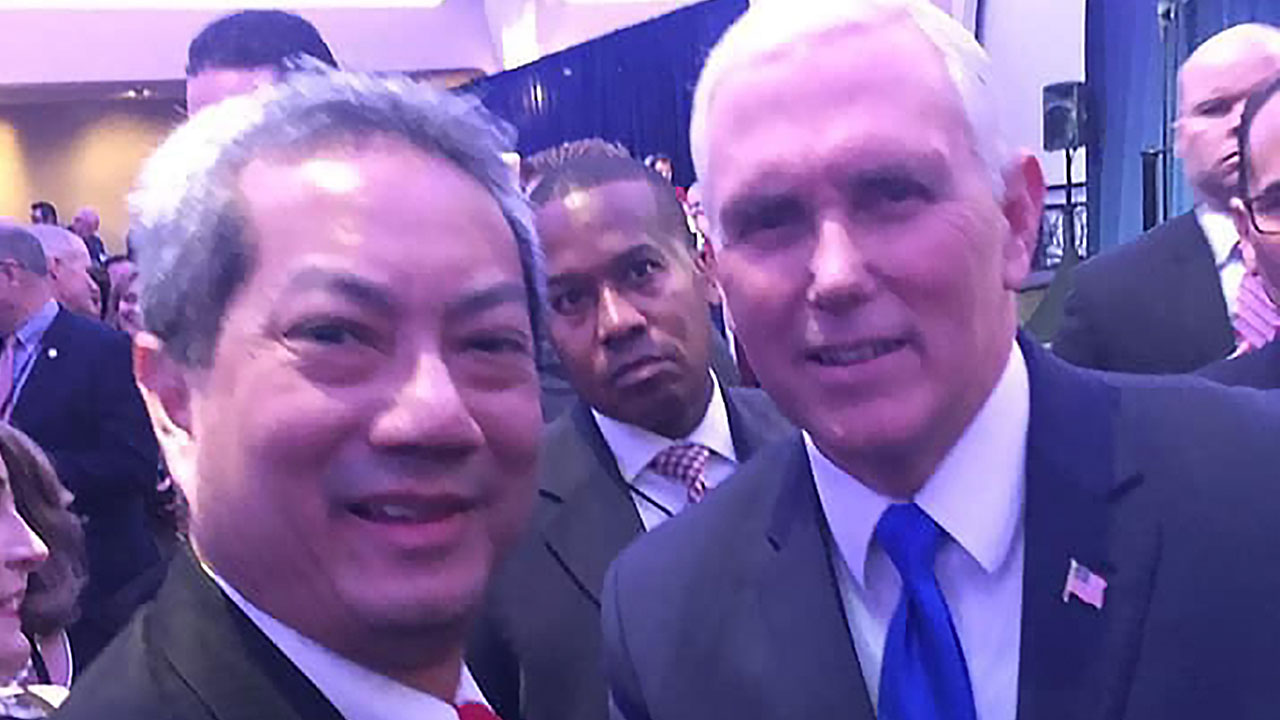 Trump was also criticized for his failure to impose a federal mask policy and his refusal to wear masks. He also pushed for the use of several COVID-19 treatments that have yet to be proven effective. But for his followers, all these are hardly a problem.
In explaining their point, supporters always ended up blaming the media.
"He also dared to talk about practical solutions like hydroxychloroquine, which was found to be effective in so many cases. He pushed for reopening the country and focusing on the reality that the cure can't be worse than the disease. Trump was smart and steady while fighting a dishonest media and obstructionist Democratic Party," Marc Ang, a Trump supporter from California, told Rappler.
Trump vs China
Many Fil-Ams are also voting for Trump because of his actions against China.
"It is a conscience vote, as well as practical vote. We saw how the Democrats had abandoned the Philippines to Chinese transgressions, in contrast now [with] how the President defends the Philippine territorial sovereignty in the West Philippine Sea," Raise The FilAm Voice said in its statement.
Vietnamese-Asians, the only Republican-leaning group of all Asian subgroups in the US, share the same sentiment. AAVS results found that 48% of Vietnamese Americans favor Trump while 36% are for democratic presidential candidate Joe Biden.
In an article on The South China Morning Post, Janelle Wong, a senior researcher for AAPI Data, a US-based publisher of demographic data and policy research on Asian Americans and Pacific Islanders, said Vietnamese-Americans – mostly those who left Vietnam after the fall of Saigon (now Ho Chi Minh) – "had an affinity for the Republican Party because it had traditionally been associated with strong anti-communist positions."
On top of this, Trump's stance against China is favorably seen by Vietnamese-Americans, who seek to stop the Asian giant's encroachment of territory.
Both Vietnam and the Philippines have faced aggressive Chinese actions in the disputed South China Sea, parts of which are claimed by the two nations, as well as Taiwan, Brunei, and Malaysia. (READ: Where China's aggressive action is taking the world)
Immigration, economy
Fil-Ams believe that Trump improved the economy. If it weren't for the pandemic, they said this economic boom would have continued.
"The President has done a great job for the past 4 years. He has presided over one of the best economies in the past 50-60 years, pre-COVID. He has managed record-low unemployment not only for Asian Americans, but also African Americans, Hispanic Americans, and also women," Falconi said.
They also supported Trump's controversial immigration policy, which has received criticism globally.
"In the last few years we experienced how our incomes grew with less taxation and how our wages stabilized because of legal immigration," Raise The FilAm Voice said.
It was an echo of Trump's rhetoric in pushing to limit the entry of migrants to the country. His administration has claimed that migrants have stolen jobs from Americans, creating an image of dangerous and undesirable immigrants in the country formed by the very same people.
Filipinos are the 3rd largest group of Asian immigrants in the US. But for some Fil-Ams, immigration is a privilege.
"There should be a legal process. And we all have to know that countries without borders is not a country at all. If we didn't have borders, it would've been worse here. This is not because of racism, it's because of 9/11, health concerns," Duterte said.
"It is a false narrative that the immigration policy of Trump leads to racism. We need to process safety…. America is a melting pot and illegal immigrants coming into our country forcing their cultural policies here, it's not good. With France, there's radical Muslims. Do we want that? We want a United States that brings the cultural heritage but [doesn't] force it. They have to be considerate with our values. It works both ways," Duterte added.
Other Fil-Ams, however, see it differently. Over 300,000 Filipinos are undocumented in the US, some of whom were "dreamers" or recipients of the Deferred Action for Childhood Arrivals (DACA) program, which protects from deportation all qualified undocumented migrants brought to the country as minors.
Trump has sought the termination of the program, while Biden vowed to continue it.
Unlike in the Philippines where personality politics dictates voter preference, a strong two-party system still drives US elections – although the tough talking, controversial, and irreverent Trump style cuts across the racial divide, including Filipino Americans. – Rappler.com