Users will be asked for their MPIN and OTP, and be scanned for facial recognition too
Editor's note: This content is sponsored by GCash and was produced by BrandRap, the sales and marketing arm of Rappler. No member of the news and editorial team participated in the production of this piece.
It's not so unusual to receive random text messages or calls from unknown numbers offering raffle prizes, money, loans, or even job opportunities. And this sudden onset of spam messaging is worrisome for most especially as news and stories of fraud and scams keep popping up online.
The harsh reality is that scams and fraud will continue to exist whether we like it or not, which is why fintech companies are taking these seriously and studying closely how to best combat or prevent them from happening. For GCash, this commitment to keeping accounts and transactions safe is taking form through user identity verification features. Their newest layer of protection is a facial recognition feature called DoubleSafe.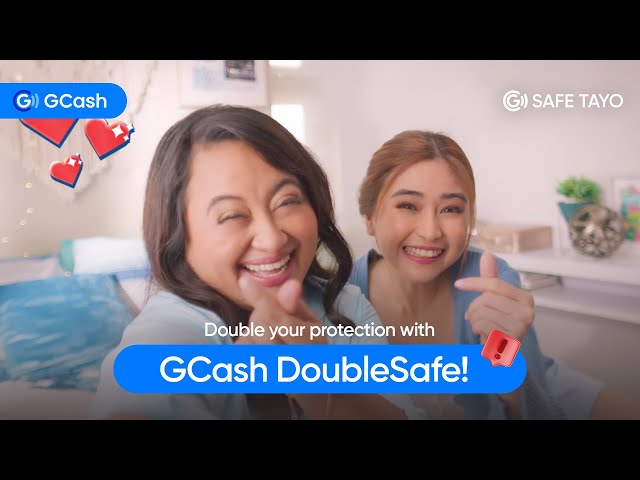 DoubleSafe is currently on limited release but will soon be available for all verified GCash users. This is how it works:
Upon logging in on a new device, you will be asked for a one-time password (OTP) sent to your registered mobile number
Once you enter your OTP, you will be asked to enter your mobile banking personal identification number (MPIN)
If you are a verified user, DoubleSafe will conduct a selfie scan to verify your identity
This new security feature will be required for every new login so that even if your OTP or MPIN has been compromised, the superapp will know whether it really is you who is logging in or not.
Verified users on GCash, or those who have submitted proof of their identity previously, can make use of this new feature. Non-verified users also get a new layer of protection through DoubleSafe, but this will be limited to another round of authentication through OTP.
If you're not yet verified and want to make use of DoubleSafe, the verification process is easy and can be done within a matter of minutes.
Here is how you get fully verified:
Open your GCash app
Tap "Verify Now"
Input the OTP sent to your registered mobile number
Place your birthday and tick whether you're a Filipino citizen or not
Choose which valid ID you're submitting and scan it using the app
Take a selfie scan
Review your information
Submit your data for verification
If you are a minor, you will also be asked to get help from your parents in the verification process and will be redirected to GCash, Jr. If you are a foreign national with a Philippines-based SIM or a Filipino citizen using a non-Philippine SIM, you can check how to get your accounts verified on the official GCash website.
While fintech companies like GCash are always seeking ways to better protect their users, there are also ways we can better protect ourselves.
Here are things you can do on your own to keep your accounts safe
Don't open unfamiliar links, especially those that offer you prizes or money. You can also avoid from answering unknown callers if you aren't expecting any calls.
Never share personal information, especially your MPIN and OTPs, as well as sensitive data like your birth date and your mother's maiden name.
Double-check every transaction you make. If some deals are too good to be true, they probably are. Make sure you are transacting with official websites or apps.
If you feel like you've been victimized by a scam or a fraudulent transaction, or know of any suspicious activity, you can report through the GCash app's Help Center, or visit https://help.gcash.com/hc/en-u and start a chat with Gigi, GCash's virtual assistant.
If you need assistance from the government, you can contact the National Bureau of Investigation's Anti-Fraud Division at (02) 8525-4093 or e-mail at afad@nbi.gov.ph. – Rappler.com