These are the stories of frontliners, as told in their own words
COVID-19 cases, in recent weeks, have been on the rise and Metro Manila recently reverted to stricter quarantine.
In a letter, dated August 1, written by Dr. Mario Panaligan, President of the Philippine College of Physicians, and supported by at least 80 medical groups, he expressed: "The Philippine healthcare system is already overwhelmed, and the healthcare workers are united in sounding a distress signal to the nation."
It's clear that our country's frontliners need all the help that they can get.
Green Cross Inc., through their "Together We Are Stronger" program, has deployed donations to hospitals across the country. They come in the form of Frontliner Protection Packages which include Green Cross rubbing alcohol, Zonrox bleach, and medical-grade Level 4 Personal Protective Equipment (PPE).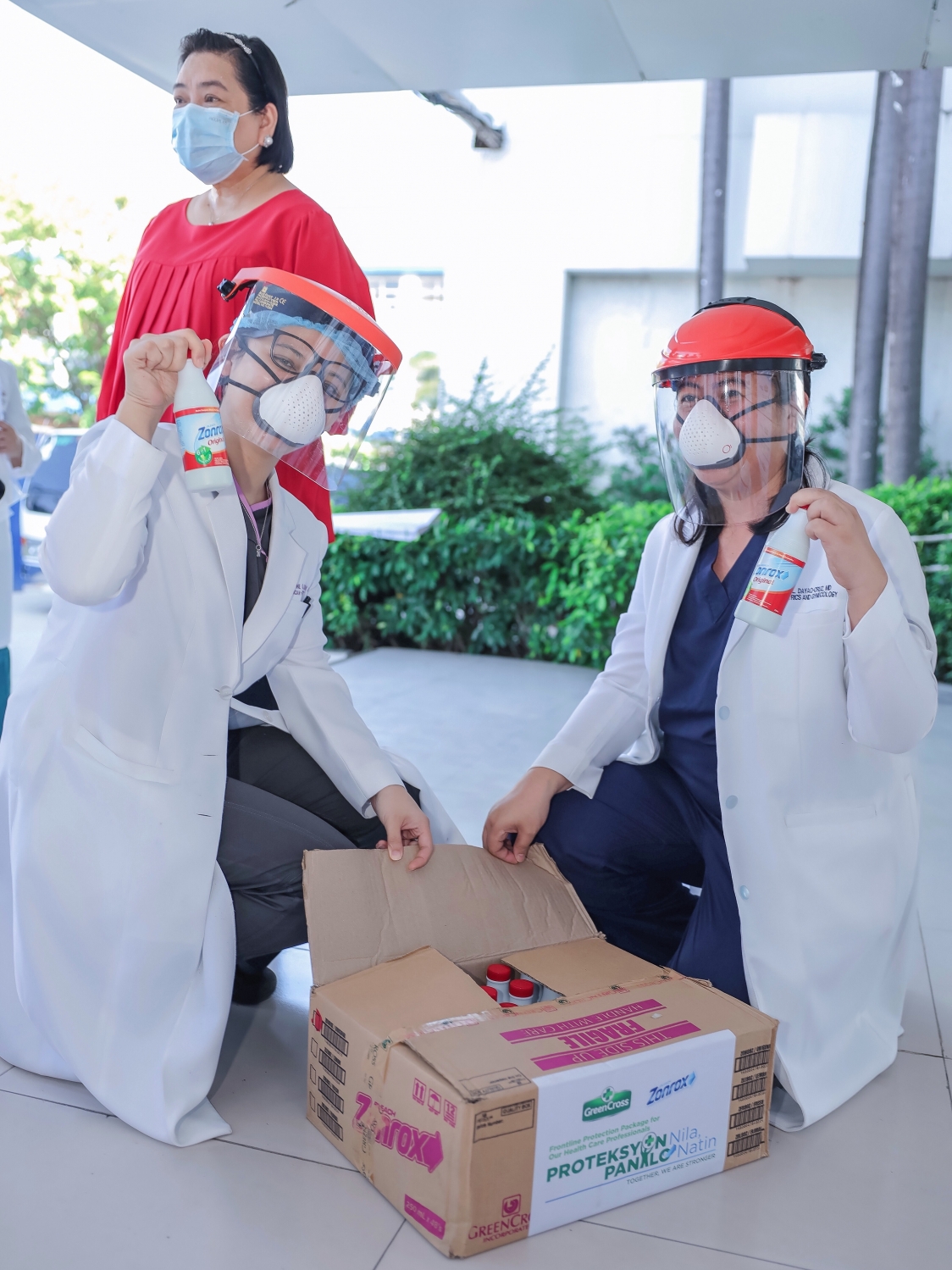 Below are stories of the frontliners who are part of this program. In their own words, they tell their personal stories about their ordeals under the COVID-19 pandemic, and what keeps them going.
Rhey Ecobiza, ER Nurse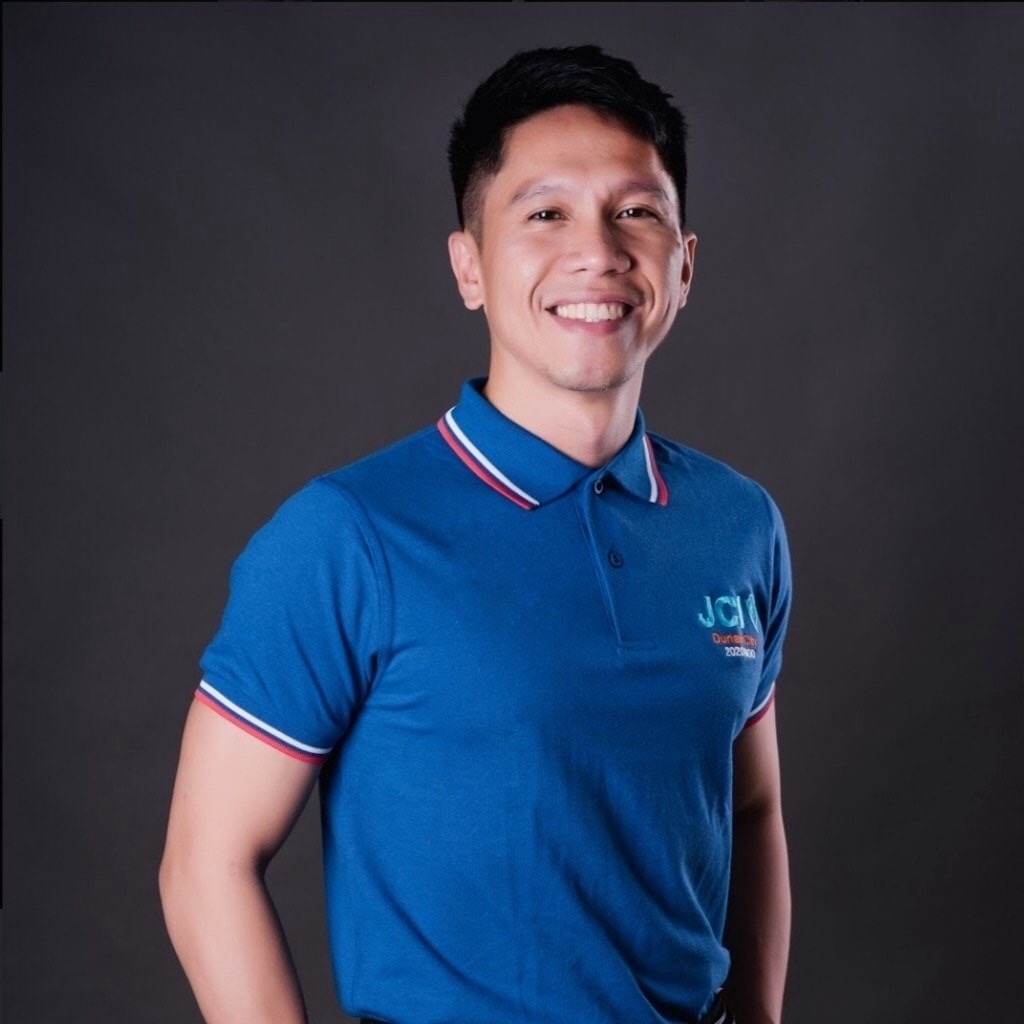 I've been an ER Nurse for around 7 years here in Davao City. I work at Southern Philippines Medical Center, the biggest hospital in the country.
I remember it was around the second week of March when the enhanced community quarantine (ECQ) started. It had a huge impact on the way we lived, the way we worked. (Of course, it's the first time any of us had to deal with a pandemic).
At first, we still didn't feel its effect, this pandemic and the ECQ, there was just less traffic. But it was still quite challenging as we had to change living arrangements – we couldn't go home, we already had to stay in dormitories. At least there was wifi, and we could still video call our families.
I just got married last January; it was quite tough, my wife and I not being together. It made me miss her more (laughs).
Seeing my wife was my added motivation to do things right as cases started to pour in. I needed to be careful while protecting myself. That's the only way I could eventually go home.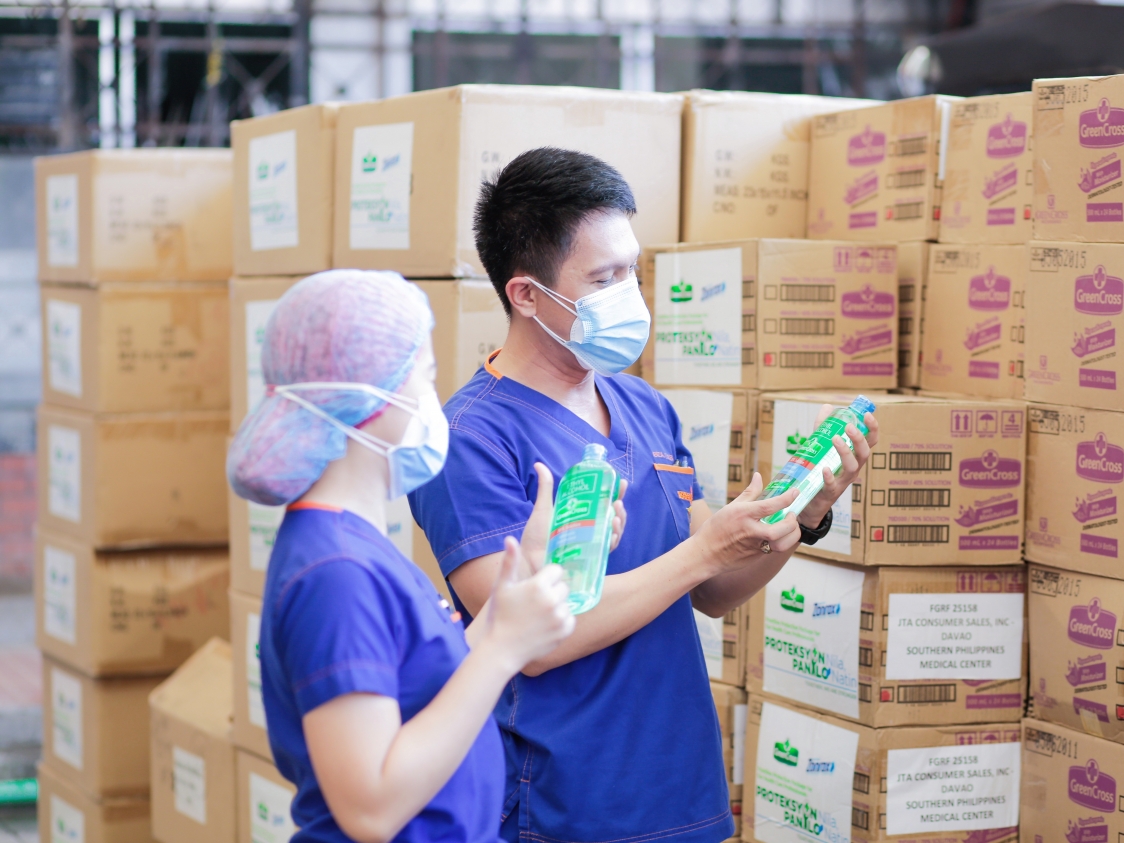 On one end, I feel privileged to be serving the public. In a way, it's like fulfilling my childhood dream of becoming a superhero. I am on the frontlines helping humanity. On the other, though, it's really scary, especially when one of our colleagues tested positive for COVID-19.
My co-worker, he's also married, his wife just gave birth. I kind of saw myself in him. His case wasn't so severe, but he still spent 54 days in quarantine. Imagine that: you're in quarantine, your wife is left alone with your newly-born kid, and on top of that, the guy's mother-in-law also ended up in critical condition at a hospital in another province.
It's really hard to be a frontliner.
Even before the pandemic, being an ER nurse was already tough. Once you're in the ER, there's non-stop action. You can't eat, nor can you use the restroom. But now, we have to do things in full PPE. It's hot to wear and feels like you're being suffocated. It gets even harder to perform CPR on patients. In those moments, it feels like losing all the oxygen in your brain because of the heat. But we have no choice but to do it.
I like to draw strength from the little moments – the thank yous we get from the family of patients we revive. It's in those moments that I feel like I'd rather give all my energy and be tired to the point of exhaustion, just as long as we get to rescue people… and, of course, it's not us that are being rescued.
It helps too that we get to feel the support of our fellow Filipinos. Businesses send PPEs to us, food chains feed us. There was even a time when kids sent us inspirational notes. That was really touching.
I am thankful to my Lord and Savior, Jesus Christ, that I'm still alive. I hope that many of us too learn to appreciate this gift of life. My message to everyone, enjoy the little moments more. Follow the rules and take better care of yourself. We have a saying, "stay at home while we do our work." We need to be all in this together, we need teamwork.
I also hope, at the end of the day, the government and other institutions show their appreciation for us frontliners beyond lip service. We have families to feed. At least help us better their lives while we go out and put ourselves at risk.
Leomila Alcalde, ER Nurse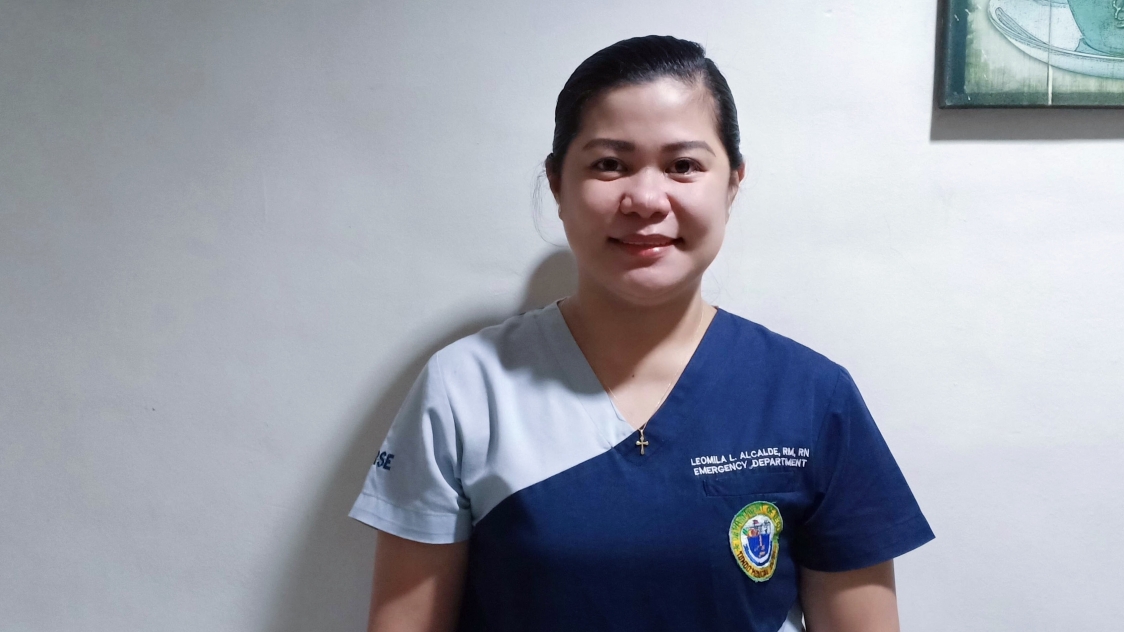 I am a healthcare frontliner nurse at the emergency department of Tondo Medical Center.
It's always been a dream of mine to be a nurse. I wanted to take care of the sick, I believed it was my calling to serve the needy, especially my fellow Filipinos.
My life drastically changed when the pandemic began. Being a nurse was never easy, but, at least before COVID-19, I had a lot of time with my family. Now, I rarely go home. We need to isolate ourselves from our families.
And yet, I still find this job very rewarding and gratifying. I hope people know how much we sacrifice for this job.
At times, I worry a lot; I report 40 hours a week. Being a positive thinker has helped me cope. Even when I became COVID positive, I think it was my positive thoughts and the support from my family and friends that made me recover quickly.
Getting COVID-19 was very challenging. You can't help but ask yourself questions like, "will I ever recover?," "Who will take care of my family?" But you find strength from many sources – from my family, my workmates and friends, and most especially from God.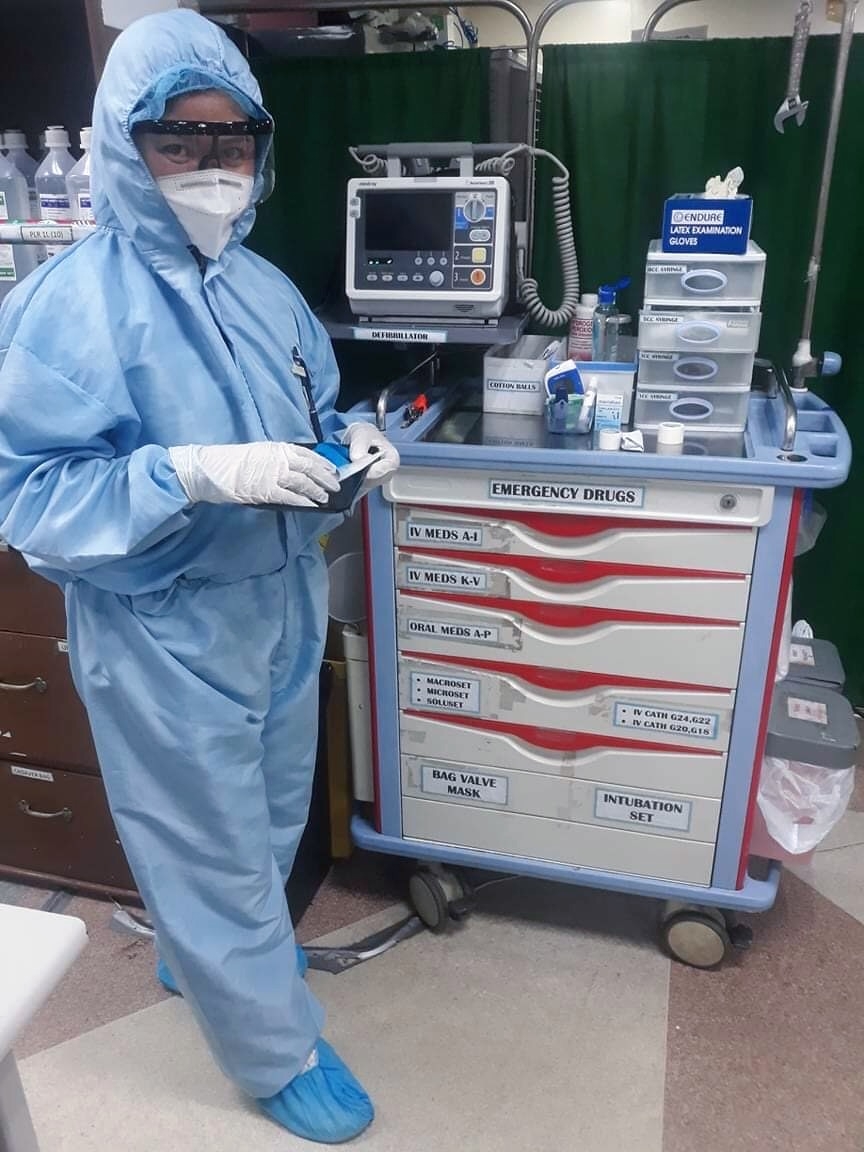 There are moments when you feel the appreciation, too, from strangers. Aside from government support, private sectors and individuals stepped in. We experienced special frontliner lanes in some establishments, some provided us with shelter and shuttles, others provided us "ayuda" (a term for aid in the Philippines). The support can get overwhelming.
However, there are still cases of discrimination against us frontliners. We are facing a pandemic, and we are rendering the utmost of our services even though we are at risk. Please be fair, that's what I want to tell those that discriminate. Hope and pray that we get to cure COVID-19 and that we get to work on better preventive measures.
We, too, want things to go back to normal soon. But until we're there, please keep supporting us.
Dr. John Albert Montoya, Pediatric Cardiologist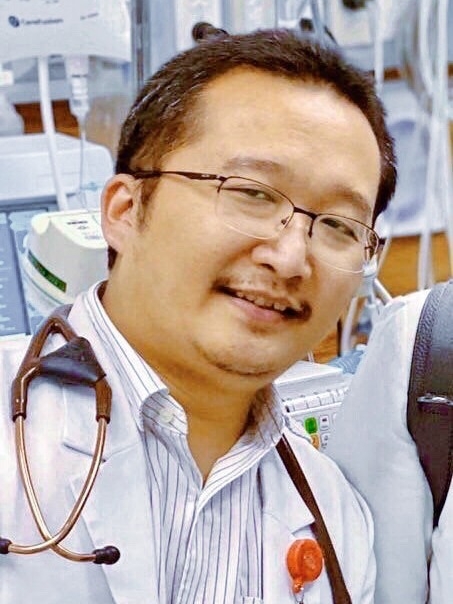 I'm John Albert Montoya, a pediatric cardiologist currently serving at the Vicente Sotto Memorial Medical Center, a DOH retained tertiary hospital in Cebu City. I am also a COVID-19 survivor.
Right now, I am well and recovering, but I still have residual symptoms like most survivors. It doesn't really interfere with my daily activities unless I overexert, but it limits my physical activities.
I have learned to live with these residual symptoms. In fact, I'm already back full time at the hospital working, which, despite the mounting anxiety and pressure, I still fully enjoy.
Since childhood, it has been my dream to become a doctor. My mom was a doctor, and It didn't help that early medical shows like Doogie Howser romanticized the profession.
The reality, however, is shockingly different. Being a doctor doesn't start once you've earned the license. It starts way back in medical school. It's a tough and grueling career, where you lose precious hours you could have spent with family and friends to study or going on duty at the hospital.
I have been in public service since 2011, I finished my pediatric residency at the Vicente Sotto Memorial Medical Center, where the harsh realities of our public health system bore down heavily on me. Saving lives in a government hospital doesn't look like what we see in shows like Doogie Howser, Grey's Anatomy, and House. So, it's not exactly living the dream, but it's a service that I still believe is worthwhile and rewarding.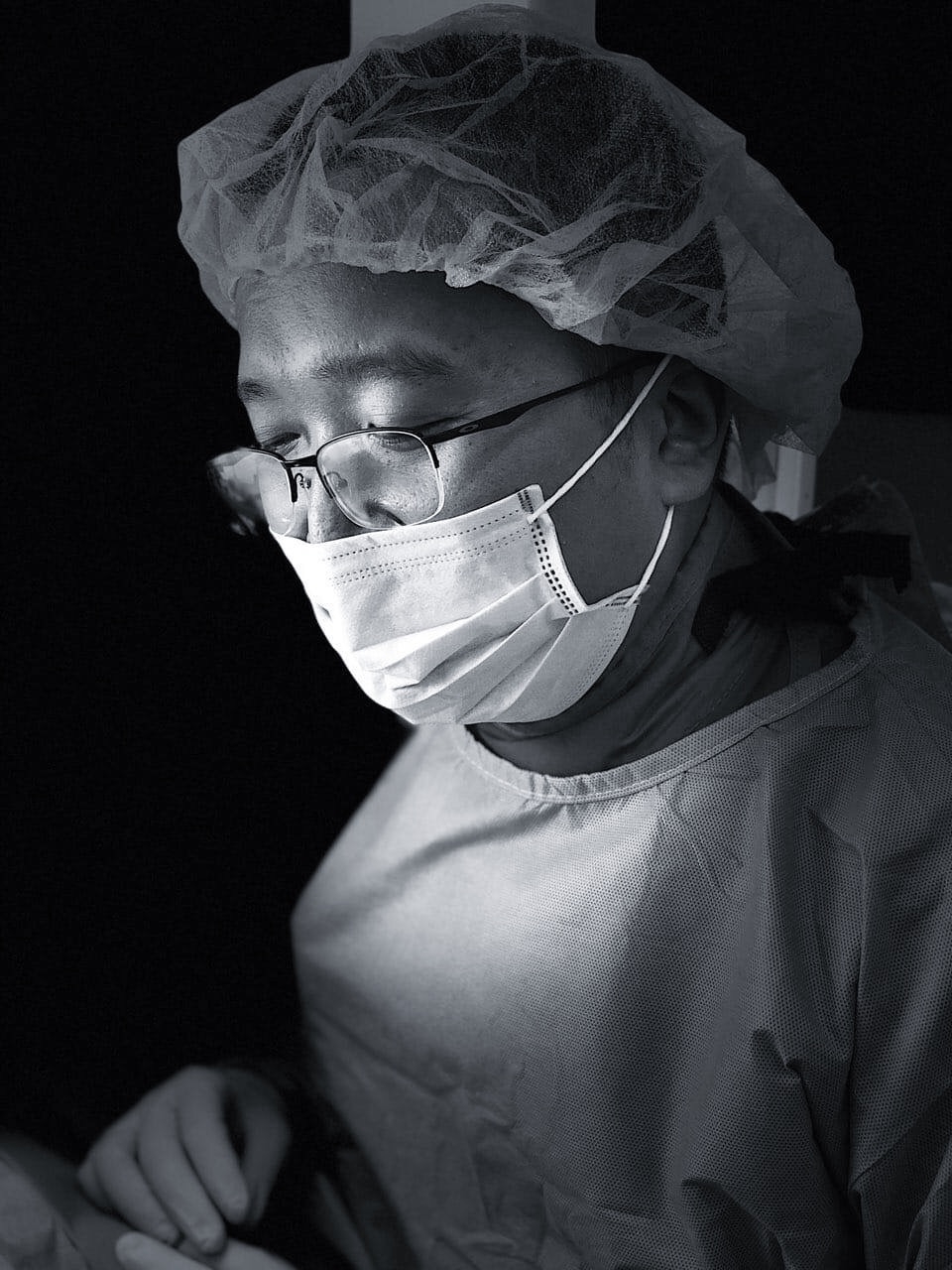 My lifestyle significantly changed, and my plans for further sub-specialization were derailed entirely this year because of the pandemic. It upended our way of life and our entire health system.
However, nothing had affected me more than when I myself was struck with COVID-19. I never thought I would get it, but I was diagnosed with severe COVID pneumonia and was admitted for 10 days. I fought for my life.
It was a trying time, those 10 days that I was admitted. For the first 3 days, I even thought it was already the end of the line for me. The experience of the disease itself was harrowing as you feel like, with every breath, you had to gasp for air. You also feel very weak, plus there's anxiety from being alone and isolated from everyone else.
It was an ordeal that made me take a look at this disease and this pandemic in a whole new light. Every moment of that time has been ingrained into my memory, and I only wish nobody else would have to experience what I did.
That time, the outpour of support from everyone – from friends, colleagues, and family – was overwhelming. Despite not being there physically to support me, their messages of encouragement were enough for me to make it through.
There was a surprising and touching moment during my ordeal. The mothers of two of my patients, who I had facilitated open-heart surgeries way back when I was still a fellow in the Philippine Heart Center, texted me their well wishes and words of encouragement.
I could barely remember them, as their surgeries were done 2 years prior, and I had to search social media so I could at least remember how they looked. It still surprised me how far news of my ordeal reached, and their messages made everything I did before feel worth it.
Aside from my family and my colleagues and mentors – whom I draw strength from as they too are in the same battle as I – serving children is what keeps me going.
I just finished my pediatric cardiology fellowship this January. My expertise pales in comparison to my senior cardiologists. However, I know that sick children, especially those with heart disease and cannot afford to pay the services of a private cardiologist, need my help. These children need the expertise that I know I can now provide. This keeps me from quitting public service amidst this pandemic.
Filipinos should start being more proactive in this fight and take this disease more seriously. Many people still think lightly of this disease and don't wear masks the right way, practice hand hygiene or social distancing.
I implore my fellow Filipinos who still think of this pandemic lightly to change their mindset. A change of mindset is badly needed. I've encountered people downplaying this disease, to the point of conspiracy, saying this is all a scam. These people act as if lives weren't already lost, which included that of my colleagues in the health care profession.
Misinformation is also rampant, and I think Filipinos should now be more discerning as to which information is right, verified, and applicable to our country. I implore my Filipino countrymen to fight misinformation in our campaign to end this pandemic. I have personally witnessed what this disease can do as I became a victim with severe symptoms. Even until now, I am not entirely well. I would not wish this to happen to my fellow countrymen.
Together we are stronger
These are the stories of just three of the frontliners working in the hospitals Green Cross Inc. has been supporting under the "Together We Are Stronger" program.
Aside from Tondo Medical Center, Vicente Sotto Memorial Medical Center, and Southern Philippines Medical Center, Green Cross also deployed donations to other hospitals such as Dr. Jose Fabella Memorial Hospital, Quirino Memorial Medical Center, Bulacan Medical Center, Rizal Provincial Hospital System, and Zamboanga City Medical Center.
Green Cross, Inc. urges the public not to let its guard down and to do their part in supporting our country's frontliners. "Medical frontliners continue to need the support of the community. When we protect our frontliners, we also protect ourselves," said Michael Co, President of Green Cross, Inc.
To learn more about the "Together We are Stronger" program, you can visit Green Cross Inc.'s website or Facebook page. You can also check out Zonrox's page here.
– Rappler.com
Interviews edited for clarity.