'If you are not ready to improve, I might just as well close all of you,' says President Rodrigo Duterte, as he tells Globe and Smart to fix their services by December
First, the entry of a third telecommunications player. Next, the shutdown of the Philippines' two major telcos?
In his 5th State of the Nation Address on Monday, July 27, President Rodrigo Duterte threatened to close down telco giants Globe Telecom and Smart Communications, unless their services improve by December.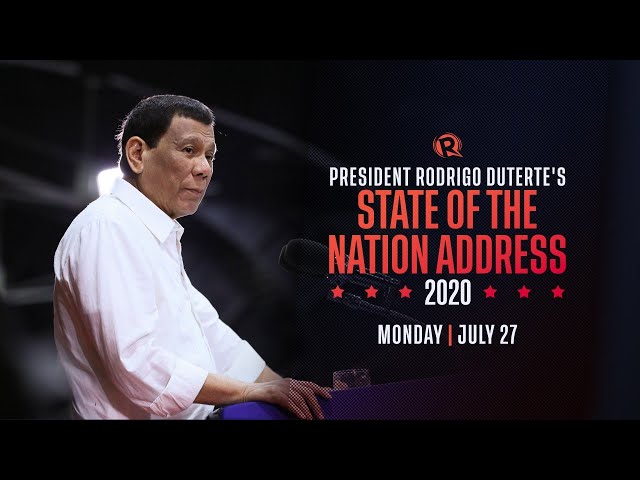 Duterte talked about taking public utilities – "whether it may be the airwaves [or] the lines" – back to the government, which would be given the first option to utilize them.
"If you are not ready to improve, I might just as well close all of you and revert back to the line telephone. At kukunin ko 'yan, i-expropriate ko sa gobyerno. 'Yung Smart, pati 'yung Globe, ilang taon na ito? At ang sagot palagi sa akin, 'The party cannot be reached.' Eh kung gano'n lang naman, ibigay ninyo sa amin," Duterte said.
(If you are not ready to improve, I might just as well close all of you and revert back to the line, telephone. I will take that and expropriate it for the government. Smart and Globe, how many years have they been running? I was always told, "The party cannot be reached." Well, if that's the case, just give it back to us.)
This is not the first time that the President ranted about the services of the two telcos.
In 2016, Duterte said Globe and Smart should improve their services, or else he will "go to China." And he did – as the winning bidder for the 3rd telco, Dito Telecommunity, is backed by China Telecommunications Corporation. Dito is led by businessman Dennis Uy, one of Duterte's campaign donors in the 2016 elections.
On Monday, Duterte said that if the problem is money, then the companies should "look for it."
"'Wag 'nyo kaming paghintayin ng sampung taon bago kami makakamit ng (Don't make us wait for 10 years before we experience) services that other countries are enjoying if it's just a question of added capitalization or infusion of money. Go look for it," the President said.
"I will be the one to articulate the anger of the Filipino people and you might not want what I intend to do with you. Kindly improve the services before December. I want to call Jesus Christ [in] Bethlehem. Better have that line cleared."
Globe and Smart are led by the Ayalas and Manny Pangilinan, respectively, who had been previously targeted by Duterte as part of his bigger diatribe against the oligarchy.
Arduous permit process
In a statement on Monday, Globe said it has earmarked at least $1.2 billion for service improvements, but "challenges remain."
The Ayala-backed telco pointed to the "long-drawn permitting process" across local government units (LGUs), homeowners' associations (HOAs), and national agencies.
"Although we have seen marked improvements, the industry is not without its challenges. The long-drawn permitting process across LGUs, HOAs, and national agencies, including the DOH (Department of Health) and CAAP (Civil Aviation Authority of the Philippines), have hampered cell-site builds and laying down of fiber to homes," Globe said.
Improvements take time
Globe and Smart both offer calls, text messages, and mobile internet – with the latter being a key source of frustration among subscribers as service can be slow or unreliable.
In 2019, Speedtest Global Index reported that the average mobile and fixed-line internet speed in the Philippines fell below the global average. The average mobile internet download speed is just at 15.06 megabits per second (mbps) against the global average of 26.12 mbps.
In a July 1 Senate hearing, Smart vice president for legal and regulatory affairs Roy Ibay said current landing sites still have capacity. However, the load has increased as the country shifted mostly to digital due to the pandemic.
Globe and PLDT Incorporated control 7 of the submarine cable landing sites in the Philippines, which are linked to overseas connections. Smart is PLDT's wireless subsidiary.
Both Globe and PLDT are building new landing sites – 1 for Globe and 3 more for PLDT. Building the infrastructure, however, takes time, as the laying of submarine cables would take about a year to a year and a half.
The National Telecommunications Commission is also expecting full capacity to be reached within 3 years' time.
In 2019, both Globe and PLDT launched their 5G wireless service, which allows higher bandwidth and speed compared to the current 4G or LTE service. Mobile 5G service has yet to be rolled out nationwide. – Rappler.com