(1st UPDATE) The government will release P1 billion to the Land Transportation Franchising and Regulatory Board to provide cash grants to around 178,000 drivers
The Philippines' economic managers approved P1 billion in cash aid for public utility vehicle drivers, as fuel prices have increased by almost P20 per liter in 2021.
The Development Budget Coordination Committee (DBCC) on Monday, October 25, said the amount will be released to the Land Transportation Franchising and Regulatory Board (LTFRB) to provide cash grants to around 178,000 PUV drivers for the remaining months of the year.
The money will be distributed using the system established under the Pantawid Pasada Program of the LTFRB.
"The funds will be charged against the FY 2021 Unprogrammed Appropriations under the Support for Infrastructure Projects and Social Programs," the DBCC said.
Local aid
In Ilocos Norte, the provincial government earmarked at least P20 million for aid.
The funds are being distributed in the form of P1,000 and P1,500 coupons for tricycle and jeepney drivers, respectively.
Last Friday, October 22, at least 100 tricycle drivers received their coupons, which they exchanged for fuel in gasoline stations across the province.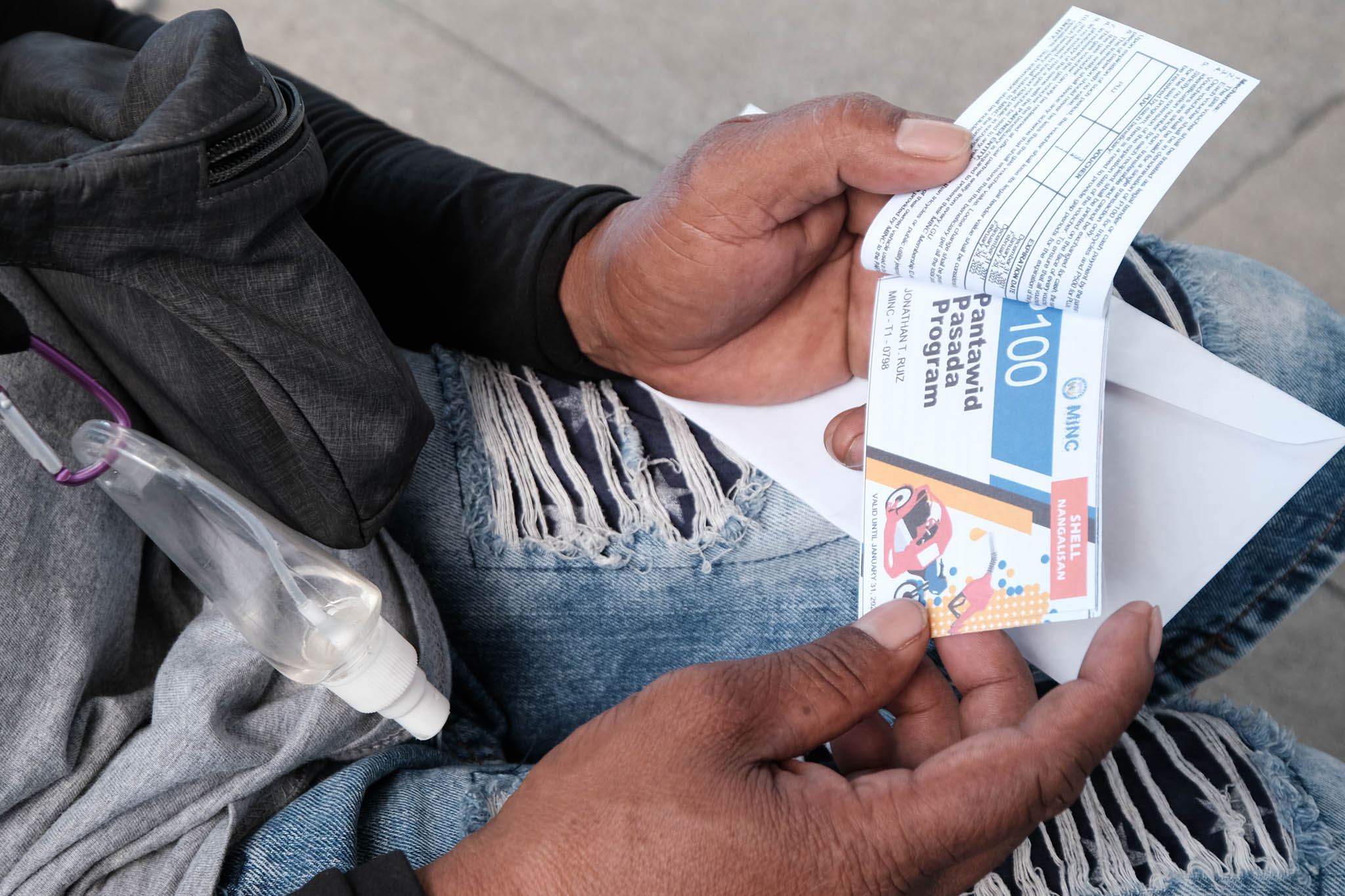 Aside from tricycle and jeepney drivers, fishermen in the coastal town of Pasuquin are also affected by the hike in oil prices, town official Rex Aguinaldo said in a radio interview on Monday.
The fishermen shell out around P1,000 to P2,000 for fuel per trip to reach the ideal fishing grounds at least 32 kilometers from the shore.
In order to earn a profit, or at least break even, they would need to catch around 50 kilograms, said Aguinaldo.
Excise taxes
Transport groups earlier urged the government to either raise the minimum fare or provide cash aid to drivers.
The Department of Energy asked President Rodrigo Duterte to certify as urgent its request for authority to suspend oil excise taxes.
Pump prices have increased for nine straight weeks. Gasoline has jumped by almost P20 per liter year-to-date and diesel by around P18.
Oil prices have risen in the global market, with countries stocking up on the commodity as winter nears.
The issue has been talked about by presidential aspirants, with most candidates pushing to slash taxes on oil products. – with a report from John Michael Mugas/Rappler.com