(1st UPDATE) It is the fifth straight quarter of contraction for the Philippine economy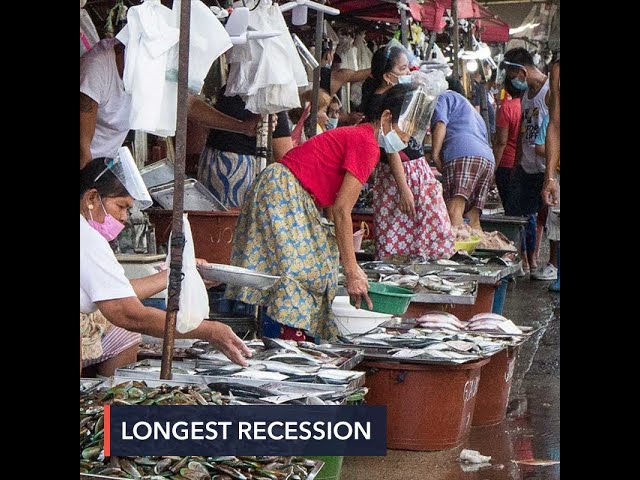 The Philippine Statistics Authority on Tuesday, May 11, announced that the country's gross domestic product (GDP) shrank 4.2% in the first quarter of 2021, confirming experts' fears that the economy will recover much slower than expected.
It is the fifth consecutive quarter that the country has registered negative GDP growth due to the pandemic, making it the longest recession since the Marcos years.
Agriculture fell 1.2%, while services and industry contracted by 4.4% and 4.7%, respectively.
The main contributors to the GDP decline were construction (-24.2%), other services like entertainment and recreation (-38%), and real estate (-13.2%).
GDP – which is the total value of all finished goods and services in a country – fell despite the easing of quarantine restrictions during the first quarter.
Disappointing
ING Bank Manila senior economist Nicholas Mapa highlighted that household consumption (-4.8%), which accounts for more than 70% of GDP, slipped for the fourth straight quarter, reflecting depressed incomes amid the elevated level of unemployment.
"The growth outlook remains relatively downbeat with authorities recently tightening partial lockdown measures further in April as COVID-19 infections spiked. These tighter mobility curbs remain in place in the capital region and surrounding provinces and will likely shave off momentum from the economic recovery," said Mapa.
Mapa is expecting positive growth in the second quarter on the back of base effects, but he is trimming expectations as partial lockdowns drag on.
Rizal Commercial Banking Corporation chief economist Michael Ricafort, who expected first quarter GDP to contract only by 3%, said 5% to 6% growth for 2021 is still possible, if the country can reopen safely.
"The expected increase in COVID-19 vaccine arrivals that would help reduce new COVID-19 cases…[would] justify further reopening of the economy to increase production, sales, incomes/livelihood, employment, and other business/economic activities," Ricafort said.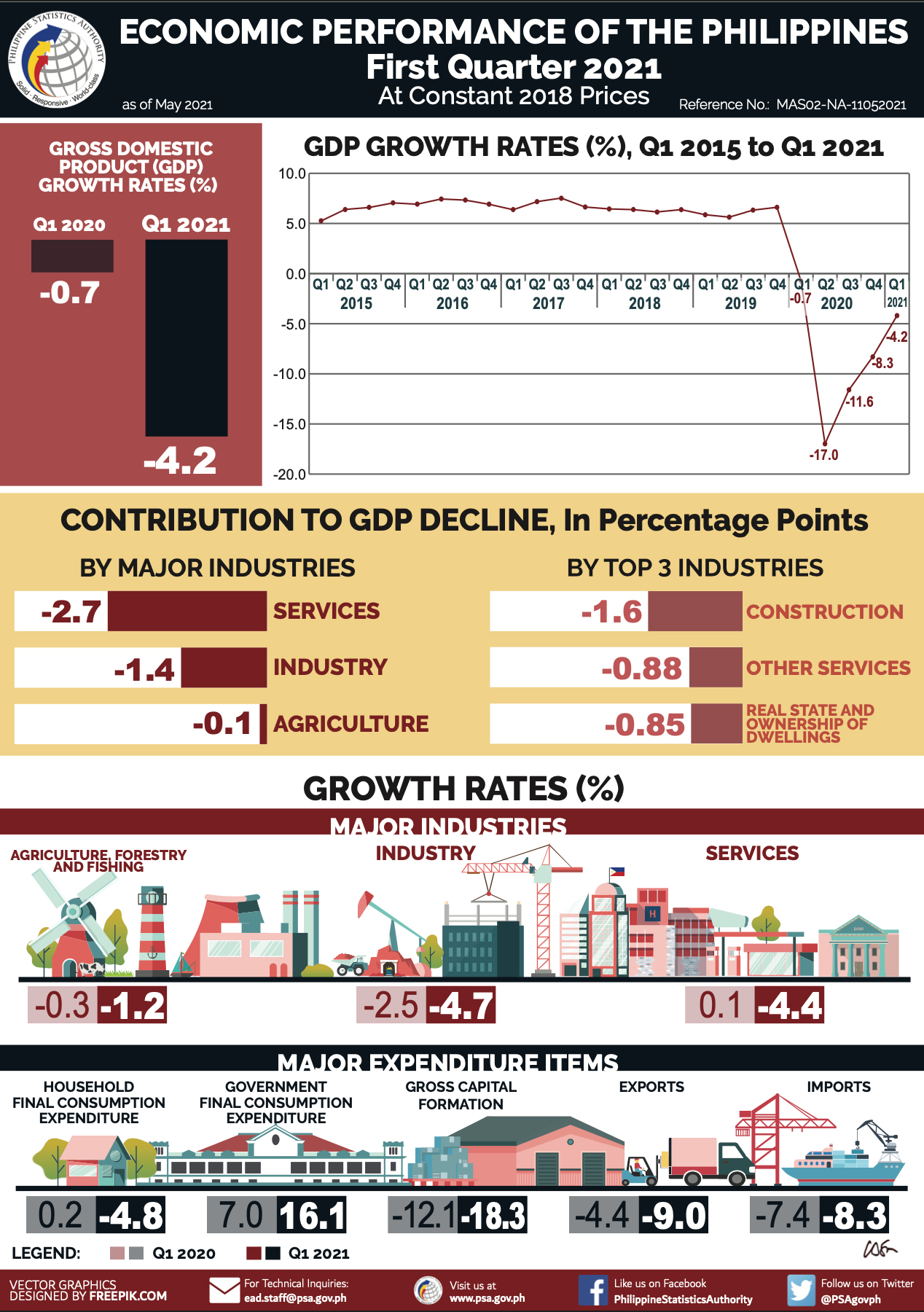 'Nothing is free from heaven'
Socioeconomic Planning Secretary Karl Chua once again thumbed down calls for Bayanihan 3, a P405-billion fiscal stimulus package proposed by legislators.
Chua emphasized that there are still unused funds from Bayanihan 2, as well as allocations from the 2021 budget.
"Nothing is free from heaven," he said, reiterating that the government must be prudent and find revenue sources should Bayanihan 3 push through.
Meanwhile, Chua once again called for allowing children and families to visit public spaces once COVID-19 cases dip, to stimulate the economy.
"The latest economic performance shows the limits of economic recovery without any major relaxation of our quarantine policy. Thus, once the present spike is over, we can implement quarantine relaxations in a phased approach to boost our recovery this year," he said.
"For instance, we can move the [National Capital Region] towards [modified general community quarantine], allow families and children to participate in the economy, and restart face-to-face schooling."
The latest Philippine GDP growth figure is much lower than Indonesia's 0.7% contraction and also Malaysia's 0.5% slump, which was better than expected.
Regional peers like Vietnam (4.5%) and Singapore (0.2%) managed to post economic growth, while China reported its highest growth rate on record (18.3%).
Economists earlier warned that the Duterte government's failure to contain the COVID-19 outbreak would result in more jobless and poor Filipinos amid the worst economic and health crisis since the post-war era.
The government's economic team is keeping spending conservative, and is instead banking on infrastructure projects and tax reform to spur economic growth. – Rappler.com