Jollibee North America president Beth dela Cruz talks about the challenges in the early years of Jollibee in the region, including how they addressed the issue of some food items not tasting like how they do in the Philippines
This story is published in partnership with SoJannelleTV, a magazine show about Filipinos in North America
Jollibee is one of the fastest growing restaurant brands in the world, with the Filipino fast food chain quickly expanding its consumer base beyond Filipinos and catering to a wider audience each year.
The brand recently opened a store in New York City's Times Square, and now has shops in 13 US states and five Canadian provinces, but success beyond the archipelago wasn't always guaranteed.
After years of requests, Beth dela Cruz, president of Jollibee North America, has finally agreed to share the story of how the iconic chain grew to international acclaim in an exclusive sit down with Filipino-American media pioneer Jannelle So Perkins.
"Jollibee really had a shaky start," revealed Dela Cruz in a segment on So Jannelle TV, which airs US-wide on cable channels The Filipino Channel (TFC) and ANC; as well as on local Southern CA digital channel KNET 25.1; and also available on social media platforms.
"It turned out that it was not as appealing to the market as was anticipated because of some of the changes that were made at the time. The first five years of Jollibee it was struggling financially."
Dela Cruz, who first started as a shift manager before rising through the ranks, was called into the CEO's office in 2004 and given the task of assessing whether there was hope of turning Jollibee's fortunes around. She was given two years to diagnose the issues, which she admits was a "scary" but "exciting" challenge.
Among the first issues she took note of was that the stores in the United States didn't operate under the same high standards of operating which customers had come to expect in their Philippines locations. To remedy that, Dela Cruz brought over nine restaurant managers to get the restaurants operating like they did back home. Change wasn't met with acceptance from everyone, however.
"They were faced with resistance from the existing teams who weren't cooperating with them. They actually encountered situations where the crew would walk out on them because they were trying to implement standards and everything else. It took a while for them to get their bearings in place because we actually chose the best that we have. They really saw it through and eventually got those standards in place at the store," said Dela Cruz.
Another challenge was that some of the food items didn't taste like the ones which Filipinos had fallen in love with back home. The raw materials differed from country to country, which can impact the taste. To remedy that, Jollibee began importing key ingredients, like the marinade and breading for Chicken Joy, and the spaghetti and burgers.
"We fixed operations, we fixed our product and then made sure that our people are really gung-ho and motivated enough to bring the Jollibee kind of experience to all of our customers. When we started to do that we started to gain patronage of the customers. I think that was one of the first that helped us pivot the business," said Dela Cruz.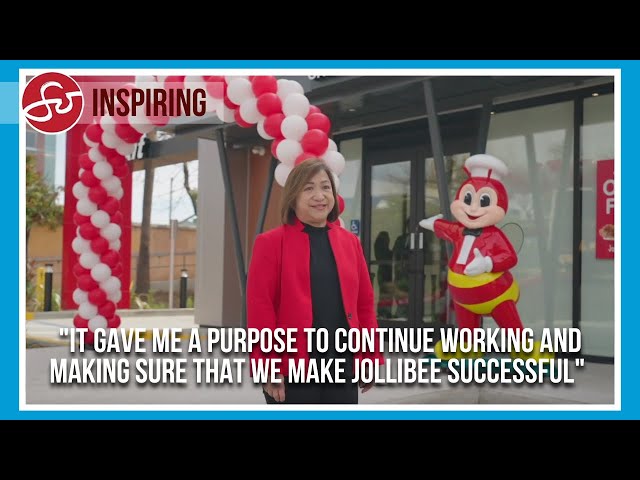 Dela Cruz herself set the example for dedication to her work, as she continued to work even while undergoing treatments for breast cancer. The treatments left her physically exhausted, but she continued to push forward.
"I told myself I'm not gonna be a victim of this cancer. I'm going to make sure that where I can, I'll be physically present for the business. When your team sees that you're able to struggle through all these difficulties, they actually do go beyond themselves and these struggles," said Dela Cruz.
As a female leader in the workplace, Dela Cruz says the biggest keys she has learned is to take care of your people, to not be afraid to learn from others and to know when to make tough decisions.
Those lessons have gone far, not just with consumers but also employees. Jollibee was named one of the best employers in the world for the third straight year this year by Forbes, which also cited the company as one of the world's top female-friendly companies in 2021. Jollibee also became a two-time Gallup Exceptional Workplace Award winner in 2023.
The success the company has had with impressing its Filipino-American base has translated to other markets, which is fueling the company's growth.
"The pride that [Filipino-Americans] have in the brand, they will showcase it to their non-Filipino friends. They also helped introduce the brand to other ethnicities," said Dela Cruz. "For us to see the products being enjoyed by customers who are non-Filipinos, it just continues to fuel the pride and the drive to continue to grow the brand across North America." – Jannelle So Productions | Rappler.com
Rappler is partnering with Jannelle So Productions Inc (JSP), founded by Filipino-American pioneer and Los Angeles-based journalist Jannelle So, to publish video and written stories from SoJannelleTV about the journeys, successes, and challenges of Filipinos living in America.
Check out So Jannelle TV daily for stories that make you pause, reflect, and appreciate who we are and what we are as a people.
Sundays, 4:30pm PT / 7:30pm ET on The Filipino Channel (TFC)
Mondays, 6:00pm on KNET Channel 25.1 Southern California
Replay on Saturdays, 7:30pm PT / 10:30pm ET on ANC North America
Any time on YouTube.com/SoJannelleTV