This is AI generated summarization, which may have errors. For context, always refer to the full article.
(UPDATED) Two victims of card skimming have come forward, saying they last used their cards at a Bank of the Philippine Islands ATM in Powerplant Mall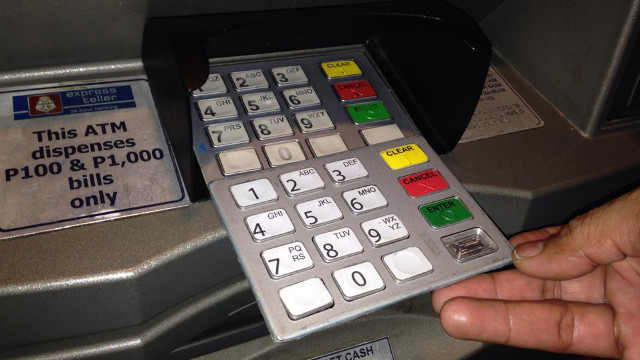 MANILA, Philippines – (UPDATED) As the Philippines ramps up Christmas celebrations, two women were victims of an automated teller machine (ATM) card skimming scam in an upscale mall in Metro Manila this week.
Rappler was able to interview the two who said they have been victims of card skimming after using a Bank of the Philippines Islands (BPI) ATM in Rockwell Powerplant Mall, Makati City.
Nancy and Dina – both of whom declined to use their real names – said the ATM skimmers were able to withdraw thousands of pesos from their BPI debit cards between November 15 and November 19, 2015. 
Nancy said she withrdrew from the BPI ATM at the basement of PowerPlant Mall on Sunday, November 15, sometime between 2 to 3 pm.
Two days later, she attempted to withdraw from her debit account but the ATM said she exceeded her maximum withdrawal limit for that day. 
"I actually thought it was some sort of fluke when I tried to withdraw and it kept saying I have exceeded my daily withdrawal limit. So I tried another ATM, still the same. So the next morning, I checked my online banking account. And that's when I saw that 2 withdrawals of P10,000 ($212.80) each were reflected," Nancy told Rappler. 
"I was in shock that it actually happened to me. I mean I've heard of stories [that]it has happened to other people. But I didn't think it would happen to me," she added.
She immediately reported the incident to BPI. The bank verified her identity and cancelled her card. Nancy was told the bank would send her a new card in 4 days but it would take 7 days to investigate the incident. 
According to her account records, someone withdrew a total of P20,000 ($425.60) from a Bank of Commerce branch at 2:30 am. 
Dina had a similar experience when she discovered that someone had withdrawn money from her account from a Bank of Commerce ATM. A second withdrawal was made from an ATM located in Cainta. She told Rappler she frequently uses the ATM at the BPI branch in Powerplant Mall. 
Like Nancy, Dina also reported the incident to BPI who responded in a similar manner. 
On Thursday, November 19, Dina posted a statement on her Facebook wall: "Discovered that someone copied or skimmed my BPI ATM card and did maximum withdrawals over the past two days." Several of her friends also reported knowing of others who were victims of card skimming after using the same ATM. 
Both women hope that BPI will return the money lost or stolen from their account. 
On social media, others have also claimed to be victims of card skimming and tagging the Powerplant Mall BPI ATM. 
Response
BPI has confirmed reports of such unauthorized ATM withdrawal incidents.. 
In a statement issued early Saturday morning of November 21, Tricia Quiambao, Head of Strategic Brand Management, said the bank has confirmed reports of "unauthorized withdrawal incidents" and has launced an investigation into the matter. 
The statement also said that "BPI commits to reimburse funds lost due to unauthorized withdrawals." 
The bank added that card skimming is an international concern and that BPI continues to combat card skimming through "replacement of ATM models, better and more strategic placement of CCTV cameras, and more frequent ATM checks by branch officials."
Read the full statement below:
BPI Statement on Card Skimming Incidents
Card skimming
Copying or skimming card information is a common modus operandi for card scammers.
Skimmers copy the information stored in the card's magnetic strip, as well as the personal identification number (PIN) code of an account holder through fake keypads, hidden cameras or other means.
In December 2014, there were several skimming incidents involving BPI account holders. The bank then assured its clients that it continues to upgrade and improve its security measures "to thwart elements attempting to defraud innocent cardholders of their hard-earned money."
Two men from Bulgaria were arrested last year for card skimming. Security officials believe a group composed of Eastern Europeans could be behind a card scamming ring. (READ: Eastern Europeans could be behind ATM fraud – BPI)
In April this year, BPI president Cezar Consing said the bank plans to replace all 7-million ATM cards in circulation to EMV or Europay, MasterCard, and Visa chip-equipped cards by 2016, a year ahead of the Bangko Sentral ng Pilipinas (BSP) 2017 deadline. (READ: Lower ATM withdrawal limits to fight fraud?)
The BSP received 1,972 reports of ATM fraud from banks in 2013, involving a combined amount of P220 million ($4.94 million).
Protect yourself
Card skimming is difficult to immediately detect, but ATM card holders can take precautionary steps when using an ATM. 
Card holders are advised to check for any signs an ATM has been tampered with or if anything looks irregular as it could mean that the ATM has been compromised. 
They are also advised to be aware of their surroundings and to keep their PIN codes secure. – Rappler.com
Were you a recent victim of card skimming in the Philippines? Tell us what happened in the comments section below or email: desk+atmskimming@rappler.com.