The partnership includes a co-branding of Palawan pawnshop cards with RCBC Mywallet cards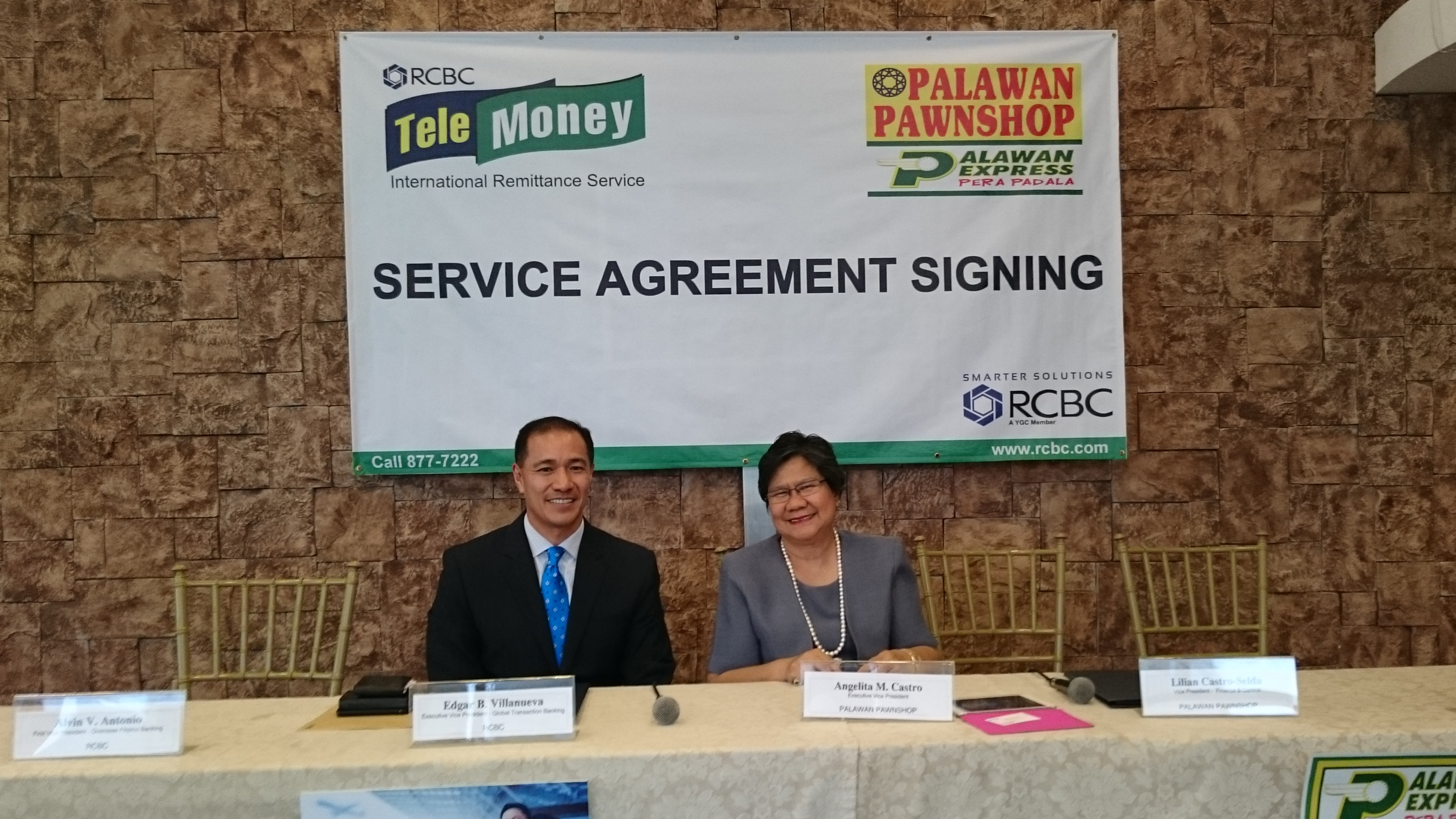 MANILA, Philippines – Rizal Commercial Banking Corporation (RCBC) has widened its options of cash pick-up for overseas Filipino worker (OFW) beneficiaries in the country through a partnership between RCBC TeleMoney and Palawan Pawnshop.
The memorandum of agreement, signed by representatives of both parties on Tuesday, May 12, also includes a provision for co-branding of Palawan pawnshop cards with RCBC MyWallet cards.  
This means that when an OFW sends money home, the beneficiary can receive the money through a co-branded RCBC-Palawan pawnshop card, as well as over the counter through a Palawan pawnshop branch.
RCBC MyWallet is an all-in-one prepaid card that allows electronic banking transactions without the need to maintain a monthly balance.
"It's one of our initiatives to ensure that money is sent home safely and efficiently and with the help of Palawan pawnshop, cost efficient as well," said Edgar B. Villanueva, RCBC executive vice-president and head of global transaction banking.
Villanueva added that the partnership aims to educate Filipinos on how to use financial services to their advantage.
Expanding reach
The joint venture aims to reach out to more cardholders and tap more customers to use the remittance service.
It will add around 200,000 unique holders of the co-branded card to RCBC's total of about 4.3 million cards in circulation.
The partnership also adds Palawan pawnshop's network of over 1100 channels in 17 cities and 27 provinces, to RCBC's network of reloading stations.
RCBC is also considering the deployment of ATMs in Palawan Pawnshop branches in the near future, for fast and easy cash access.
Part of the rationale of the move is to strengthen the domestic side of remittances,  often overlooked in favor of services that facilitate transactions from the host country, Villanueva said.
On the international side, RCBC TeleMoney offers a wide range of automated remittance services in countries in the Asia Pacific, Middle East, North America, and Europe.
The firm hopes that the move will also help strengthen its position in the remittance industry, which Villanueva places within the top 5.
Last year, RCBC processed about $2.3 billion (P103.1 billion) of remittances compared to the industry-wide total of about $22 billion (P986.7 billion), or about a 9% year-on-year growth, he said.
"The challenge is to get to double digits growth very soon," Villanueva said. – Rappler.com
$1 = P44.85